Today's NBA Draft Blog Scouting Report looks at a player that many still no little about, but over the last year and a half has made a believer out of many NBA scouts – Oakland's Keith Benson. Benson has great length and an expanding skill set, though a lack of strength is holding him back from being a dominant player. Keep in mind, these are first reports and we will continue to check in on players throughout the season.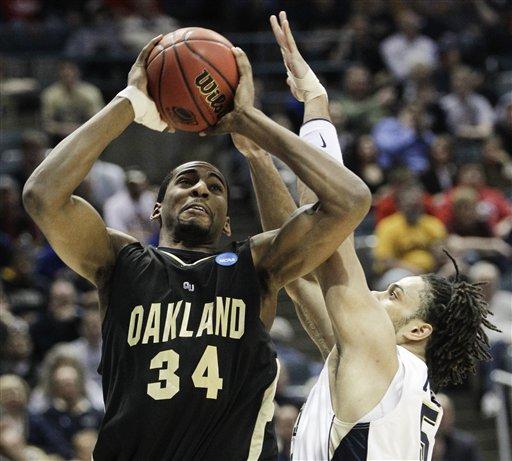 Keith Benson, Oakland – Senior
Forward/Center- 6'11, 225
18.2 ppg, 11.2 rpg, 3.4 bpg, 52.3% FG, 70.9% FT
Offense
Post Skills- Benson has developed into a reliable low-post scoring option over the last few years. Though he doesn't have ideal strength or bulk, he uses his body very well getting position on the blocks. He has developed an impressive array of post moves, including the ability to make a move over either shoulder, and his movements are very smooth into the shot. He has a nice touch around the rim, though he often settles for fade-away shots instead of going strong to the rim. He runs into issues when he is being defended by someone stronger than him, as he tends to get pushed away from the blocks and is forced into a jumper. He has the ability to face-up in the post and hit the short jumper or take his man to the rim, though again, he needs to finish stronger at the rim.
Footwork- Benson moves his feet well in the post, though there is still room for improvement. He is much stronger making movements over his left shoulder than right, and it shows in the awkwardness of his movements. He also runs into problems when he sees the double-team coming, where he tends to become very tentative in his movements and gets caught in bad situations.
Ballhandling/Hands/Penetration- Benson has soft hands and does a good job creating a big target and handles most passes well. His ballhandling skills are adequate, though if he is forced away from the basket, he has a tendency to start taking needless dribbles which often work against him. He has the ability to draw his man to outside and get by him with his dribble, though he gets a little wild if help defenders come over to stop him. He then tends to either force a bad shot, or get caught in a bad situation.
Perimeter Shooting- Benson has become a reliable mid-range jump shooter, with the ability to consistently hit from 15 feet. The combination of his length and his release point make stopping his jumper extremely tough, and if he can speed up his release time a little bit, he could be very dangerous at the next level. He has shown that he can move out to the three-point line and hit, though it is not ideal as he seems to lack confidence when he takes that shot.
Rebounding/Passing- Benson is an excellent rebounder, who has the room to become even better. He is very good at anticipating where the miss is going to go and he goes after the ball strong, at times almost snatching it off the rim. Where he has problems, again, have to do with his strength. Even when he does grab the offensive rebound, he doesn't always have the strength to muscle a put back up in a crowd. Once he develops more upper body strength, he should be able to do more with these rebounds. While he sees the court well, his passing ability, especially out of the double team, isn't great. He needs to react quicker and sense where the open man will be when he is doubled.
Free Throw Shooting – Benson is a good free throw shooter, and most important, he gets to the line regularly. Again, once he becomes stronger, he should be able to draw more contact down low and get to the line even more than he does now.
Defense
Post Defense- Benson does a good job defending the post, especially using his long arms to deny entry passes in. However, this is something that he needs to do out of necessity, as he lacks the strength to stop most other post players from backing him down once they get the ball. He moves his feet well, and does a good job anticipating where the offensive player will make his move, though he needs to get to the spot quicker to avoid silly fouls, and his long arms make it difficult to get easy shots. He is also a very strong help defender out of the post, anticipating well and being able to rotate over quickly to make a play.
Perimeter Defense- Benson is still a bit awkward when guarding out from around the lane, though he has improved. The main thing he needs to work on is hedging better on the high pick and roll. He seems to never make a clear decision once the screen is set, and he is either a second late jumping out on the ballahndler or a second late recovering to his man. His footwork has improved though, and he has done a much better job at recovering once his man makes a move by him.
Rebounding/Blocking- As on the offensive end, Benson is a great rebounder, anticipating well and going after the ball strong, but his lack of strength leaves him vulnerable to getting pushed out of position, even when he boxes out well. He is an excellent shot blocker, with great timing and the ability to go after the ball without fouling and keeping the block alive for his teammates to recover it.
Summary & Intangibles
Athleticism – Above Average
BB IQ - Above Average
Benson has turned himself into a NBA-level player during his time at Oakland. His skill-set could make him valuable to many different teams, though his lack of strength could hinder his ability to get serious time, though this is something that can be fixed. His rebounding and blocking skills alone will get him first round consideration, and when you throw in his ability to knock down the 15-footer consistently, I would be surprised if he wasn't a first round pick in 2011, though I see it being late first round. Of course, if he can get Oakland to the NCAA Tournament and show his stuff to a wider audience, he could make a run to the 21-25 range.
Make sure to check back tonight for a look at another big man trying to make a name for himself this season – La Salle's Aaric Murray. Remember, leave any comments below, follow me on Twitter – @NBADraftBlog, or feel free to email me at the link up top.