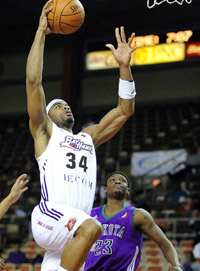 Fans of the NBA Development League are starting to become familiar with the name Marvin Phillips, but after getting a chance to watch him play and to speak with him, I would recommend that all basketball fans become familiar with him, as there is a good chance you may find him own your NBA team's roster in the near future. His journey has been an amazing one, playing everywhere from Mexico to the CBA, and now the D-League, and along the way his hard work and perseverance has turned him into a legitimate NBA prospect. Currently averaging almost a double-double for the Ft. Wayne Mad Ants (13.4 pts, 9.5 rebs) and a remarkable 96% from the free throw line, Phillips is doing all the right things to fulfill his dreams of playing in the NBA. Enjoy these highlights of my chat with Marvin and make sure to watch him play as soon as you get the chance.
Marvin on his goals:
"My ultimate goal is the NBA. Everyday I am just trying to practice hard, play my best and do what I need to get noticed."
On what he feels are his biggest strengths:
"Definitely rebounding. It is one of the main tools I have, and people are starting to notice that."
Marvin on coaches who took an interest in him:
"When I started in the CBA, I was playing for the Pittsburgh Explosion. We started the season 0-10, then we won are next 11 games. Well the first 2 of those games were against the Albany Patroons, who were coached by Michael Ray Richardson (former NBA player). I had like 37 points and 11 rebounds, and from that point on Michael Ray would always have something to say to me whenever we played them. He then wanted me on his team, and I was traded to Albany. Once I was in Albany, Michael Ray had a lot of confidence in me out on the court, and in turn, that gave me a lot of confidence in myself. It was from that experience, and the work Michael put in with me, that I was able to get drafted by the Iowa Energy of the D-League."
On his experience in Ft. Wayne:
"It is a nice town, and when I have nothing to do, I like to spend time driving around, checking everything out. I like the team and the players, and to have guys like Walker Russell and Chris Hunter, who played for Golden State last season, around really has helped me. Chris has given me a lot of advice on what people in the league (NBA) are looking for."
"Now in Ft. Wayne, (Coach) Joey Meyer has had the same effect (as Michael Ray Richardson). He has a lot of confidence in me, and that gives me more confidence in myself."
On what improvements he thinks he needs to make to get to the NBA:
"Definitely more confidence in shooting the ball. In a lot of the previous places I played, I didn't look to shoot that much. I feel as long as I can shoot the ball consistently, I will get a call up. I want to show everyone that I can bring offense to the table, to go along with my rebounding and defense."
On his timetable to get to the NBA:
"I used to set a time in which I wanted to accomplish certain things, but now I realize its about being in the right place at the right time doing the right things. Right now, I am just making the best of the opportunity I've been given."
What Marvin has to say to his fans:
"I want to thank everyone for their support and I want to make sure I send the right message and tone for everyone. Every time I step out on that court, I will give everything I have."
Thank you to Marvin for spending some time talking to me and giving me some insight into his journey, and a thank you to his agent, BJ Bass of RBA Sports, LLC. You can find out more about Marvin and his other players at www.rbasports.com, or follow him on Twitter – @bjbass2.