The NBA Draft Blog Scouting reports continue with a look at a player who has been praised all over after just 8 games in college. Having had a chance to watch Kyrie Irving live a few times now, I have to say you really need to see him to appreciate how good he is and how much better he can become. Here is my first look at Duke freshman Kyrie Irving.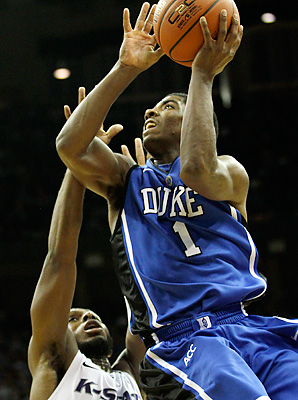 Kyrie Irving, Duke – Freshman
Guard- 6'2, 180
17.4 ppg, 3.8 rpg, 5.1 apg, 53.2% FG, 89.6% FT, 45.2% 3FG
Offense
Perimeter Shooting- Irving is a solid, but streaky, perimeter shooter. He has good form and a nice release point, with college 3-point range. He is much better at creating his own shot than he is working off of screens. One of his key areas of improvement will be to improve his movement without the ball – though this could be seen as minor since he can be expected to have the ball in his hands often. When he has his man isolated on the perimeter, he is very skilled with head and ball fakes, and uses the dribble well to create space for his shot. He needs to watch a tendency to shoot off-balance, especially after he makes a move to get open.
Ballhandling/Hands/Penetration- Irving is a fantastic ballhandler, using both hands equally well, while keeping his dribble secure and his body in position to make plays. He has the ability to keep control when moving the ball quickly, and has an impressive array of change-of-pace dribbles to keep defenders off-balance. Early-on, Irving has had a tendency to try and force most of the action to his right, but that may also be a function of Coach K's playcalling. He has good hands, and handles passes well, though he can be in too much of a hurry and try and make a play before he gets the ball, leading to an offensive breakdown. His penetration skills are some of the best I have ever seen from a freshman. At times, his moves seem effortless, and he finds gaps in the defense that most people wouldn't notice. Again, he is still at a stage where he thinks he can make a play every time he has the ball, but as he matures, he will be able to pick and choose his spots better. He has a quick, deceptive first step and once he is in the lane, he is strong enough to finish at the basket and skilled enough to pull up for a short jumper or floater.
Rebounding/Passing- Irving doesn't get involved much on the offensive glass, though he is very good at keeping balls alive and finding ways to help his teammates out. He is a very good passer, and has shown that not only does he see the court well, but his decision-making on when to make a pass is very mature. He has adapted well to the Duke offense and as he plays more, he will gain a better understanding of where he will find his teammates in certain situations. The only area where I think he really needs to improve is his entry passes into the post, where so far they just haven't been hitting the target in the right spot as consistently as they will.
Free Throw Shooting – Irving is an excellent free throw shooter, and is conditioned enough and mentally tough enough to step up in close situations. More importantly, he gets to the line enough to make a difference for his team, and having this skill early on is only going to make him more dangerous.
Defense
Perimeter Defense- At this stage, this is probably Irving's weakest area, though not because of lack of physical ability. He moves his feet well, keeping the offensive player in front of him, and he has very quick hands. His issue lies with him not finding his comfort point on either how tightly or how loose to cover his man. It's mainly an experience issue, and he has even made some great adjustments during the course of a game. Off the ball is another area where he has had trouble – he is often too eager to be a help defender and gets caught out of position or loses his man for too long to be effective. He is also learning how to work through screens effectively, as he has had to switch off into mismatches too often in these first games.
Rebounding- Irving does a good job crashing the boards on the defensive end and most importantly, he looks to block out once a shot goes up, preventing offensive players to streak in for rebounds. He has a strong upper body and can battle with bigger guards for rebounds, and he use his speed well to get to balls before others can.
Transition
Irving is a treat to watch in the open court. Whether he is pushing the ball up in just a few dribbles, or filling one of the wings, he is a threat to score anytime he gets some open space in front of him. He is strong enough to finish while being hit, though he can improve on pulling up and hitting the jumper in transition. Defensively, he does a good job getting back against the break and has been effective so far in slowing up the ball.
Summary & Intangibles
Athleticism - High
BB IQ - High
Irving really is one of these players you have to see in person to appreciate. The control he shows while playing at such a fast pace is great to see, but it's even better watching how he can slow it up and run the offense properly just as quickly. As discussed above, almost all of the major areas where he needs to improve will come with experience, but fundamentally, you may not find a better point guard in the country. He has shown that he can score and be a playmaker, and once his defense catches up to his offense, he can be a top player at the next level. I can't picture any scenario where if he chose to enter next year's draft, he's not a top 10 pick and the first point guard chosen. If he does come back for another year, he is easily the pre-season Player of the Year in college basketball.
Make sure to check back later today for a look at a man everyone is talking about – Arizona's Derrick Williams, as well as some more from the early-season tournaments. Remember, leave any comments below, follow me on Twitter – @NBADraftBlog, or feel free to email me at the link up top.