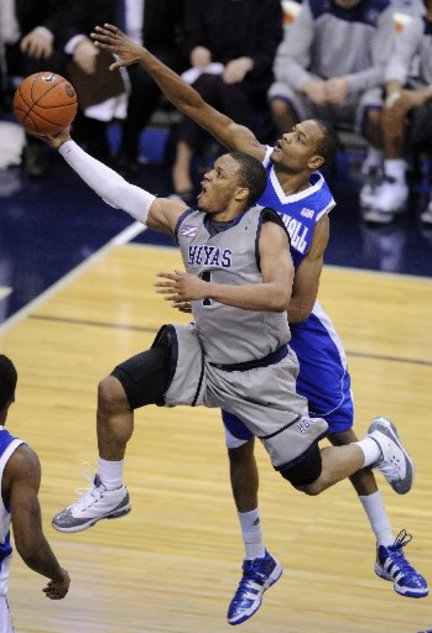 Chris Wright, Georgetown- Senior
Guard- 6'1, 208
13.9 ppg, 3 rpg, 7.4 apg, 44.9% FG, 79.2% FT, 43.2% 3FG
Offense
Perimeter Shooting- Over the course of his time at Georgetown, Wright has developed a good perimeter jumper, including the ability to hit the 3 consistently and in all situations. He has good form, but his release is slow and his release point could be higher, especially given his lack of size. He is confident with his shot and will make sure he has a good look before he takes a shot. He uses screens well and also has an assortment of effective ball and head fakes. Because of the nature of the Georgetown offense, he moves well without the ball.
Ballhandling/Hands/Penetration- Wright is an excellent ballhandler, with the ability to handle pressure or break his man down one-on-one. He handles the ball effectively with both hands, though he prefers to go to his right. Wright has good hands and can handle difficult passes while keeping control. In the last 2 seasons, Wright has become a very good penetrator, taking his man in isolation or making excellent cuts to the basket. He has a strong body and can take some hits on his way to the rim and still finish. He doesn't have a great first step, but he uses different methods to beat his man to the rim. He is also very good at getting into the lane, drawing the defense and hitting the open man.
Rebounding/Passing- Wright is a good offensive rebounder for his size with a good knack for getting to long rebounds or using his strength to grab the ball from bigger players. Wright is an excellent passer, nothing spectacular, just good, solid passes which get to their targets in good position for them to do something with the ball. He has a great understanding of running the Georgetown offense, and his decision making with the ball is usually very sound.
Free Throw Shooting – Wright is a very good free throw shooter who can be counted on down the stretch of close games. Like his jumper, his form and release are very consistent, and even when his shot his off, it still has a good chance of going in. If there is one thing for him to work on, its getting to line more by penetrating to the basket and drawing contact.
Defense
Perimeter Defense- While not very quick with his feet or his hands, Wright is a very solid on-ball defender. You aren't going to get a lot of steals or deflections, but he does a good job keeping his man in front of him and making the right decisions on defending against screens. He is very disciplined as a help defender, and doesn't gamble a lot. He closes well on shooters, and does a very good job staying with his man off the ball.
Rebounding- Wright is a solid rebounder for his size and position, and his strong body helps him fight for the ball against bigger men. He does a very good job reading missed shots and getting himself into position to help out.
Transition
Wright handles the ball well in transition, and while not the quickest guy, he gets the ball up court swiftly and makes very good decisions. He is much better with the ball in his hands, though he can run the lanes and get into position for an open jumper. Defensively, he does a very good job getting back against the break and knows how to cut off angles to prevent easy fast break layups.
Summary & Intangibles
Athleticism – Above Average
BB IQ - High
Wright is as solid a point guard as you will find in the Big East, running his offense smoothly, while also knowing when he needs to contribute some scoring. He is a very "what you see is what you get" player, meaning there is nothing flashy about his game, just fundamentally very solid play on both ends of the floor. While I don't see him as a starting point guard in the NBA, he is skilled and hardworking enough to be a very solid backup, especially with a team that relies on their offense being run precisely. Depending on how the point guard crop looks this year, he could sneak into the late 2nd round, but it is just as likely he will need to earn his way into the NBA as a free agent.
We will continue to check in on both Wright and Austin Freeman as the season progresses, and make sure to check back this weekend for more scouting reports from this past week's games, including our first look at Duke's Kyrie Irving. Remember, leave any comments below, follow me on Twitter – @NBADraftBlog, or feel free to email me at the link up top.