After watching one of the best games of the early season last night between Missouri and Georgetown, the next 2 scouting reports will focus on the senior leaders in the backcourt for the Hoyas – Austin Freeman and Chris Wright. First, up is Freeman – a deadly outside shooter who has slowly improved his all-around game over his time in college. Is Freeman's game ready for the NBA? Let's take a look.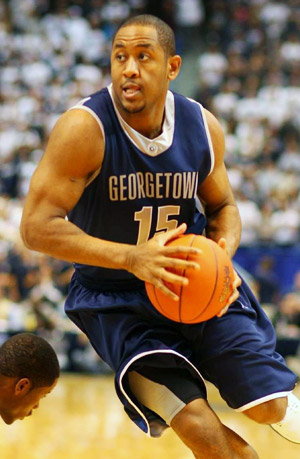 Austin Freeman, Georgetown – Senior
Guard- 6'3, 2227
21.7 ppg, 2.7 rpg, 2.3 apg, 59.6% FG, 84% FT, 56.8% 3FG
Offense
Perimeter Shooting- Freeman may be one of the best perimeter shooters, not only in the Big East, but in all of college basketball. His form is consistent, has NBA 3 point range and has great shot selection. The one knock on him may be that he is a significantly better shooter if he is set rather than coming off a screen (though that is the case with most shooters). He has become better over his college career at recognizing defenses and knowing where he will get the best shot. While his size isn't great, he does a good job getting lift on his shot to get it over taller defenders. He moves well without the ball, and plays very well in the Georgetown offense – quick cuts to the basket and step outs to the 3 point line.
Ballhandling/Hands/Penetration- While not a great ballhandler, Freeman is capable of helping bring the ball up against pressure, though would not be as effective as a primary ballhandler. He does a good job using both hands and can go strong to either side. Probably his best ballhandling trait is his efficiency with the ball, usually using the bare minimum of dribbles to accomplish what he needs to do. He has good hands and always sets a good target for the passer. He also has the ability to handle tough passes in traffic. He prefers to stay on the perimeter, but since the middle of last season, he has shown that he can get to the basket from the wing or the baseline. Extremely strong, he can absorb contact and still finish at the rim and he has excellent understanding of backboard angles to score from multiple places around the rim.
Rebounding/Passing- These are both areas where Freeman has plenty of room for improvement. While he is very strong, he rarely is in position to grab offensive rebounds, though this season he has shown that he will get in the mix when needed. He makes strong, crisp passes, especially on the backdoor cuts created by the Georgetown offense, but he still has a tendency to try and force the ball into the post.
Free Throw Shooting – Freeman is an excellent free throw shooter, and can be counted on to hit when the game is on the line. Because of his tendency to stay on the perimeter, he doesn't get as many attempts as he could, but when he does penetrate, he does a good job drawing contact.
Defense
Perimeter Defense- Freeman has average defensive skills, but makes up for it somewhat with his high basketball IQ. While he can be beat off the dribble, he knows how to force players into the help defenders, or play angles well to get back in front of his man. Because of his lack of foot speed, he often plays off of his man, often giving them good looks from the perimeter. If he does recognize his man is shooting, he is not very quick closing on the shooter. He also could be more active with his hands, as he tends to play defense with his hands close to his sides and does little in the way of disrupting passes.
Rebounding- As on the offensive end, Freeman doesn't get involved much in rebounding, though he does box out well on the perimeter and uses his body well when around the basket to prevent offensive rebounds.
Transition
Freeman fills the wings well in transition and is a threat to pull up from three or take the ball strong to the rim. While he can push the ball up himself, he is much more effective filling a lane and getting ready to shoot.
Summary & Intangibles
Athleticism - Average
BB IQ - High
Freeman has become one of the most efficient scoring guards in the country, and the odd part is, he does it mostly from the perimeter. For him to get first round consideration from the NBA, he will need to look to put the ball on the floor more often and use his strong body to draw contact and get to the line. Defensively, he could be a potential liability against NBA shooting guards, but if he can improve his technique and foot speed, he could be a decent on-ball defender. Right now, I would peg him as an early second-round pick who would likely make any team based on his ability to shoot. I will be watching the other areas of his game closely looking to see if he makes the improvements necessary to get serious first round consideration. Of course, there is also his well known Diabetes diagnosis from last season, which seems to be under control, but should be closely monitored.
Make sure to check back later today for a look at Chris Wright, as well as some more from the early-season tournaments. Remember, leave any comments below, follow me on Twitter – @NBADraftBlog, or feel free to email me at the link up top.