Basketball fans at the Orlando Summer League first started to notice his monster presence on defense playing for the Philadelphia 76ers squad. More important, scouts around the league started to whisper his name among each other. The Golden State Warriors offered him a chance to make their squad this fall, and by all accounts among the players and coaching staff, he just fell victim to a numbers game and was let go right before the season. Now, Vernon Goodridge is in the NBA D League, having been made the #5 pick overall in the D League Draft by the Springfield Armor. I had a chance last week to speak to Vernon about his experience since leaving La Salle and leading to his playing for Springfield. Enjoy this insight into his journey, and you will realize that not only does he have a bright future as a player, but he is a great person as well.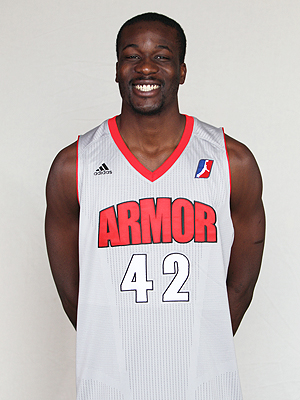 Vernon on his experience with the Philadelphia 76ers Summer League team this past summer:
"It was a great experience. It helped me get acclimated to the speed of the professional game. I was playing with guys who were already under contract, like Mareese Speights, so I concentrated on doing the small things, the blue collar things, like rebounding and playing defense."
Vernon on his time with the Golden State Warriors Pre-season camp:
"Another great experience for me, they are a great group of guys and players, and I learned a lot about the game from being around them."
On what he learned as player while in Golden State:
"The biggest thing I learned was to be a more effective and efficient when I have the ball. You learn that you can score 18, but take 15 shots to do it, or you can be more efficient and score the same 18 in 9 or 10 shots."
On his reaction to finding out he did not make the team:
"It hit me hard; I thought I did enough to stick with them. Then I realized there were 29 other teams and I can go make one of those."
Vernon on his D League experience so far:
"It's been a very good experience. I have always been very passive as a player, and it is helping me to become more of a complete player, including wanting to have the ball on offense. I have always cared more about rebounding and defense, but now I want to show a more well-rounded player."
On what areas he hopes to improve on:
"I definitely want to become a better a shooter, especially my mid-range game. I have been taking more shots from the short corners and the elbows because of the offense we run."
On playing for former NBA player Dee Brown:
"It's a great experience. He is very similar to Keith Smart (Golden State Head Coach) in how he runs his offense and how he relates to the players. Having Coach Brown as a former player, he knows what we need to do for ourselves to get there, and he is doing everything he can to help us. "
"He does demand a lot out of us. His job is not only to help the players get to the NBA, but to make his team the best team it can be. He gives us a lot of freedom on offense, but in return, we need to give an all out effort on the defensive end. The way he sees it, he can build a successful team and send 4 or 5 of us to the NBA, instead of worrying about getting a player or two called up. NBA teams will want players from winning programs."
A Message to his fans:
"I am so thankful for the support and I won't stop working hard until I get to the NBA and make everyone proud."
I want to thank Vernon for his time, and also a special thank you to his agent BJ Bass of RBA Sports. You can check out more about Vernon and BJ's other players at his website – www.rbasports.com. Look out for more about Vernon on the site in the coming weeks as we follow his journey to the NBA.