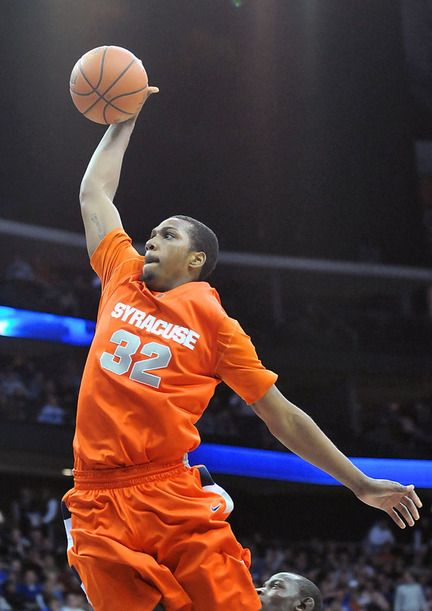 It is time for Part II of the NBA Draft Blog Season Preview of the Big East (Please check out Part I here). Syracuse, Villanova and West Virginia will all be contenders for a Big East championship this season, with Syracuse and Villanova being legitimate Final Four contenders. Keno Davis is continuing his rebuilding of the Providence program, while 3 teams with new coaches – Rutgers, Seton Hall and St. John's – face bright times ahead. South Florida has some good talent and will not be an easy game for anyone in the conference. Let's take a deeper look at this group.
Providence
The Good: Coach Keno Davis is without last year's leading scorers Jamine Peterson and Sharaud Curry, and his team will be hard-pressed to do any better than last season. He does have talent in the backcourt, and that could be enough to keep Providence somewhat competitive this season. Marshon Brooks proved to be a capable scorer last season, with the ability to knock down the 3 and score in transition. Defensively, he can guard either 2's or 3's, though he needs to improve his closing on shooters. Vincent Council showed flashes of being a top-notch point guard in his freshman season, and hopefully will show better decision-making after last year's experience. He needs to become better at getting to the rim and finishing, as well as working on his jumper. Bilal Dixon had an impressive freshman season, using his size well to grab rebounds and defend the post. He still needs to improve his footwork and his shot, but he plays strong and works hard. Duke Mondy is a versatile guard who can contribute at either backcourt spot and is a strong perimeter defender. Freshman Gerard Coleman could easily be the best shooter on the Friars already. With the ability to hit the 3 or to find holes in the defense to get to the rim, he should be an instant hit with the fans. He still needs to build his upper body, but he doesn't mind taking some hits.
The Not-So-Good: There isn't much depth on this team, and Davis' style of play almost demands having a deep bench. Even with an 8 man rotation, the starters will be logging some heavy minutes. The frontcourt is young, with Dixon being the veteran of the group as a sophomore. Kadeem Batts has good size and strength, though it's important for him to improve his footwork on both ends of the floor. With 9 freshmen on the roster, there will be a lot of inconsistent play, but also a lot of opportunity for players to step up.
The Question Mark: There are a lot of questions here, but with such a young roster, the question to me is which of the young players, besides Coleman, will step up and make a name for themselves? Brice Kofane is raw, but is very athletic and has very good instincts, especially on the defensive end. Batts had a year to mature last season, and could help on the boards immediately. Ron Giplaye is physically ready to compete, though he is also very raw and basically uses his strength to overpower players.
What Will March Bring?: To expect any more than last year's 12 wins is asking a lot. 10-12 wins should be about right for this team, though better times seem to be ahead.
Rutgers
The Good: There is a lot of excitement in New Jersey these days over the recruiting prowess of new head coach Mike Rice. However, he still needs to make it through this season with a lot less talent. Gregor Echinique transferred early on last season and Mike Rosario decided to leave at the end of the season. Combine that with the graduation of Hamady Ndiaye, and there is a lot to of opportunity for players to show what they've got. Jonathan Mitchell is the leading returning scorer and rebounder. Mitchell has improved a great deal over the last few seasons and has shown the ability to score from the perimeter or take the ball strong to the basket. He rebounds well and can defend much larger players. Dane Miller is another athletic wing who does a good job on the offensive glass and scoring in traffic. It will be important for him to become more confident with his mid-range jumper to keep defenses off-balance. Mike Coburn and James Beatty are both savvy point guards who can break down the defense and push the ball in transition, though neither is much of a perimeter threat. Beatty is the more disruptive defender, though Coburn is also decent guarding out on the perimeter. Austin Johnson has good size and uses his body well defending the post and securing rebounds. Freshmen forwards Mike Poole and Gilvydas will provide valuable minutes off the bench for Coach Rice.
The Not-So-Good: The bench isn't very deep and lacks experience, especially on the offensive end. Also, the frontcourt lacks any real size with Johnson and Gilvydas being the tallest players at just 6'8. It will be important for team to pressure the ball as much as possible to allow them to get out in transition and get some easy baskets.
The Question Mark: Is there anyone on the roster capable of replacing Rosario's scoring ability? Mitchell has improved as a scorer, but I am not sure how much better he is going to get. The one person I think is capable of a major jump in production is Miller – if he can show the ability to hit from 15 to 18 feet consistently. He has great athletic ability and finds ways to score, he just needs to become more versatile.
What Will March Bring?: There should be a slight improvement in this first year under Rice, though I don't think there is enough talent here for a big leap in win total. My guess is 18 wins and between 9th and 12th in the Big East. Rutgers fans should be excited about the future under Rice and in a few seasons they could find themselves in the top half of the conference.
Seton Hall
The Good: The Bobby Gonzalez fiasco is now over and Kevin Willard will need to pick up the pieces. It's a major task, but Willard was mentored by 2 legends, Rick Pitino and Kevin's father, Ralph. Luckily, he has some good players to help make the transition. The man who will shoot from anywhere, Jeremy Hazell, is back, and if he learned the difference between a good shot and a bad shot, he could be a pretty good player. He has fantastic range on his jumper, but a lot of that comes from him not being strong enough to go to the rim. Don't expect much more out of him other than scoring, as he is an average defender and not much of a ball-handler. Herb Pope, coming off a good season which ended in the worst possible way (Ejection for a cheap shot in the NIT), collapsed while playing in the off-season. He will be back and ready to go, and if you haven't seen him play, he is someone to watch. A wide body with a soft touch, and the ability to outrebound anyone of any size, Pope makes things tough for anyone around the lane. However, he isn't a great defender, especially off the blocks, and he needs to develop a more varied offensive game. Jeff Robinson and Keon Lawrence are both back for their senior season, and they will be joined by Jordan Theodore and Ole Miss transfer Eniel Polynice in the guard rotation. Theodore has great playmaking ability, and should thrive under the more disciplined Willard offense. Watch for freshman Fuquan Edwin, a New Jersey native, who will become an instant fan favorite among Seton Hall fans with is ability to score in a variety of ways, and his high energy, athletic defensive play.
The Not-So-Good: Shot selection was a major issue last season, especially with the guards. Willard will install a much more-disciplined approach to offense, though being careful not to hold back the athletic prowess of his team. How they adjust after playing in Gonzalez's much more frenetic pace will dictate how the early season goes. There is not much size in the frontcourt behind Pope, other than freshmen Patrik Auda and Aaron Geramipoor, neither who is ready for serious minutes.
The Question Mark: Can Hazell reign in his shoot first mentality for the good of the team? There is no denying that Hazell hit many big shots last year, but his shot selection bordered on awful. Part of that was an undisciplined offense, but many times Hazell just launched shots for the sheer reason that he could. Hopefully, Willard will be able to get him a good amount of looks while keeping everyone else involved.
What Will March Bring?: There is plenty of experience here and hopefully enthusiasm from the new staff rubs off on the players. This is a group that can finish anywhere between 6th and 10th in the Big East, but I think they do enough to finish towards the former and grab one of the last berths to the NCAA Tournament. Pope will certainly get looks from NBA teams toward the early second round, as well as Hazell.
South Florida
The Good: No team had a single greater personnel loss than South Florida with Dominique Jones entering last year's draft. Coach Stan Heath has some good players still around, but none to match the abilities of Jones. The frontcourt duo of Augustus Gilchrist and Jarrid Famous is formidable and provides the Bulls with two legitimate post threats. Gilchrist is coming off ankle injury which limited him to seventeen games last season, but he provides a powerful option on the blocks and a solid rebounder and shot blocker on the defensive end. Famous is the more athletic of the duo, having excellent footwork and leaping ability, though he tends to lay off his man too often on the defensive end. He runs the floor well and can finish strong in transition. Toarlyn Fitzpatrick isn't much of a scoring threat, but he is an athletic rebounder and shot-blocker capable of guarding multiple positions. Anthony Crater became eligible in the 2nd semester last season and instantly gave the Bulls a point guard capable of pushing the ball up court quickly. He still needs to get the hang of not having Jones around as a bailout option, and he needs to find a way to get some point this season. Kansas State transfer Ron Anderson Jr. is now eligible and will give the Bulls a strong defender and rebounder off the bench. Freshman Lavonte Dority is a physically strong point guard who has great court sense and is a strong passer. He doesn't have the speed of Crater, but he is more controlled and can give the Bulls a second ballhandler when needed.
The Not-So-Good: No Jones means no go-to scorer and no real slasher who can get into the lane and finish. There is also very little in the way of perimeter shooters, especially from behind the arc. It will be very important for the two posts to play together, meaning one of them has to become more adept at playing outside the lane at times. Famous is more athletic, but he is also more efficient in the post.
The Question Mark: Is anyone capable of stepping into Jones' shoes? The short answer is no – there is no one on the roster approaching his talent. Heath will need to adjust his offense to focus on his strengths, which is now on the blocks. Gilchrist and Famous are both capable of putting up 15+ points every night, if the execution is there and they get the ball in the best possible position. Craft will need to be sure to execute the offense to make this happen.
What Will March Bring?: There should be a drop from last season's 20 wins – most likely looking in the 14 to 16 win range. Famous could be a 2nd round pick today, but a solid season can vault him into the late first round.
St. John's
The Good: Another program with a lot of excitement buzzing around it is the St. John's Red Storm and their new coach Steve Lavin. Not only does he have a fantastic recruiting class coming in next season, but he has enough talent on the roster now to possibly make a NCAA bid this season. Led by senior wing DJ Kennedy, the Red Storm has a solid mix of playmakers and scorers to stay competitive in most games. Kennedy has the ability to hit the mid-range and long-range jumper, as well as being strong enough to finish at the rim. He is a strong rebounder for his size and never gives up on plays, though he does need to improve his lateral quickness when defending the perimeter. There is plenty of talent in the backcourt rotation with point guard Malik Boothe, as well as Dwight Hardy and Paris Horne. Boothe is lightning quick, but solidly built and can push the ball from end to end. He does a great job keeping the offense moving, and can be a tough on-ball defender. His biggest problem as he can sometimes move too quick for his own good, leaving him in bad situations. Hardy is a great all-around scorer with tremendous range on his jumper. On defense, he does a good job anticipating passes and jumping passing lanes. He also is confident enough to flourish in his role off the bench. Horne is also a good perimeter shooter, but is strong enough to get into the lane and finish. A strong-perimeter defender, Horne needs to keep his intensity level up to play his best. The frontcourt also has a solid group of players with Justin Brownlee, Justin Burrell and Sean Evans. Brownlee is much better with his back to the basket or crashing the offensive boards than he is playing on the perimeter. He is a good athlete who runs the floor well and is very active on both ends. Burrell hasn't lived up to his hype coming out of high school, but he is an explosive athlete and uses his body well around the basket. Evans can be a beast down low. Undersized, he knows how to use his strength and aggressive play to get good looks around the rim. He does need to be more aggressive defending the post, as he is usually at a height disadvantage. Freshman Dwayne Polee gives Lavin a versatile scorer on the perimeter, though he needs to make sure he doen't fall victim to just roaming on the outside.
The Not-So-Good: The frontcourt has good size, but no legitimate big man outside of Dele Coker. Evans does a good job, but he could have problems against taller and quicker big men. Rebounding and defense will need to be more team-focused to insure that this deficiency is not exploited. Watch out for potential playing time issues as well, as Lavin has inherited a very deep team who all played a good amount of minutes. Lavin always preferred a much tighter rotation at UCLA, so there will need to be an adjustment.
The Question Mark: There is one major question coming into this season – can Steve Lavin turn St. John's into a top program again? Living only a mile from the campus, I can say that there hasn't been an excitement like this around the program since Lou Carnesecca was roaming the sidelines. Lavin has already showed his recruiting ability with his haul for next season, so it will fall on his coaching ability after being away from coaching for a few years. In the end, I think in a few years, we will look back at this as a phenomenal hire.
What Will March Bring?: I would love to say that St. John's will get back into the NCAA Tournament this year, but I am not convinced yet. They will certainly be on the bubble, but how they handle the rigors of their Big East schedule is unknown. If I had to pick make a decision today, I say they are the last Big East team in and possibly the last team overall to get into the NCAA Tournament. Kennedy will definitely attract attention from NBA scouts, and could go as high as the mid-second round.
Syracuse
The Good: Another year, another very good Jim Boeheim team. While the team will certainly miss the leadership of Andy Rautins, the athleticism of Wes Johnson, and the toughness of Arinze Onuaku, Coach Boeheim has a nice mix of returning players and newcomers to make another run at a Big East title. Expect Kris Joseph to make the leap to one of the top players in the country. Joseph is very strong and quick, has a good first step, is a good offensive rebounder. His jump shot needs to be more consistent, especially from 17 feet out. On defense, he does a good job being active in the 2-3 zone, though he needs to keep his energy level consistent. Scoop Jardine will be running the point and will look to build on last year's solid season. He is very effective in transition, can go to the basket or pull up and shoot the jumper and can be a spectacular passer. He needs to be careful about letting the game slip away from him. When the game picks up pace, he tends to try and force things at top speed. Brandon Triche will also be in the backcourt as the team's best perimeter shooter. He is still needs to improve on getting to the basket, and hopefully comes back stronger this season. Mookie Jones should see more time this season in the same role that Wesley Johnson played, especially exploiting the baseline on offense. Rick Jackson will be back playing the tough-guy role missing in the absence of Onuaku. Jackson has showed some improvement over the season, especially with his shooting around the basket. He will be helped in the middle by stud freshman Fab Melo, a huge presence in the middle. At 270 pounds, he uses his body well getting position, has shown improved footwork, and has a nice set of post moves at his disposal. He needs work on the defensive end, where his reaction to plays is a bit slow and cause him to pick up bad fouls. Fellow freshmen Dion Waiters and CJ Fair will also compete early for playing time on the wings. Waiters is an excellent scorer, able to hit the 3 off the pass or dribble, or score in transition. Fair is also an excellent perimeter scorer, though he needs to bulk up to take the ball to the rim effectively.
The Not-So-Good: There are not many holes on this team, but the ones that are there could be major issues. Melo could be the difference between a good and a great season for the Orange, but he needs to make some adjustments playing for Boeheim. He is vulnerable in the middle of the zone if the guards can't stop penetration, and he will need to make smarter decisions on when to contest shots or stand his ground. Another problem last season was the reliance on the perimeter shot instead of working the ball to the best possible position. The leadership of Wes Johnson and Andy Rautins will also be missed, and it will be up to Joseph and Jardine to take charge.
The Question Mark: Can Kris Joseph be a go-to guy? He is very talented and can score in a variety of ways, though he is more strong than he is athletic. If he can become a more consistent perimeter shooter to keep defenses off balance, there is no reason why Syracuse can't hand him the ball with the game on the line.
What Will March Bring?: There is certainly enough talent here to win the Big East, though that could be dependent on the progression of the freshmen. My guess is that they finish second to Pitt in the Big East, though if I was to pick the Big East team most likely to make the Final Four, it's the Orangemen.
Villanova
The Good: Scottie Reynolds is now in the D-League, but Jay Wright has the weapons to get the Wildcats to a second Final Four in 3 seasons. This is a typical guard-heavy Wright team, led by seniors Corey Fisher and Corey Stokes. Fisher, who recently scored 105 points in a summer league game, will be the primary scorer and late game go-to guy. Fisher is capable of playing either guard spot, has the ability to score from long-range or take the ball to the hoop, and he has very good court-vision. His decision-making needs some work, as does his on-ball defense. Stokes is also an excellent shooter, though he doesn't have the ability Fisher does to create his own shot. He is a very good defender, especially on the perimeter and provides help on the boards. The potential breakout players this season are Maalik Wayns and Mouphtaou Yarou. Wayns does an excellent job at the point, controlling the tempo of the offense as well as seeing the floor very well. He is extremely quick and has little problem finding holes in the defense to get his shot off. He is a good defender, though he has a tendency to gamble too often and end up out of position. Yarou will man the middle, and if his development continues, he has the ability to be a double-double player. He is much better playing with his back to the basket and he has a few go-to moves with nice touch on his shot. The biggest areas he needs to improve are his lack of aggressiveness, which should improve in time, and developing a face-up game to compliment his post play. The rotation will be filled out by Dominic Cheek, a solid shooter on the wing, Antonio Pena, a forward who has developed into a decent scorer and rebounder, and freshman JayVaughn Pinkston who's skill set right now is more of an under-sized power forward, but he projects to eventually play on the wing. He has very good range on jumper, though he is very inconsistent, especially with the timing of release.
The Not-So-Good: The biggest problem that Villanova has faced over the last few years has been the perimeter focus on their offense, especially 3 or 4 guard sets. Often they are left in the position where if their jumpers aren't falling, they are in danger of falling behind quickly. It will be important to for Yarou to the next step in his development to give the Wildcats a true low post option. Fisher and Stokes will need to prove themselves as team leaders in the absence of Reynolds.
The Question Mark: Does Wayns eclipse Fisher to become the Wildcat's best player this season? Wayns is arguably the most talented player on the team – an excellent ballhandler, scorer, defender and athlete. His biggest issue in his freshman season was not seizing the opportunity to show what he can really do when he was on the court, instead deferring to the veteran players. Expect Wright to let him loose this season, and he should be one of the Big East's best by the end of the year.
What Will March Bring?: Top 4 in the Big East, potentially winning it all if Yarou establishes himself in the post. They have the talent to make a deep run in the NCAA Tournament, again if Yarou shows what he can do. If he doesn't, they are still capable of winning a game or two in the NCAA's. Fisher will get a look from NBA teams, but he will need to show that he has good point guard skills to go with his scoring ability.
West Virginia
The Good: A Final Four trip last season was just the beginning of Bob Huggins' rebuilding of the Mountaineers basketball program. Team leader Da'Sean Butler and Devin Ebanks are gone, but point guards Joe Mazzulla and Truck Bryant are back. Both bring different skills to the court, and Huggins has found ways to get them on the court together. Mazzulla is the more natural point guard, while Bryant is at his best when going to the basket. Both of them need to improve their perimeter shooting, but both are also strong defenders and extremely tough – prototypical Huggins players. Kevin Jones was very impressive last season, battling strong in the lane and being a force on the offensive boards. On top of that, he has great range on his jumper, though his shot selection needs improvement. Defensively, he is a bit heavy-footed, but he does a good job using his body to defend the post. Turkish center Deiz Kilicli showed excellent low post skills after he became eligible last season and should contribute a lot more scoring and rebounding this season. Freshman Kevin Noreen is very similar to how I described John Henson above, though Noreen is a much more-skilled offensively than Henson. He does need to add strength to be effective in the Big East. Freshmen David Nyarsuk and Noah Cottrill both have the potential to be top-level players, but will most likely need another year before they contribute.
The Not-So-Good: Butler was one of the most clutch players in the nation last season, and at first look, there doesn't seem to be anyone with that intensity and ability to accomplish the same. Mazzulla and Bryant need to be more careful with the ball this season as both have a tendency to try and do too much. The development of Kilicli and Noreen will be vital for the Mountaineers to have a balanced offense.
The Question Mark: Is Jones capable of being a premier player in the Big East? Jones is uniquely talented, with excellent athletic ability and a legitimate scoring threat anywhere on the court. The key to his development lies in improving his basketball IQ, knowing what his teams needs from him and focusing on that. If he can figure out the mental part of the game, he may be one of the biggest threats in the conference.
What Will March Bring?: The Mountaineers could be one of the Top 6 teams in the conference, with a chance at being one of Top 4, depending on the development of their key players. They should be safely in the NCAA Tournament and have the talent to at least make a Sweet 16 run. If Jones was to decide to come out next season, he could be a mid-first round pick.
That wraps up our look at the Big East. Make sure to check back tomorrow for a look at the West Coast Conference, followed by the Missouri Valley on Friday. As always, leave your comments, feel free to contact me at [email protected], and follow NBA Draft Blog on Twitter – @NBADraftBlog