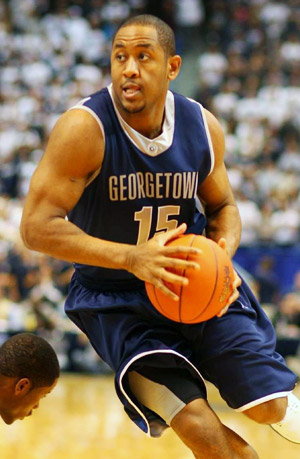 The NBA Draft Blog Conference Season Previews continue with a look at one of the toughest conferences in the country – the Big East. As always, there is plenty of talent, but a 16 team conference takes its toll on the members come February and March. As usual, Pitt and Georgetown will be near the top, as will Marquette. Cincinnati will look to make a leap this season, while UConn and Notre Dame could be in for a tough time early on. DePaul is rebuilding, while Louisville will look to get back near the top under Rick Pitino. Here is Part I of the Big East.
Cincinnati
The Good: Coach Mick Cronin's squad lost its 2 top players from last season and will most likely be a much better team. Lance Stephenson and Deonta Vaughn will be missed, but the voids will be filled by a variety of players who are ready to show what they can do. This year's group will be led by big man Yancy Gates, who will be debuting a new, slimmer look. Gates has very good size and uses his body well. Around the rim, he has improved his footwork and his finishing skills. He needs to become a better rebounder for his size, and hopefully will be able to go after balls quicker with less weight on him. It will be important for him to play aggressive this season for the Bearcats to get the most out of him. Gates will be joined in the frontcourt by fellow returning starters Rashad Bishop and Ibrahima Thomas. Bishop is a solid swingman, who showed an improved jumper last season. He is also a good defender who can guard multiple positions. Thomas is a long, lean, athletic forward who is very good at altering shots and using his athleticism to grab offensive boards. Cashmere Wright takes over for Vaughn at the point and has the potential to be one of the best point guards in the Big East. He has a great first step and can get out in transition or take his man off the dribble. He sees the court well and his decision-making improved as the season went on. He needs to improve finishing at the basket and becoming consistent with his jumper. This season will also be the debut of Sean Kilpatrick, a smooth combo-guard who is capable of scoring from anywhere on the court. Hopefully he has improved his defense during his redshirt season. Freshman Justin Jackson will provide another strong option in the post. He is a great athlete and very active around the basket. He runs the court well, though he needs to improve his ballhandling and his jumper.
The Not-So-Good: Perimeter shooting, especially from behind the 3 point line, will need to be improved. There is also a need for a go-to guy, with both Vaughn and Stephenson gone. Wright has the attitude and demeanor to fill this role, though it is yet to be seen if he can hit the shots when it matters. Also, outside of Gates, there isn't much post production. Freshman Kelvin Gaines is talented, though raw and will be hard-pressed to contribute immediately.
The Question Mark: Can Gates take the next step in his progress to become a dominant big man? Gates made great progress last season, though he seemed to be a step slow at times and lacked that aggressive streak which the best big men have. This season he has lost some weight, and gained some muscle and speed. Look for him to be one of the best big men in the Big East.
What Will March Bring?: Losing Stephenson and Vaughn is going to be a blessing in disguise for this team. I expect Gates to make the jump that everyone anticipates, and the addition of Kilpatrick to the backcourt will be big. This is a 20 win team and should be in the Top 7 in the Big East. I expect them to be in the NCAA barring a horrible end of the season collapse.
Connecticut
The Good: Though off-court distractions have seemed to take their toll on Coach Calhoun and the Husky program, UConn will still field a talented team, including potential All-American Kemba Walker. Walker is the engine that makes the team run, one of the fastest point guards on the break you will ever see. He definitely improved his control from his freshman year to sophomore year, and I expect to see the same improvement in his junior year. We already knew about his court vision, but the second half of last season saw him pick up a bigger share of the scoring load. With a more talented team around him this season, I wouldn't look for much improvement in his scoring numbers, but a nice drop in his turnovers. As is usually the case, UConn will have a heralded group of freshman, any of the group capable of being a freshman superstar. Michael Bradley, Roscoe Smith, Shabazz Napier, Tyler Olander and Jeremy Lamb are all capable of playing major minutes right away for the Huskies. Smith is a future star and combines the best attributes of the now-gone Jerome Dyson and Stanley Robinson. He is a great athlete, can take the ball to the basket or step back and hit the three, and he handles the ball well for his size. Once he adds some muscle to his frame, he could be one of the conference's top scorers. Bradley has good size, but is raw and needs to grow into his body. He is skilled for his size and can stretch the defense with his perimeter ability. Defensively, he is active, but isn't strong enough to effectively guard big men. Napier is the heir apparent to Walker, though he is a much stronger scorer than the current leader. A year of learning under Walker should help teach Napier the nuances of running a pro-style offense. If Calhoun chooses to play them together, he can have his team pressure and run for long periods of time. Lamb will provide the Huskies with the perimeter threat that they seemed to be missing the last few seasons. He still needs to develop as a defender, but he has extremely long arms and can be disruptive on the perimeter. Of the returnees, Alex Oriahki will hopefully show some improvement in his offensive skills this season. He is a strong presence in the paint and a solid rebounder.
The Not-So-Good: This is a very young team, with Kemba Walker being the sole player expected to be a major contributor who is not a freshman or sophomore. There will be a lot of growing pains, though the Huskies are lucky to have the experience of Walker at the point, which should cut down on some mistakes. The sudden loss of Ater Majok before the season was a major blow to a team which needed some solid interior play this season. Oriahki is still very raw on offense and Bradley needs to develop more strength to be a factor in the post. Of course, there are the questions stemming from NCAA investigations and what Coach Calhoun knew about the transgressions which will continue to hover over the program.
The Question Mark: This is the same issue that we discussed with Tennessee last week – how are the NCAA allegations going to affect the program and Coach Calhoun? While all players or coaches associated with the allegations are gone, the people of the state of Connecticut have seemed at times to grow tiresome of this type of news. It will be imperative for the Calhoun and the Huskies to leave it all out on the court every night to rally the fan base around the program.
What Will March Bring?: As I said, there is a lot of talent, but it is young and I think it would be best to temper expectations. They have enough here for a 20-22 win team, though the Big East season may be a tad rough for them. Most likely a 8-10th place finish and on the outside of the Tournament this season. If Walker chooses to leave after this year, he will be one of the top point guards in the draft and should go in the late 1st round.
DePaul
The Good: Another team hit hard by graduation and early defections, DePaul is looking to rebuild under new coach Oliver Purnell. Will Walker and Mac Koshwal accounted for almost half of the team's points last year, but look for Purnell to install a more up-tempo system to take advantage of the team's athleticism. The players to watch from this year's team are all freshmen – Moses Morgan, Cleveland Melvin, and Brandon Young. Morgan is a scorer, does a great job getting to the basket, has a decent mid-range game, and is active on the boards. He will need to improve his defense, and work hard on adding muscle, but he has the ability to be the Blue Demons' top scorer right away. Young has good size for a point guard at 6'3, does a good job running a half-court offense and can push the ball in transition. He needs to work on cutting down his mistakes, especially his tendency to be a bit slow in his decision-making. Defensively, he does a good job, though his effort can be inconsistent. Melvin is a long, athletic forward, who plays much better at this stage with his back to the basket, though his long-term future will probably be on the perimeter. Watch for him to slowly transition to working on the perimeter as Purnell brings in bigger players to fill the front line positions. Of the returnees, Mike Stovall and Eric Wallace both have the ability to score in a variety of ways and will provide leadership under the new coach.
The Not-So-Good: The loss of Koshwal is going to be tough, especially as he was starting o come into his own as a player. Krys Faber played decently in limited time last season, but he will need to make a big leap this year to provide some semblance of a post game for the Blue Demons. Perimeter shooting, especially from 18 feet out hampered DePaul last season and unless one of the young players comes out of the gate firing this season, it will continue to be a sore spot. Defensively, Purnell prefers to pressure the ball, though he may not have the athletes to play defense the way he wants. Jeremiah Kelly at the point guard position plays well in spurts, though is inconsistent on both sides of the ball.
The Question Mark: How will the players from the previous regime adjust to Coach Purnell's no-nonsense approach? Purnell has a reputation from making a lot out of little talent-wise, and that is owed to his approach mixing discipline and effort. While Jerry Wainwright was a good coach, he often lost his players, and brought in guys who weren't exactly the best fit. One thing is for sure, if the holdovers don't give Purnell what he wants, he will not hesitate to keep them off the court.
What Will March Bring?: I would be stunned in the Blue Demons don't finish 15th or 16th in the Big East, though they should be able to break the 10 win mark this season. 12-14 wins overall seems like the ceiling for this group.
Georgetown
The Good: The Hoyas' season came to a shocking end in March with a First Round NCAA loss to Ohio. On top of that, Greg Monroe took his all-around skills to the NBA; yet the Hoyas are still in good shape coming into the season. Led by the guard trio of Chris Wright, Austin Freeman, and Jason Clark, the Hoyas have a variety of ways to score and will continue to play extremely tough defense. Wright did a great job last year stepping up as a leader of the team, while also improving almost every part of his game. The biggest flaw in his game is that he lacks the speed of a lot of the point guards he plays against, though he is stronger than most. With the lack of a solid post presence other than Julian Vaughn, Wright will need to become more aggressive looking to score. Freeman is a great perimeter shooter, and he has the ability to shoot off the dribble or off a screen. He is also extremely strong and can muscle his way to the basket to score. Defensively, he is an average on-ball defender, but needs to become better away from the ball. Clark is a fantastic defender, who showed some flashes of very good offensive skills last season. A much improved shooter, I expect him to become much more of a scorer this season. A good athlete, Clark should look to get to the basket more often instead of settling for jumpers. Vaughn will be the muscle in the middle, and he showed steady improvement last season, especially in his ability to operate in Coach Thompson's offense. Freshmen Nate Lubick, Moses Abraham and Markel Starks will provide depth along with sophomore Hollis Thompson.
The Not-So-Good: Monroe is a huge loss in the middle, as not only did he have the ability to play inside and out, but he was one of the premier passers in the country, perfectly suited for the Hoya offense. Vaughn is more of a banger, and while Lubick has a similar skill-set, he needs time to develop. Defensively, the team was very inconsistent last season, as evident in the loss to Ohio. By the time the players made the proper adjustments to shooters, it was too late. Clark and Wright will need to be more aggressive on the perimeter this season, which should also help the Hoyas get out and run.
The Question Mark: How efficient will the Georgetown offense be without Monroe as the focal point? While Monroe wasn't the top scorer on the team and certainly didn't take an excessive amount of shots, the offense did run through him in the high post. The best part about Coach Thompson's offense is the flexibility it provides, and it should be adjusted accordingly with the emphasis on the perimeter. Look for Freeman to also get more chances in the post when he has a size mismatch against a smaller guard.
What Will March Bring?: This team is most likely in the Top 5 in the Big East, and if the defense holds, could finish 1 or 2. Look for them to get over last year's first round exit, and win a game or two in the NCAA Tournament. Freeman and Wright are both potential draft picks next season – Freeman as early as the late first round and Wright in the mid to late second. Vaughn should also get a few looks in NBA training camps for his strength in the post.
Louisville
The Good: First, Coach Rick Pitino's personal scandal may be behind him at this point and should not have much of an effect on this year's team. While he lost team leader Edgar Sosa and enigmatic Samardo Samuels, he has a solid group of athletes who should be able to play the full-court style Pitino prefers. Returning in the frontcourt are two players who have yet to live up to their potential – Jared Swopshire and Terrence Jennings. Swopshire has great length and showed a good ability to get after rebounds in spurts. He runs the court well, though his shot is very inconsistent and he often shies away from contact. Jennings is a strong defender and rebounder, though his offensive game has not developed as many would have liked. He needs to become much more consistent when he gets the ball with his back to the basket, as he has the size to get some good looks. Peyton Siva should take over for Sosa at the point, and he will need to get over the inconsistency of his freshman season. Siva has good speed, handles the ball well and can push it up court. He didn't look to shoot much last season, but should be more comfortable this season looking for shots. Defensively, he moves well on the ball, though he needs to improve his handling of screens. Kyle Kuric gives the team a decent shooter on the outside while playing his heart out each time he steps on the court. Gorgui Deng was just declared eligible last week, but will give the Cardinals a much needed defensive presence in the paint, though I don't expect much from him on offense.
The Not-So-Good: Shooting was a problem last season, and unless some players made some improvements over the summer, it could be rough again. Outside of Kuric and Mike Marra, there isn't much in terms of long-distance shooters who can stretch the court. Defensively, the team had way too many lapses to play the style of ball that Coach Pitino wants. It will be a back-to-basics approach with this group, even if it means sacrificing some of the pace.
The Question Mark: Is there anyone in this group who will take their game to the next level this season? Jennings has the most talent, though he has showed very little of it yet. Pitino will need to get on him early and often to get the most out of him this season. If he does make that leap, he has the ability to be a dominant big man – but that is a huge "if" right now.
What Will March Bring?: It is going to be a tough season for Coach Pitino and it will take its toll. 15 or 16 wins would be about right for this group and certainly in that 10-13 range in the Big East.
Marquette
The Good: Team leader Lazar Hayward has moved on to the NBA, but Buzz Williams will still have a very competitive team this season. Darius Johnson-Odom will be the go-to guy this season, and last year he showed a good ability to score in bunches. He does a good job getting into the lane with an excellent first step, and was almost a 50% 3pt shooter last season. The main concern will be seeing how he handles being the leader of this team after a few seasons with Hayward, Jerel McNeal, Wes Mathews and Dominic James. Heralded freshman Vander Blue is the other Golden Eagle to keep an eye on. Blue has shown the ability to score, handle the ball and plays tough defense. If he learns the ins and outs of Coach Williams offense early on, he can be counted on for some big games for Marquette. Senior Jimmy Butler has the talent to be the all-around player that Hayward was. Butler can score inside, is a strong rebounder and plays tough defense. If he can start knocking down from 18 feet + this season, it could be a very special year for him. There is also solid depth on the wings with Dwight Buycks, Erik Williams and freshmen Jamail Jones and Jae Crowder. Williams should take a major leap this season with more playing time.
The Not-So-Good: This a solid team top to bottom, but the lack of size in the middle could be a problem. It will be important for the perimeter defense to step up and pressure the ball, or for Williams to find creative ways to clog the middle. The lack of a solid big man will also make perimeter scoring more important, so shot selection and consistency will need to be improved.
The Question Mark: How will Johnson-Odom handle leadership of the Golden Eagles? The one key to the last few Marquette teams has been strong leadership. Johnson-Odom has the ability to be the next leader, but it will be important for him to step up and take that role over instead of settling for being leader in name only. He will have help, as Butler has experience and is known for playing hard every night, but in the end, how the season goes will fall on Johnson-Odom.
What Will March Bring?: Most likely a Top 5 or 6 Big East Team – probably 22-25 wins and a solid NCAA seed. Butler has the potential to play his way into the NBA Draft, as Hayward did last season, though most likely mid-second round. Blue is a legitimate Big East Rookie of the Year candidate and should play to those expectations.
Notre Dame
The Good: With Luke Harangody finally of to the NBA, Mike Brey will rely on Tim Abromaitis and Ben Hansbrough to guide the Irish back to the NCAA Tournament next March. Abromaitis is an excellent shooter, but will need to be a much bigger force on the boards to help alleviate the loss of Harangody. Hopefully he has added some muscle in the off-season. Hansbrough plays the game like his brother, taking no possessions off and doing whatever the team needs to win. While he doesn't to any one thing very well, he is good at a lot of little things. Unless someone steps up to be a post presence, Hansbrough may need to get used to shooting with a hand in his face. He does have a quick release and good range, so he may be able to help stretch defenses, though I would expect him to spend more time running the offense. Tyrone Nash will start the season as the main big man though he is undersized and will need to spend most of his energy guarding bigger and stronger players. Freshman shooting guard Jerian Grant goes strong to the hoop, though he needs to add some muscle to his frame to be able to finish in the Big East. He can help push the ball in transition, and plays tough defense out on the wings.
The Not-So-Good: The Irish roster looks familiar with undersized big men playing in the post, big wings who can shoot the ball and solid, but unspectacular, point guard play. Nash, Tom Knight and Carelton Scott will need to work the boards as hard as Harangody did to keep the Irish in games, especially if the long ball isn't falling. This is also not the most athletic group in the conference, and can be severely outmanned against up-tempo squads. Coach Brey will need to scheme ways to get his shooters open looks consistently.
The Question Mark: Who will pick up Harangody's production in points and rebounds? This is a tough question, and in the immediate future, it may take 3 or 4 guys to put up his same numbers. Even more a challenge is the instimidation factor that Harangody gave the Irish, with teams knowing he will be going hard after every rebound on both ends of the floor. Right now, there doesn't look to be a player with that potential.
What Will March Bring?: The Irish will be hard pressed to break the Top 8 in the conference this season, and will likely not be heading to the NCAA Tournament. As with all ND shooters, Abromaitis will most likely get a look from some NBA teams looking for big men who can shoot from 3.
Pittsburgh
The Good: No coach gets more out of his players than Jamie Dixon. Expect this season to be no different. Led by Ashton Gibbs, the Panthers will battle every night against any team. Gibbs exploded on the Big East scene last season, averaging almost 16 points a game, up from 4 the year before. He has good range on his jumper, an effective first step, and is not afraid to take a hit on his way to the basket. Gilbert Brown will also be back to provide scoring and rebounding support. Brown has the ability to hit the perimeter jumper and is very effective grabbing a scoring off of offensive rebounds. He is very athletic and uses it well on the defensive end. Dante Taylor should have a breakout sophomore season to become one of the better big men in the Big East. He has a wide body, good footwork, and makes quick, powerful moves in the post. On defense, I would like to see him be more aggressive, especially contesting shots. The guy who is the glue to the Pitt team, and easily their most valuable player, is Brad Wanamaker. A tough shooting guard with the ability to hit from long and mid-range, Wanamaker is also very good defender, rebounder, and has excellent court-vision. Gary McGhee always seems to save his best games for big occasions and should be a force on the boards again this season. A talented group of hard-playing freshmen should provide excellent depth for Coach Dixon. Wings JJ Moore and Cameron Wright, and point guard Isaiah Epps will all gain valuable minutes this season and will be prepared to step up when they need to.
The Not-So-Good: Taylor will need to make the same leap DeJuan Blair made in his second season to give the Panthers the interior scoring threat they need in their methodical offense. Also, the lack of a true point guard can hurt the Panthers, especially since their offense relies on precision. The team has a good group of passers and they know how to get good looks, but the lack of a true point guard leader can cause some problems, especially against pressure defense.
The Question Mark: There aren't many on this team, and the season will come down to how Taylor progresses in his second season which was already discussed above. The other thing to watch for is the continued development of Gibbs, especially when it comes to his shot selection. At times, he tried to do way too much when better options were available.
What Will March Bring?: It will be a major surprise if Pitt doesn't finish in the Top 2 or 3 in the Big East, and grab a top 1 or 2 seed in the NCAA Tournament. Dixon's squad will always be a danger come March and to see them in the Elite 8 or Final 4 won't surprise many.
That wraps up Part 1 of the Big East preview. Make sure to check back tomorrow for Part II – with looks at Providence, Rutgers, St Johns, Seton Hall, South Florida, Syracuse, Villanova and West Virginia. As always, leave your comments, feel free to contact me at [email protected], and follow NBA Draft Blog on Twitter – @NBADraftBlog