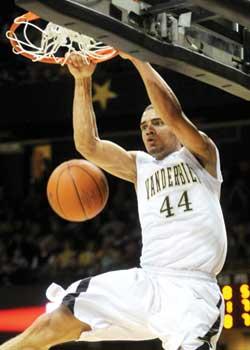 The NBA Draft Blog Preview of the SEC continues with Part II and a look at some teams that have attracted a lot of attention this off-season. Tennessee will be in the spotlight this season, but for all the wrong reasons; Mississippi State somehow has Dee Bost back, and we will finally get the debut of Renardo Sidney, though neither will be available at the start of the season. Vanderbilt will be a solid squad with a potential star in Jeff Taylor, while South Carolina, Ole Miss and LSU will struggle, but have promising times on the horizon.
If you missed Part I (Alabama, Arkansas, Auburn, Florida, Georgia, Kentucky), Click Here.
LSU
The Good: Trent Johnson enters his third year at the helm of LSU and is looking to rebound from last season's misstep. Leading scorers Tasmin Mitchell and Bo Spencer are gone, but a solid group of returnees combined with a fantastic freshmen class will give fans a reason to be optimistic. Junior forward Storm Warren provides toughness and leadership in the frontcourt. Warren showed a great ability to finish around the rim last season, while using his strength to overpower people on the boards. Defensively, he is often guarding bigger players, so he needs to learn to use his body to force them away from the basket. Also returning in the frontcourt is center Garrett Green, who provides good size, but really needs to step up his rebounding and scoring this season. Backcourt returnees include Chris Bass and Aaron Dotson. Bass did a very good job distributing the ball, though he needs to step up a bit with his scoring production. The key to this season is the stellar freshman class – guards Ralston Turner and Andre Stringer, and forwards Jalen Courtney and Matt Derenbecker. Both Turner and Stronger will bring some much needed scoring to the backcourt. Turner can take the ball to the basket and finish strong, or knock down 15 footers consistently. He needs to become more consistent from 3 to be a major threat, though he can hit the shot while open. Stringer has the ability and attitude to be a leader from Day 1. A good shooter who can also get into the lane easily, Stringer can be a catalyst on both ends of the floor. Courtney plays much bigger than he is, though he still needs to put on some muscle to compete at this level. Derenbecker is a great all-around player who can stretch the floor with his shooting or work out of the high post with excellent passing ability.
The Not-So-Good: This team was plagued by horrendous shooting last season, and the freshmen will need to step up immediately to improve this. Post play, outside of Warren, is also a major area that needs improvement. Green has shown the ability to score and rebound, he just seems to disappear when he is on the court. The freshmen will be counted on for major minutes this season, and there will be growing pains associated with this.
The Question Mark: I wanted to make this about 7'2 walk-on band member Andrew Del Piero, but I am still not sure what is going on here. Instead, the major question for me is does it make sense for Johnson to turn the team over to the freshmen from the get go? They may be the 4 most talented players on the team, outside of Warren, and combined with Iowa State transfer Justin Hamilton and 2011 freshman Johnny O'Bryant, the Tigers will be able to make a major move in the SEC. These 4 freshmen receiving the bulk of the minutes could prove to be huge next year and beyond.
What Will March Bring?: This team is still a work in progress and I don't think you can expect much more than last season's 11 wins. I think 14 may be the ceiling, but watch for the Tigers to continue to improve.
Mississippi
The Good: Coach Andy Kennedy will be missing some key players from last season's team, but he still has some pieces in place to make things difficult for fellow SEC teams. All-SEC guard Chris Warren is back and will lead the way for the Rebels. Warren doesn't have great size, but does a great job getting into the lane and drawing the defense. He also has the ability to consistently hit the 3. Defensively, he has quick hands and feet, though his size can work to his disadvantage. Zach Graham is a big shooting guard who will attempt to replace Terrico White. Graham isn't the slasher or passer that White was, though he has the ability to hit from mid-range and long-range consistently. Returning in the frontcourt are forwards Reginald Buckner and Terrance Henry. Buckner showed the ability to rebound well, though he needs to work on his defensive positioning. Henry has good size, and last season showed the ability to play in the post or step out to the perimeter and hit the jumper. The addition of freshman powerhouse Demarco Cox will take pressure off of Henry to play down low as much and allow him to draw big men out to the perimeter. Cox is a huge presence in the middle and he knows how to use his big body. He has solid footwork and a nice touch around the rim, though he tends to try and use his power all the time. Defensively, he needs to work on his positioning on the blocks, but he has the strength to keep people away from the basket. Fellow freshman Dendrecous Nelson gives a solid backup to Warren who can help keep the team's pace.
The Not-So-Good: Replacing Terrico White, Eniel Polynice and Murphy Holloway is a tough task, especially because White and Polynice both has the ability to run the offense which let Warren focus more on scoring. Without these proven options around him, there is a possibility that Warren may try to force the issue. Bench scoring will be important, especially with a lot of young players there. Frontcourt depth may become an issue, especially if Cox has the foul problems that most freshmen bigs seem to have.
The Question Mark: What will be the impact of Indiana transfer Nick Williams? Williams had a solid freshman season at Indiana, showing the ability to score in a variety of ways while also showing a good knack for rebounding and passing. He has a very similar skill-set to Terrico White, and there is a chance that he may try to live up to White's numbers as soon as he steps on the court. It will be important for Williams to ease himself into the offense and let the game come to him. If he does this, he can be the perfect compliment to Warren in the backcourt.
What Will March Bring?: I think it will be tough to match last season's 24 wins. I am thinking 18-20 is the ceiling for this group, and they could be a solid bubble team if they pick up an upset or two in the SEC. Warren could be a 2nd round pick next season if he shows the ability to play as a true point.
Mississippi State
The Good: When Coach Rick Stansbury will have his full team, the Bulldogs have the potential to be a dangerous squad in the SEC. It will start with the long-awaited debut of Renardo Sidney, who sat out last season with eligibility issues. Sidney has great size, uses his body well in the post, has good footwork and can finish strong or with finesse. He is a strong rebounder and shot-blocker and could be a tough guy to make post moves on. Ravern Johnson is a big guard who has the ability to stretch defenses with his long-range jumper. He needs to do a better job putting the ball on the floor, as he has a size advantage over most other guards. Point guard Dee Bost will become eligible during the SEC season, and his eligibility will be a huge boost for Stansbury's squad. Bost is skilled at pushing the ball, is good at getting the ball into the post and has the ability to knock down the 3. Defensively, he can be a strong on-ball defender, though his effort can be inconsistent. Kodi Augustus is a strong swingman, is very effective scoring in traffic and does a good job drawing contact. Big man John Riek is a very good shot-blocker, though is still very raw on both ends of the floor.
The Not-So-Good: Obviously, there is a going to be some difficulty integrating newcomers after the season starts. Sidney will miss some games to start the season and Bost will miss the first half of the season. The remaining players will need to do what they can to keep the Bulldogs competitive in the games where they aren't there. Also, Sidney has not played competitively in over a year and will certainly go through growing pains as he adjusts. Bench depth could be an issue as there is not many players with significant experience backing up key positions.
The Question Mark: Who will run the team in Bost's absence? Junior college transfer Brian Bryant is a good scorer, though it is yet to be seen how he handles running the offense. Sophomores Charles Parker and Baxter Price showed little last season, but may need to step up this season, especially on the defensive end. Whoever it is, it will be tough to replace Bost's skill-set and experience.
What Will March Bring?: This will definitely be a tale of two seasons – with Bost and without. With him, this is one of the Top 4 teams in the SEC, and for Stansbury's sake, let's hope his re-emergence goes smoothly. If it does, they can win 20-23 games and pick up a 4-6 seed in the NCAA Tournament. If Sidney comes out for the next draft, he could go as high as late lottery, though mid-first round seems likely. Bost will get a look in the mid-to-late 2nd round.
South Carolina
The Good: Things will look a little different for Darrin Horn's Gamecocks this season with the loss of leading scorers Devan Downey and Dominique Archie, but Horn has done a great job attracting talent to South Carolina and there should be little drop off in terms of wins over the next few seasons. Two starters return from last season – forwards Sam Muldrow and Lakeem Jackson. Muldrow is a strong defender and rebounder, who also has the ability to score in traffic. He showed that he could step outside the lane and hit the mid-range jumper, though he needs to become more consistent. Jackson is a talented swingman, has the ability to guard multiple positions and should be able to increase his scoring load this season. He needs to become a much better shooter, though he is athletic enough to get to the basket. Ramon Galloway will return in the backcourt, though he will need to become much better at distributing the ball. He will have competition in freshman Bruce Ellington, a slasher who can also hit from long-range. He still needs to learn to control the tempo, but he has the potential to be a very good point guard. Two other freshmen will help solidify the frontcourt. Damontre Harris is a good defender, using his length well to alter and block shots. Offensively, he is still a work in progress, though he runs the floor well and can finish strong. RJ Slawson is still growing into his body, though he has some good moves in the post given his lack of strength. Once he adds some muscle, he will be a very good offensive option for the Gamecocks.
The Not-So-Good: Replacing your 4 leasing scorers is always a tough task, especially a prolific leader in Downey. The backcourt is going to go through some growing pains as players learn to adjust to their new roles. Perimeter shooting needs to become more consistent in order to open up the lane for the big men to work. Defensively, Ellington may need to become the type of defender who forces turnovers to allow the team to get easy baskets in transition.
The Question Mark: Where will the scoring come from? This is a group that is going to need to create easy baskets, especially off of turnovers and in transition. The team is athletic enough to force the tempo, though whether they are skilled enough is yet to be seen. Muldrow and Jackson will need to carry the team as much as possible early on, especially while the freshmen get their bearings.
What Will March Bring?: This group is probably no better than a .500 team this season, though the next few years should see them back above 20 wins.
Tennessee
The Good: The Volunteers overcame a tumultuous early part of the season to come within 2 points of making the Final Four. Now they will need to overcome the loss of team leaders Wayne Chism and J.P. Prince to find similar success this season. The team leader this season will undoubtedly be Scotty Hopson. Hopson, a junior shooting guard, has great size, long arms, and great leaping ability. He has the ability to shoot from three and has a nice first step to take his man off the dribble. One area where he needs to improve is working without the ball, especially coming clean off of screens. Defensively, he is an above average defender who uses his long arms well to disrupt passing lanes. I also expect big things out of Brian Williams this season. The senior is a massive presence in the middle and has improved steadily since coming to Tennessee. He has good instincts around the rim and goes hard after the ball. More should be expected of him on the offensive end this season, and he will need to become more aggressive getting position. Freshmen Tobias Harris and Jordan McRae will provide an offensive spark off the bench. Harris has the ability to play both inside and out, is a good offensive rebounder and plays well without the ball. Defensively, he will need to improve his agility to cover on the perimeter. McRae is a great scorer, especially in transition, though he will need to get much stronger to play regular minutes at the NCAA level. Melvin Goins, Cameron Tatum, and Sylar McBee provide experience and depth in the backcourt.
The Not-So-Good: The loss of Chism is big, as he provided major help to Williams on the boards, as well as being a team leader. The depth in the post is lacking, with the only real depth behind Williams is Renaldo Woolridge, who is talented but lacks the muscle of Williams.
The Question Mark: The major question here is the status of Coach Bruce Pearl, who has admitted to NCAA violations and is currently coaching without a contract. This is the kind of distraction that doesn't bode well for the Volunteers, as questions will be popping up continuously through the season, no matter how well they play. Hopefully, everything is out and on the table, and the team can try to move on, but if one more indiscretion comes out, this season is over, as well as Pearl's career.
What Will March Bring?: There is talent here, though the internal distractions could prove to be too much. My best guess is 18-20 wins, and a team left on the bubble at Tournament time. Hopson has NBA potential, and he can do a lot to bolster his stock this season, as can Williams.
Vanderbilt
The Good: AJ Ogilvie and Jermaine Beal are gone from last year's NCAA tournament team, but Coach Kevin Stallings has plenty of talent to keep the Commodores on the winning track. Jeff Taylor will have his chance to shine. A small forward with the ability to hit from mid-range and take the ball strong to the hoop, Taylor has added the necessary muscle this off-season to allow him to muscle his way to the basket when needed. Defensively, he needs to work on his on-ball defense as he tends to leave his man too much room to operate on the perimeter. Three-point bomber John Jenkins will need to adjust to a starting role this season and more focused attention from opposing defenses. I hope to see him become more versatile on offense by going to the basket more and getting to the line. Freshman Rod Odom has the ability to provide a post presence with good footwork, a solid body and good touch around the rim. Brad Tinsley will look to replace Beal as the team's playmaker, and he showed good ability to get into the lane and draw the defense to him last season. If not, freshman Kyle Fuller will be waiting for his chance to show what he can do. Andre Walker has excellent athletic ability and is a very underrated passer. If he plays in the high post he can be another playmaker for the Commodores.
The Not-So-Good: Olgivie was a skilled big man and replacing him will be a tough task. It will fall on Festus Ezeli and freshman Josh Henderson to make up for his production. Henderson has the potential to be a very strong player, though he needs to add some bulk to his frame. He is a good athlete and has excellent hands and footwork. He will help long-term, but I wouldn't expect a lot this season.
The Question Mark: Taylor becomes the go-to guy this season, but is he ready to handle it? Taylor has tremendous poise and showed tremendous growth last season. While I am confident he can handle the role, I am concerned that he may try to do much without a player like Beal to set things up. By the time the SEC season rolls around, he should be comfortable and will be one of the league's best players.
What Will March Bring?: Last season's 24 wins may be stretch, but I can easily see 20 and another NCAA Tournament bid, especially if they run through their non-conference schedule. Taylor will have first round potential next season, though another year may do him well. Odom could be the league's best freshman who doesn't play in Kentucky.
That wraps up the SEC preview. Make sure to check back tomorrow for Part I of the Big East Preview. As always, leave your comments, feel free to contact me at [email protected], and follow NBA Draft Blog on Twitter – @NBADraftBlog