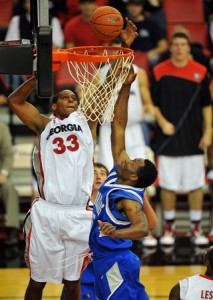 The NBA Draft Blog Conference Season Previews continue with a look at one of the top groups of talent in the nation – the SEC. Florida and Kentucky are both loaded with talent and are capable of a Final Four run, Alabama is looking stronger under Anthony Grant, Tony Barbee is looking to rebuild Auburn and Arkansas is a year away from potentially being a force again.
Alabama
The Good: Coach Anthony Grant has done a nice job putting the pieces together to help get the Crimson Tide back to the NCAA tournament for the first time since 2006. Star Mikhail Torrance is gone, but Coach Grant does have JaMychal Green back. Green is a fantastic athlete, though he is still developing as a basketball player. He has done a good job turning himself into a post player, but to play in the NBA he will need to develop a perimeter game, or at least the ability to step out and hit a 15 foot jumper. He has great shot-blocking instincts and has the athletic ability to defend on the perimeter. He will be joined by small forward Tony Mitchell in the frontcourt. Mitchell was a heralded prospect coming to Alabama and they will need him to step up and show more this season. He is a good athlete and has done a good job adding muscle to his frame. He has a good first step, has the ability to beat his player in space, and can finish strong at the rim. He really needs to improve his mid and long range jumpers, as well as working without the ball. Defensively, he does a great job rebounding for his size, uses his athleticism well to keep his man in front of him and to alter shots. Guard Andrew Steele will be back after missing his sophomore season to injury. An excellent perimeter defender, Steele is very strong and can guard either guard position. He also has the ability to play either position on offense, though he needs to improve his jumper to be considered a legitimate threat at the 2. Freshman Trevor Releford and senior Senario Hillman will likely round out the backcourt, with both men capable of scoring and defending, though both need to work on their decision-making and passing. Senior Charvez Davis and Freshman Charles Hankerson provide legitimate perimeter threats to help spread the floor for Green and Mitchell.
The Not-So-Good: The loss of Justin Knox to graduation leaves the frontcourt a bit thin depth-wise. Freshmen Jason Carter and Carl Engstrom both will need some time to improve their strength to contribute, especially on the defensive end. The loss of Torrance also leaves a void in that "go-to" player in close games. Mitchell could be that guy if his effort level improves, as he is the best player they have at creating his own shot. Defensively, the guards need to provide better on-ball defense and not hope that Green will bail them out if their man gets by them.
The Question Mark: With a large amount of talented guards, who will be the odd-man out? Releford is probably the team's best playmaker as a freshman, though Steele is a much better defender. Davis and Hankerson are their best shooters, but Hillman provides leadership. Coach Grant is going to need to find the right balance among this group to maximize their capabilities.
What Will March Bring?: This team should be better than last year's 17 wins, though the development of Green and Mitchell, along with the freshmen, will be vital. I am guessing they get between 20 and 23 wins and a NCAA Tournament bid this season. Green could be a first rounder next season if he continues to develop on the offensive end.
Arkansas
The Good: Coach John Pelphrey is entering his fourth season and he really needs to show some progress this season, especially with a very good class coming in next season. Team leaders Courtney Fortson and Mike Washington are gone, but Pelphrey has a veteran squad back, and this may be a case of addition by subtraction for the Razorbacks. The two main scoring options will be Rotnei Clark and Marshawn Powell. Clark is an undersized shooting guard, but he has tremendous range and a lightning quick release. He is excellent moving without the ball looking for good looks at the basket. Unfortunately, that is the bulk of his game. Powell has the ability to score both inside and out, can put the ball on the floor and does a great job getting out in transition. He is also a strong help defender, though he needs to be more consistent guarding on the perimeter. He uses his length well to get to rebounds against taller players. Jemal Farmer is an efficient swingman. He isn't a great scorer, but he plays smart and is a tough defender. There is some good depth in the backcourt with Marcus Britt and Julysses Nobles, along with freshmen Mardracus Wade and Rickey Scott. Michael Sanchez is returning from injury and should provide excellent rebounding and post defense.
The Not-So-Good: There is very little depth behind Sanchez in the post, and even he is undersized. Delvon Johnson and Junior College transfer Marvell Waithe will provide some size, but both need to improve their strength and toughness to battle in the post. With Fortson gone, the Razorbacks will need one of the guards to step up and run the offense. Nobles is a good distributor, though he is not the scorer that Fortson was. As a whole, the team is very athletic, though at points last season, their execution and effort left a lot to be desired.
The Question Mark: How good can Marshawn Powell be? Powell is a tremendous talent, and in time, could be one of the top players in the country. He still needs to become more aggressive when he has the ball – he settles for long range jumpers too often. The 12-18 foot shot is one he can score a lot off of, he just needs to work on it. Defensively, aggressiveness again is something he needs to be more of. He has the potential to be very disruptive, especially on the perimeter. That being said, if he keeps his effort levels consistently high, he should have a fantastic season.
What Will March Bring?: With an experienced group, they should be better than last year's 14 wins. I am guessing 18 or so, and a very slim chance of making the NCAA Tournament.
Auburn
The Good: New coach Tony Barbee is looking to bring the same success to Auburn that he did to UTEP. Most of last season's leaders are gone, so Barbee will have a near clean slate in rebuilding the program. Guard Frankie Sullivan is the lone returning starter from last season. Sullivan is a quick combo guard, with the ability to get into the lane and finding ways to score. He also showed a much improved long-range jumper last season. Earnest Ross is a guard with good size who had some good performances in limited minutes last season. Freshmen Allen Payne and Josh Langford are 2 athletic wings who will bring some much needed scoring to the Tigers. Freshman point guard Chris Denson will help push the ball up the floor for Barbee and can be the pressure defender needed to cause turnovers. Junior College transfer Adrian Forbes will provide some much needed toughness and athleticism to an undermanned frontline.
The Not-So-Good: Barbee is basically starting from scratch here, so it will take a few recruiting classes to get the talent up to SEC levels. He has brought 4 solid players in for his first class, but they will not be enough to make up for the last few years right away. Size will be a major issue, and in turn, rebounding could be a concern for this team.
The Question Mark: There really are so many at this point that it isn't fair to single out one at this time. It really boils down to whether Barbee is the man to turn this program around? He has shown that he can recruit and his players play hard for him. That is as good a start as Auburn fans can hope for.
What Will March Bring?: Not much for this group – I am guessing 12-14 wins at most – last place in the SEC West. But next season should see a big leap forward.
Florida
The Good: After winning back-to-back National Championships, Coach Billy Donovan's Gators have gone through a couple of subpar seasons. Don't expect the same to happen this season, as this team is good enough to make some serious waves. Five returning starters, plus a ver deep group of newcomers, make Florida the pre-season SEC favorite. Returning in the backcourt are Erving Walker and Kenny Boynton. Walker is small, but extremely quick, and is very good in both the halfcourt and transition. He is a great first step allowing him to breakdown defenses and has surprising range on his jumper. Defensively, he can supply constant pressure on the ball, though his size can be a disadvantage against larger guards. Boynton is a true scorer, though he seemed to have trouble at times last season getting good looks at the basket. An improved jumper will go a long way to showing how talented he really is. Chandler Parsons is a reliable swingman who can score in the post or the perimeter. He is deceivingly quick and is very good operating in open space. Alex Tyus and Vernon Macklin are both extremely tough in the post and very efficient when they get their hands on the ball. Tyus is a strong post defender, though he is still a work in progress as an offensive presence. Macklin has yet to show the real potential he seemed to have in high school, though he is a very physical presence and has improved his ability to score along the baseline. Freshman Patric Young is a kid with an NBA-ready body. He is extremely athletic and skilled on both ends of the floor, though he will need to improve his offense when operating in the post. Freshman Casey Prather is a natural fit for Coach Donovan's system, playing tough defense and running the court extremely well. Erik Murphy and freshman Cody Larson will provide excellent depth up front.
The Not-So-Good: At first glance, there isn't much to harp on with this group, though the problems of last season – inconsistency and poor shot selection – will need to disappear this season for the Gators to live up to their potential. .
The Question Mark: Can Patric Young live up to the hype? The Florida program has been raving about Young since he showed up on campus, both as a player and a person. After 2 disappointing seasons, many fans are looking at Young as the missing piece to point the Gators back towards another Championship. He is that good, with physical and mental maturity way above most freshmen. Florida better hope they win quickly with him, because chances are he won't be around long.
What Will March Bring?: The Gators are the frontrunners for the SEC Championship and certainly have an inside track on a very high seed in the NCAA Tournament. 27-30 wins is a real possibility, with Elite 8 potential. Young is a certain first rounder if he comes out next year, and Parsons, Tyus and Macklin will all have a shot of going in the 2nd round of the draft.
Georgia
The Good: Coach Mark Fox has slowly been righting the Georgia program, and this is the year we should see a major breakthrough. Led by future lottery pick Trey Thompkins and shooting guard Travis Leslie, the Bulldogs will be contenders for the SEC title and most likely a NCAA team. Thompkins is dominant in the post, has great footwork and uses his body to get great position on the blocks. With a soft touch and the ability to finish strong, there will not be many in the country who can stop him. Leslie is very strong for a guard and he does a good job muscling his way to the basket. He has a good mid-range jumper, but he needs to be more confident with his long-range shooting. Also, he has to become better working without the ball, coming cleaner off of screens and sharper cuts to the rim. Freshman Marcus Thorton should be a major contributor immediately on the wing. A fantastic athlete with the ability to play on the perimeter or around the basket, Thorton should be able to show his scoring ability against the average defense of the SEC. He will need to improve his defense, especially guarding on the perimeter. Dustin Ware is a capable ballhandler and on-ball defender, with the cause turnovers and push the ball quickly up court. Jeremy Price and Chris Barnes are physical players in the post, providing excellent rebounding and defense.
The Not-So-Good: The bench is not particularly deep, especially in the backcourt. Vincent Williams and junior college transfer Sherrard Brantley should provide some help, though neither are capable of more than some spot minutes. 3 point shooting will need to be improved especially with the attention that Thompkins will command down low. Perimeter defense is also an area of concern. The guards will need to do a much better job of not allowing the opposition into the lane.
The Question Mark: How will Thompkins handle the pressure now that he has become nationally known? Thompkins was able to build his name with little fanfare outside of the southeast. Now after a big season and a summer playing with the US Select Team, fans are expecting huge things. The best part about Thompkins' game is that he doesn't force things, he makes his plays within the flow of the game and he doesn't get frustrated when things aren't going right. He can conceivably be a 20-10 guy this season and that's with teams looking to smother him.
What Will March Bring?: The Bulldogs should do well in the SEC this season, and are probably looking at 20-22 wins. A NCAA Tournament appearance is likely, though it may not be more than a quick appearance. Thompkins is most likely a lottery pick when he comes out.
Kentucky
The Good: Another year, another elite recruiting class for John Calipari. And, like last year's group, don't expect many of these players to stick around long. Led by potential lottery picks Terrence Jones, Brandon Knight, and Doron Lamb, this Wildcat team will show more of the same as last year's group, but without the leadership of a player like Patrick Patterson. Knight has incredible speed and can score in a variety of ways, including being the deep threat that the Wildcats need. He has the ability to be a lockdown defender, though his effort can be inconsistent. Jones is a stretch 4, with the ability to play in the post or move out and hit 15-footers. Defensively, he uses his body well in the post and he has quick hands to deflect balls. Lamb is another solid scorer and will be extremely effective in transitions with a variety of ways to finish. He has a great first step and can knock down jumpers consistently. Eloy Vargas is an athletic big man who runs the floor very well. He has the ability to play inside and out, though his consistency is an issue. Defensively, he needs to get stronger and improve his lateral quickness. Two returnees, Darius Miller and DeAndre Liggins, are capable wings who both have the ability to stretch the floor.
The Not-So-Good: The point guard spot behind Knight is untested, and I am not sure anyone other than Calipari knows what he would do without Knight. This is a young team, and that was a problem that plagued last year's group with inconsistent play in the second half of the season. Chances are you will see the same this year. And as always, is Calipari a coach who can win the whole thing. No one denies his recruiting and motivational capabilities, but his players rarely improve under him and I am not sure I would want him calling the shots with a big game on the line.
The Question Mark: When will we see Enes Kanter? Kanter is the difference maker for this team, a highly skilled big man who knows how to make plays. He can score all over the court and is a very skilled passer. Defensively, he still needs to improve his positioning, but that will come with experience. However, with his eligibility in question, no one has a clue when he will take the court for the Wildcats.
What Will March Bring?: With Kanter, this is a team with Final Four potential. Without, this is still a 25-28 win team and a group capable of a deep tournament run. Knight, Jones, Lamb, and Kanter could all be first rounder next year if they go pro, with Kanter a potential Top 5 pick.
That is Part 1 of our look at the Sec. Make sure to check back tomorrow for Part II of the SEC Preview, including looks at Tennessee, Mississippi State and Vanderbilt. As always, leave your comments, feel free to contact me at ed (at) nbadraftblog.com, and follow NBA Draft Blog on Twitter – @NBADraftBlog