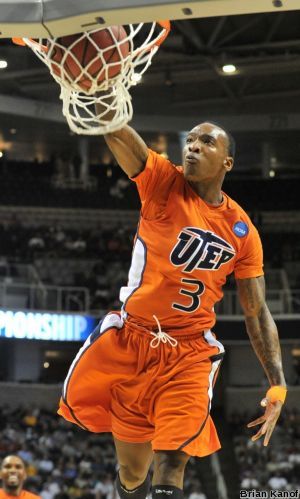 The preview of Conference USA continues with Part II and a look at Southern Miss, Tulane, Tulsa, UAB, UCF and UTEP. It's an interesting group of teams, with Southern Miss and UTEP possible NCAA teams, along with Tulsa and UAB. Also, we have two of the most polarizing coaches in the NCAA in Larry Eustachy of Southern Miss and Tim Floyd of UTEP, along with Mike Davis, who has made a nice place for himself at UAB.
If you haven't checked out Part I – go here now.
Southern Mississippi
The Good: Larry Eustachy has slowly built up the Southern Miss basketball program over the last 6 years and this may be the year they break through into the top of Conference USA. Led by senior Gary Flowers, the Golden Eagles will be a tough-minded defensive team. Flowers is strongly built, has a great defensive presence, knows how to use his body on both ends of the floor, and can finish. He plays with an intensity which carries over to the rest of the team. Joining Flowers are fellow returnees in the frontcourt Sai'Quon Stone and Maurice Bolden. Stone is one of those players who seems to be involved in every play on both ends. He does a great job as an offensive rebounder and getting to the rim and drawing fouls. Bolden has a great size, though he definitely needs to get stronger. He moves well, has good footwork and a soft touch, but he has trouble with physical opponents. Angelo Johnson handles point guard duties and does a very good job setting the proper pace for Coach Eustachy. Johnson is strong, but quick, and handles pressure well. While he has the ability to hit long-range jumpers, he often forces bad shots. Josimary Ayarza provides some depth along the frontline and has potential has both a scorer and a rebounder. RL Horton provides a nice change of pace to Johnson in the backcourt.
The Not-So-Good: The team just doesn't score. They win almost solely based on their defense, which is fine if you can control the tempo. Also, the team is sorely lacking a go-to scorer to rely on in close games. While Flowers is an excellent player, he doesn't have the scoring ability to be counted on in crunch time. And while there is some depth on the team, the bench has not been very productive.
The Question Mark: How good can Gary Flowers be? Flowers made an impressive debut after coming over from junior college. At times, he seems to score and rebound with ease, no matter who is defending him. Defensively, he can guard multiple positions and is strong enough to battle down low. However, I'm not sure how much better he will be. I look forward to see how he responds now that people are getting to know who he is.
What Will March Bring: If there is a team that could surprise and upset Memphis for the league crown, it could be this Southern Miss crew. A good mix of experience, talent and coaching and Southern Miss should make a trip to the NCAA's this season. Let's call them one of the last teams in at this point.
Tulane
The Good: New head coach Ed Conroy will have his hands full trying to invigorate the Tulane basketball program. Last year's returning scorer, Kris Richard, is back to lead the team. Richard is a strong shooting guard with the ability to get to the rim or to knock down mid-range jumpers consistently. He is also a good perimeter defender and has the ability to grab a good amount of rebounds. He will be joined in the backcourt by Kendall Timmons, another slasher with a great first step and the ability to finish at the rim. David Booker and Aaron Holmes return in an undersized frontcourt. Booker has good strength and can finish, he just is very consistent on both ends of the floor. Two freshmen, Kevin Brown and Jonathan Frye, will help provide the Green Wave with some much needed perimeter shooting help.
The Not-So-Good: This team can't shoot – not from mid-range, not from long-range. Part of the problem lies with the fact that shooters weren't able to get good looks in the old offense. I am sure Coach Conroy will find a way to spring the shooters. Rebounding is another major issue, caused by the teams largest issue – no size. Sophomore Kelth Cameron and freshman Kevin Thomas are the only players taller than 6'8, and neither of them is ready to contribute more than a couple of minutes.
The Question Mark: How does Conroy, a known coaching disciplinarian, deal with a team that played with little discipline last season? Conroy will not put up with much nonsense, even if it means sitting all of his starters. That being said, I'm hoping this group responds to him, because if they do they will become a decent team.
What Will March Bring: It's going to be a tough first year for Conroy – most likely between 8 and 10 wins, with real improvement to start coming in 2011-12.
Tulsa
The Good: With the graduation of team leaders Jerome Jordan and Ben Uzoh, it now falls to Justin Hurtt to take over the team. Hurtt is an excellent long-range shooter and does a good job without the ball, making strong cuts to the basket and drawing contact. An excellent free-throw shooter, Hurtt will need to be more aggressive going to the basket with the ball if he is to continue getting points from the line. Defensively, he is not a great ball defender, but he does a good job anticipating missed shot and getting in position for rebounds. He does a good job filling lanes in transition, though I would like to see how he does running the break for the team. Taking over for Jordan in the middle will be Steven Idlet, a solid big man who did an excellent job coming off the bench last season. While not as skilled as Jordan, he is very good at rebounding and setting screens. He could become a legitimate post scorer with a little improvement of his footwork. Joining him in the frontcourt is Joe Richard, a returning starter who is a tough defender and good rebounder. Freshmen Blondy Baruti and Jordan Clarkson are skilled enough to contribute immediately.
The Not-So-Good: Replacing Ben Uzoh is a tough task, and it will most likely be left in the hands of either sophomore Donte Medder or junior Glenn Andrews, who is returning from a medical redshirt for a knee injury. Neither has the toughness or court vision of Uzoh, though Andrews, if he is fully recovered, can grow into that type of player. Medder is a good shooter, and could provide help in the backcourt at either position.
The Question Mark: Is Hurtt capable of being the go-to player for Tulsa? Absolutely he can, if someone takes control of the point guard position and gets Hurtt the ball in positions where he can do the most damage. Hurtt is a good enough ballhandler that he could run the offense, but it may hurt his ability to score.
What Will March Bring: I'm not going to rule out the NCAA Tournament just yet, though a lot will be determined by how Idlet handles being the main man in the post now, and how the point guard competition shakes out. I'm looking at 18 wins minimum, at least 8 in Conference USA – though that may not be enough this year to get them in.
UAB
The Good: While the loss of leading scorer and rebounder Elijah Milsap will be felt, Coach Mike Davis has a solid system, with good players in place, to keep UAB near the top of Conference USA. Led by the backcourt of Jamarr Sanders and Aaron Johnson, the Blazers should have little problem adjusting to life without Milsap. Sanders is the Blazers' main perimeter threat, but he also has the ability to put the ball on the floor and use his strong frame to get to the hoop. Defensively, he can improve his lateral movement, though he does do a good job disrupting passing lanes. Johnson is the team's catalyst on both ends of the floor. On offense, he does a great job breaking down defenses and finding holes to get to the basket. On defense, he is pest to anyone he is guarding, and does a very good job getting the ball with his quick hands. Cameron Moore will be the main man in the middle this season, and hopefully has come back with some added muscle. He has talent, can finish well around the rim and runs the floor well. He needs to get stronger in order to defend better in the post, but he has good instincts for the ball. Davis will also have a pair of freshmen who will be very good players right away in Quincy Taylor and Preston Purifoy.
The Not-So-Good: The frontcourt is thin with little size behind Moore. Seven-foot Junior College transfer Beas Hamga and redshirt freshman Anthony Criswell are both unproven and will need to improve quickly to have an impact. Perimeter shooting is also an issue for the Blazers, with Sanders being the only real long distance threat on the team. The two freshmen may be able to help with that, but it is yet to be seen.
The Question Mark: Can one player replace Elijah Milsap? Last season, Milsap seemed to do everything for UAB – scoring, ballhandling, rebounding. It could take 3 or 4 players to replace his production, especially on the boards if Moore and his backups don't step up their production. Scoring should be a little easier to replace with Sanders and Johnson capable of scoring more than they have, and possibly someone like Ovie Soko stepping up and showing what they can do.
What Will March Bring: It should be an interesting season for Coach Davis, and definitely an adjustment period. They will certainly be on the bubble for a NCAA Tournament bid, probably 18 or 19 wins.
Central Florida (UCF)
The Good: Possibly the best thing that has happened to the UCF program this season is the hiring of former Florida assistant Donnie Jones as the new Head Coach. Jones should be able to attract some very good talent to Central Florida. For now, he has an experienced group to help get his career there off on the right foot. Almost every player who provided important minutes last season is back this year, led by the backcourt of Isaac Sosa and AJ Rompza. Sosa, the team's leading returning scorer, is an outstanding shooter, especially from 3-pont range. Rompza is the team's playmaker, and is a fantastic on-ball defender. The frontline will return Keith Clanton, AJ Tyler, and David Diakite. Tyler has excellent footwork and nice touch around the lane. He could stand to add some muscle to his frame, but he plays stronger than he looks. Clanton is a powerful sophomore who is a strong rebounder and finisher, and a much improved defender. Marcus Jordan is capable of playing either guard position and is a good passer with some scoring ability. The team has some solid depth on the bench with PJ Gaynor, Taylor Young, and freshman Isaiah Sykes.
The Not-So-Good: While there is a solid group of players, there is no one player who can rise above the rest of the team and take over when necessary. Rebounding is also an issue, with Tyler and Clanton the only consistent rebounders. Seven-foot Michigan State transfer Tom Herzog is eligible, though his impact is yet to be seen. With the lack of true size up front, it will be important for the guards to crash the glass to help out. On the offensive end, the team will has little room for error and must execute the offense consistently in order to stay in games.
The Question Mark: How will the team adjust to Coach Jones' new up-tempo style of play? The guard-heavy group should flourish in the new system, though I am most interested in seeing how Clanton handles the new system, as it doesn't seem to play to his strengths. If Clanton is able to score in this system, he could be a future Conference USA Player of the Year.
What Will March Bring: This is definitely a team that will improve. A veteran group plus a new coach and system should add a few wins to last year's total. I really think this is a 20 win team and should be in contention for a NCAA Tournament bid, though at this point I think they will fall a bit short. Look for them to be in the 2012 Tournament.
UTEP
The Good: Tim Floyd is now in charge and a lot of the talent is gone, but UTEP still has the potential to be a dangerous team. Led by explosive guard Randy Culpepper, the Miners will look to run often. Culpepper is extremely quick, can find his way to the rim and finishes well for his size. He also has good range on his jumper, though his size prevents him from getting many clean looks. He isn't much of a distributor, and he will need to improve that to even have a shot at the next level. Jeremy Williams is another explosive athlete who has the ability to get out in transition and finish strong at the hoop. He can create his own shot, can step pick and hit the 3 and chooses his shots well. He needs to tighten up his defense a bit, often leaving his man with too much room to operate. Julyan Stone is a shooting guard with point guard skills. He sees the court extremely well, makes smart passes and plays under control. He doesn't look often to score, which should change in the Floyd offense. Defensively, he matches up well guarding the wings, and is an excellent off-ball defender. Giant Claude Britten will be counted on for defending the post and keeping opponents of the glass.
The Not-So-Good: The loss of Caracter and Moultrie will be missed on the offensive end, where Britten and Harris are not of the same skill set. Harris could eventually grow into a legit post option, but Britten is more of a space-eater. The bench is not particularly deep, and the talent has not contributed major minutes. Myron Strong and Tyler Tafoya will provide minutes in the backcourt, while Harris and two other freshmen, John Bohannon and Michael Haynes, will try to provide a spark in the frontcourt. As you can see, it's a big drop in talent after the top 6 players.
The Question Mark: What does Tim Floyd bring to this program? Floyd has a lot of experience, at both the NBA and NCAA levels, but has been a lightning rod for controversy everywhere he goes. There is little chance that Floyd will let the story be the team instead of himself, and, unless there has been a change in Floyd's ways, the Athletic Director should be prepared for a visit from the NCAA. However, he still knows the game well and should have his team prepared to win.
What Will March Bring: Over 20 wins, probably 2nd or 3rd in the conference, and Randy Culpepper as Conference USA Player of the Year. I wouldn't be surprised if this group pulls off a win or two once they get to the tournament.
That wraps up our look at Conference USA. Make sure to check back tomorrow for a preview of the Mountain West Conference. As always, leave your comments, feel free to contact me, and follow NBA Draft Blog on Twitter – @NBADraftBlog