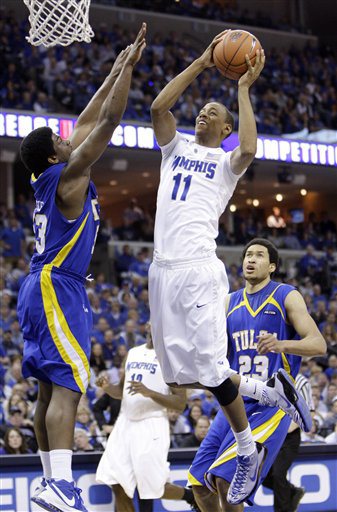 The NBA Draft Blog Conference Season Previews continue with Part I of our look at Conference USA. Memphis has the talent to compete with most of the country's best teams, but UTEP and Southern Mississippi will challenge. Marshall and East Carolina have new coaches looking to help those programs move up in the league, while SMU and Rice are already going through their renewals with Matt Doherty and Ben Braun. Tulsa and UAB will still be tough teams to play, while Tulane and Central Florida look to make something positive happen this season.
Part I will look at East Carolina, Houston, Marshall, Memphis, Rice, and SMU, while Part II tomorrow will look at Southern Miss, Tulane, Tulsa, UAB, Central Florida and UTEP.
East Carolina
The Good: Jeff Lebo takes over the Pirates this season and he will look to make big strides immediately with 6 of the top 7 scorers from last season returning. Led by point guard Brock Young and big man Darrius Morrow, ECU has strong scorers up top and in the post. Morrow is excellent at breaking down the defense and getting to the rim, though he is extremely erratic and needs to improve his shot selection. Morrow is very efficient with the ball, though he needs to work on going stronger to the basket. Also, Morrow needs to become a better rebounder on the defensive end, and hopefully has come back this season with some added muscle. The player I want to see is Jamar Abrams, an athletic wing with a great first step and the ability to knock down jumpers with a hand in his face. He also has the ability to be a disruptive defender, though he needs to not fall for ball and head fakes as much as he has in the past. DaQuan Joyner has the strength to be an effective rebounder against taller players and he is effective finishing around the basket.
The Not-So-Good: Three point shooting is a major issue that ECU will need to address this season. Not only do they have very few pure shooters, but the looks from 3 have not been very good. Abrams is probably the best shooter, but he needs to improve his shot selection. Defense is also an issue that Lebo will need to address, especially on the perimeter, where opponents have been able to get too many good looks at the basket.
The Question Mark: How will new coach Lebo handle a veteran group with a history of losing? Though Lebo's job at Auburn was hardly distinguished, he does have a history of reviving programs. Is it too late for this group of players, and will the turnaround really start when Lebo brings in his own players? My view is that Lebo is experienced enough to not try and overcoach this group, let them do what they do well and try and tighten up some of the deficiencies.
What Will March Bring?: I definitely think we will see an improvement on last year's 10-win season, most likely 14-16, but still a far way from from a NCAA bid. I think if Abrams can make some of the improvements I mentioned earlier, he should at least get a camp invite from a NBA team next season.
Houston
The Good: After a NCAA appearance last season, head coach Tom Penders retired and leading scorers Aubrey Coleman and Kelvin Lewis graduated. However, thinks are not bleak for new coach James Dickey. Maurice McNeil is extremely athletic and very active on the court. An excellent offensive rebounder, he also does a very good job finishing in traffic. While not a great defender, he does have good shot-blocking ability. He could be joined up front by big Kendrick Washington, another strong rebounder with the ability to finish. The Cougars also have an exciting newcomer in freshman Joseph Young, a lethal shooter with ridiculous range. He also has a great head for the game and once he adjusts to the NCAA level, he should assert himself as one of the top scorers in the league.
The Not-So-Good: The point guard position can be an issue this season with the transfer of Desmond Wade to Fairfield. Zamal Nixon may get first shot at assuming the job, though he didn't show much in limited time last season. Defensively, the team will need to be much tougher at preventing penetration from the guards to prevent an already undersized frontline from picking up needless fouls.
The Question Mark: How does the program adjust to the loss of a great coach in Penders and a prolific scorer like Coleman? Obviously, Coach Dickey is well respected within the league for his coaching ability, but he has been away from the sidelines for a few years, and it's been a decade since he has run a program. Cougar fans shouldn't be concerned with the direction of the program under Dickey. While he may not be the name that Penders was, he is both a good coach and recruiter, and he will keep the team competitive. Replacing Coleman is a tougher question, though Young may be able to make up a bit of the scoring. Most likely, there will be a shift in the offensive strategy to adjust here.
What Will March Bring?: While they will still be a good team, they are nowhere the team that put together a late run to win Conference USA. I would say they end up with 16 or so wins, and be near .500 in the conference.
Marshall
The Good: While the Herd have lost Hassan Whiteside to the NBA and leading scorer Tyler Wilkerson to graduation, things may be looking up at Marshall. Probably the best move for this upcoming season was the hiring of Pitt assistant Tom Herrion as head coach. Herrion has been successful as both a head coach at Charleston and as an assistant at Virginia and Pitt, where he proved himself as a coach and a recruiter. This is a move that will pay off immediately. One that won't is the signing of heralded guard Justin Coleman, who is sitting out the year after failing to qualify at Louisville. Either way, Herrion will have a good backcourt to help steady the ship this season. Guards Damier Pitts and Shaquille Johnson are both capable scorers and defenders. Pitts is a solid point guard, makes good decisions and knows when to use his speed to get to the basket. Johnson is more of a slasher than a shooter, but he is also a good passer in his own right and makes it tough to pressure the Herd. Herrion will also have a trio of experienced wings in Tirrell Baines, Dago Pena, and Antonio Hayman to provide depth and help on the boards.
The Not-So-Good: Losing the 7-2 Whiteside and the wide-bodied Wilkerson will leave the Herd thin on the frontline. Nigel Spikes and Junior College transfer Aundra Williams will provide some size, but they are unproven and neither is known for solid interior defense. Along with this, expect rebounds to be tough to come by, which will make the perimeter defense that much more important this season. One other are of concern will be perimeter shooting, especially from 3, where the team wasn't great before, and lost the one guy who was semi-reliable from deep (Chris Lutz). Pitts can shoot, though he may have a tough time getting looks without the post presence of last season.
The Question Mark: Can Herrion turn Marshall into a top mid-major program? The talent level is rising in Conference USA, and Herrion has a solid history of bringing in high-level players. However, many top players may not see Marshall as a "destination" school. I have a feeling Herrion will change this, and keeping Coleman in West Virginia was a great start. If he is able to land another high-level prospect for next season, it may be the jump start he needs to turn Marshall into the class of Conference USA.
What Will March Bring?: An expected season of adjustment here. Marshall will certainly not come close to last year's 24 wins. But Herrion will find ways to keep them competitive. I would fee comfortable saying somewhere between 12 and 14 wins this year, with a major jump expected in 2011-12 with the eligibility of Coleman and a slew of high-major transfers eligible.
Memphis
The Good: It hasn't taken long for Josh Pastner to reassure those who were concerned over the departure of John Calipari last year. Though Elliot Williams has moved on to the NBA, Pastner has plenty of very good returning players to pair with a top-notch recruiting class. Junior Wesley Witherspoon had a breakout year last season, and may be in for an even better season this year. Witherspoon is an extremely athletic wing who can slash to the rim or hit the 3, and he is also an excellent finisher in transition. He will be joined in the frontcourt with fellow returnees Will Coleman and Angel Garcia. Coleman is a strong defender and rebounder, does a great job blocking shots, and can finish around the rim. Garcia finally made into the court near the end of last season after eligibility issues and a torn ACL kept him out of action. Garcia has excellent size, uses his body well in the post and can either go strong to the basket or hit an open look from the perimeter. The backcourt will most likely be led by two freshmen – point guard Joe Jackson and Will Barton. Jackson is a fantastic scorer, able to get to the rim or hit the perimeter jumper. He still needs to work on becoming more of a distributor, but that should come in time. Barton is a long, athletic wing who can score in transition or within a half-court set. He will need to get stronger to survive at the NCAA level, and he needs to become a much better defender, but he has All-American potential. Pastner will also have plenty of depth with incoming freshmen Jelan Kendrick, Tarik Black and Hippolyte Tsafack.
The Not-So-Good: As you can see above, there is not a lot of major issues with this group. The biggest problem will be a combination of playing time for all of this talent, combined with integrating such a large group of newcomers with the remnants of last year's team. As a team, rebounding was a concern last season, but hopefully that will be fixed with a full season of Garcia and the addition of Tsafack.
The Question Mark: With the loss of Williams and Willie Kemp, will Jackson be able to become the distributor and playmaker they need them to be? Like I said above, the guy can score with the best of them, but Memphis has scorers. To be as good a team as they can be, Memphis will need to rely on Jackson to set everything up.
What Will March Bring?: I would be stunned if Memphis didn't win Conference USA by a couple of games, as well as pick up a 4 or 5 seed in the NCAA Tournament. There is a possibility that Witherspoon could impress enough to come out of school early, but I'm not sold yet. Memphis could be even stronger next season.
Rice
The Good: Coach Ben Braun has done a good job starting to revive a dormant Rice basketball program. Now with a couple of his recruit classes in, look for the Owls to show some improvement this season. 5 of the top 6 scorers from last season are back, led by Tamir Jackson and Arsalan Kazemi. Jackson is the team's leading returning scorer and playmaker. I will not particularly quick, he knows how to find holes in the defense and he sees the court well. Kazemi is deceptively strong and a good athlete. He needs to increase his court awareness, relying mainly on instinct in his play. Trey Stanton provides decent size in the middle, though his play is inconsistent and often plays a lot smaller than 6'10. Connor Frizzelle and Lucas Kuipers provide decent shooting from the wing. Freshman Omar Oraby is a project, but he's 7'1 and will give depth along the front.
The Not-So-Good: This is not a very athletic team and must rely on execution in the half-court to score points. Also, there has not been a lot of bench production, which needs to improve to take the next step up the conference ladder. Finally, rebounding must be a priority, especially among the frontcourt players. Too often last season they weren't active going after missed shots.
The Question Mark: Who will step up and become a dominant player on the team? Last season, there was too much deferral on who was going to take charge when the team needs it. My guess, if it does happen, it will be Jackson as the playmaker, though he has yet to show the ability to be the man.
What Will March Bring: While there will be some improvement, especially within the conference, it will be another year before Rice has a chance to break the top half of the league. 14 or 15 wins seems to be the best case for this group.
SMU
The Good: Coach Matt Doherty has done a good job attracting talent to a SMU program which needed an overhaul. This year's group is led by senior Papa Dia, an active player around the rim who at times grabs every rebound in sight. Dia is also a very active defender, who does a great job as a help defender in the lane. Dia will be joined in the frontcourt by Robert Nyakundi, an athletic wing who has the ability to hit the long-range shot. If he was to attack the basket more, he could have a great season. Justin Haynes is a slasher who earns his time with strong play on the defensive end. Haynes has the ability to harass the best shooters into bad shots. Mike Walker should assume the point guard role this season and will look to show some of the potential of his limited minutes.
The Not-So-Good: The loss of Derrick Williams will be tough as he was the leading scorer and playmaker. If Walker doesn't get the job done at the point, the man could become Rodney Clinkscales, a quick guard who does a great job getting into the lane, though his decision making still needs improvement. Defensively, the team lacks a real post presence to defend against back-to-the basket centers. Dia is serviceable, but his strength lies in being active, not using his body. Freshman Leslee Smith and Ricmonds Vilde will provide help on the boards, though neither is ready to contribute much on offense.
The Question Mark: Will the loss of Williams and Mouhammed Faye halt the progress that the program has made? While those are both big losses, Doherty is bringing in talent that fits his style of play. With the transition comes some tough patches, and this team will have a few of those. If Walker or Clinkscales can become a leader it should allow Dia and Nyakundi to play to their strengths, but that is a big if. Next season should be better with some good recruits already signed and some good transfer becoming eligible.
What Will March Bring: Most likely will be an early March for the Mustangs. 10-12 wins, though on the right day, Dia and Nyakundi could spur an upset.
That wraps up Part I of the look at Conference USA. Make sure to check back tomorrow for the Part II. As always, leave your comments, feel free to contact me, and follow NBA Draft Blog on Twitter – @NBADraftBlog