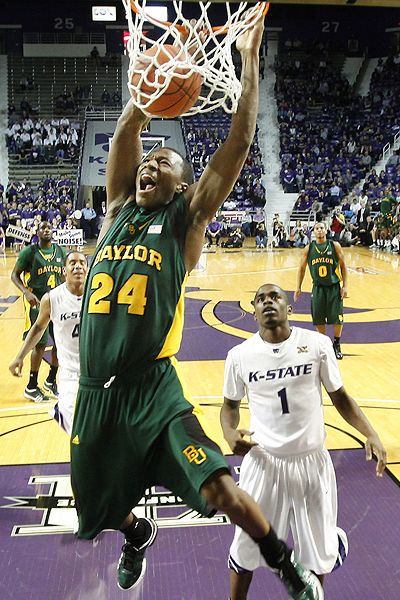 The NBA Draft Blog Conference Season Previews continue with Part I of our look at the Big 12. Last year's top teams – Kansas, Kansas State, Baylor, Oklahoma State and Texas – will all be good again, though all lost key pieces that need to be replaced. Mike Anderson has put together a large talent pool at Missouri, and Colorado is looking to make a statement before they head to the Pac 10. Jeff Capel is looking to rebuild Oklahoma after last season's disaster, and the hiring of Fred Hoiberg at Iowa State has the people of Ames excited about basketball again. A lot of talent, a lot of stories, so let's get to it.
Part I will look at Baylor, Colorado, Iowa State, Kansas, Kansas State and Missouri, while Part II tomorrow will look at Nebraska, Oklahoma and Oklahoma State, and the Texas trio of the Longhorns, A&M and Tech.
Part II is now available here.
Baylor
The Good: After last season's run to the Elite 8, Coach Scott Drew still has plenty of talent to make another deep run in the NCAA Tournament. It starts with All-American candidate LaceDarius Dunn. Dunn was always a fantastic perimeter shooter, but last season he showed the ability to get to the rim and finish. While not a great defender, he does do a good job disrupting passing lanes. He is joined by wing Quincy Acy, who last year provided a big spark to the Bears off the bench. Acy is an excellent athlete, who has great leaping ability and a strong body to finish at the basket. He also does a great job crashing the offensive boards. Ekpe Udoh has moved on to the NBA, but his replacements should cause little concern – freshman stud Perry Jones and UCLA transfer J'mison Morgan – a pair of 6'11 big men who could make it a tough task for any offensive player around the rim. Jones is more polished on the offensive end, though he needs to add some strength to battle at the NCAA level. Morgan is a better defender, though his work ethic has been questioned in the past.
The Not-So-Good: Until a few days ago, this section was going to focus on the loss of Tweety Carter at the point position. Now, the arrest and suspension of Dunn in an alleged domestic dispute have trumped that issue. While all signs indicate that Dunn should be back sooner rather than later, it is really unknown at this point, and there really is no way to say what the loss of Dunn would do for the Baylor season. As we discussed in the the section above, the Bears have the loss of Udoh covered, though replacing Carter may be a bit more difficult. AJ Walton, who received good minutes as a freshman, will take over this season, though he has yet to show the leadership ability or big play ability of Carter. Not to say he won't, but it will take time. If he falters, he will have star freshman Stargell Love waiting for a shot.
The Question Mark: This one is obvious: what will happen with Dunn's legal issues? Only time will tell, but my understanding is if he does miss any games, it will be limited.
What Will March Bring?: Two factors will be the key here – the development of Walton at the point and Jones in the post. If they both play up to expectations, then Baylor could win the Big 12 and be a legitimate Final Four contender. If not, then they are still a tournament team, I just wouldn't expect a deep run. Dunn and Jones, if he leaves, should both be first rounders next year, with Jones almost a lock to be a lottery pick.
Colorado
The Good: I don't believe there's been this much optimism about Colorado hoops since Chauncey Billups was a Buffalo. The cause of this is one of the best scoring combos in the country – guards Cory Higgins and Alec Burks. Higgins has great size, is a good ballhandler and works well in isolation. He is extremely good and drawing contact and getting to the line. Burks is the better shooter, especially his mid-range game. He also has great size, has excellent shot selection and is a good rebounder. They are joined by 3 other returning starters: point guard Nate Tomlinson, and forwards Austin Dufault and Marcus Relphorde. Tomlinson does a great job making delivering the ball to his teammates in great scoring positions. Dufualt and Relphorde are both capable of playing inside or out, though both are undersized. The team is full of very good shooters and shot almost 39% from 3 point range last season. This is an experienced group who should perform better in close games this season.
The Not-So-Good: While this group is experienced, they have a new coach in Tad Boyle and a new system to learn to go along with the disappointment that Steve McClain did not get promoted to head coach. Also, there is not a lot of size on the team, with all three big men – Trey Eckloff, Shane Harris-Tunks and seven foot freshman Ben Mills – have little experience. This is the remnants of former coach Jeff Bzdelik's offensive style. They Buffaloes will also need to be more careful with the basketball, too often trying to force plays that aren't there.
The Question Mark: How will the Buffaloes handle the new up-tempo style of Coach Boyle after their time playing in the modified-Princeton style of Bzdelik? It's possible that we can see 20 point a game scorers in Higgins and Burks, though there is also as much of a chance that the open looks the players were used to may not be there.
What Will March Bring?: A lot of experts are saying that this is Colorado's year to get back to the NCAA Tournament but I am not as optimistic. Adjustment to the new offense to go along with the lack of effective big men is too much to be countered by the potency of Burks and Higgins. Most likely between 16 and 18 wins, at least one major upset, and Burks and Higgins head off to the NBA – Burks in the 1st round, Higgins in the 2nd.
Iowa State
The Good: Unfortunately, this section will look much better next year when Chris Babb and Chris Allen are eligible. For now, Iowa State will need to be content with having "The Mayor" Fred Hoiberg as their new head coach. Hoiberg, a former Cyclones and NBA player, has already created a buzz around Ames which hasn't been seen in years. He will need to start his first season without the team's two main options from last season, Craig Brackins and Marquis Gilstrap. That doesn't mean there is no talent here. The starting backcourt from last season, Diante Garrett and Scott Christopherson, are back and will need to carry a heavier offensive load this season. Point guard Garrett is one of the best at his position in the Big 12, an excellent distributor who can break down defenses. Christopherson is a very good shooter, especially from 3 point range. The frontcourt will be filled with newcomers – freshmen Jordan Railey, Eric McKnight and Melvin Ejim will all have ample opportunity to show what they can do, though there is one newcomer who could make a huge difference immediately. Royce White, a transfer from Minnesota, is waiting to hear if he is eligible this season. If he is, he is a power player who will give the Cyclones a go-to option in the post.
The Not-So-Good: The loss of Brackins and Gilstrap leave no proven scorers on the team. Railey could be the answer here, especially if paired with White in the frontcourt. Defensively, the team needs a major upgrade, as they lacked toughness and speed last year. With a lack of experienced bigs, Hoiberg may need to rely on mixing up his defenses to stifle opponents. On top of this, Hoiberg is new to coaching and will most likely go through his own growing pains.
The Question Mark: As we discussed, the eligibility of Royce White could be the difference between a bad season and a not-so-bad season, but the major question facing the Cyclones this season is how Fred Hoiberg handles the pressure of leading this team through a very rough transition season? This would be rough on any new coach, but from a man looked at as hero in Ames, the pressure is amped up. The solution is just to look ahead to 2011 when he will have a full compliment of high-level players.
What Will March Bring?: Not a lot, except the merciful end of a rough season. 12 wins sounds about right.
Kansas
The Good: As usual, Coach Bill Self is returning a lot of talent. It starts in the frontcourt with twins Marcus and Markieff Morris. This is their team now and both are ready to make a huge step forward this season. Marcus is the more polished offensive player of the two, showing excellent footwork and a soft touch around the rim. Markieff is the stronger defender of the two, with much better instincts on the defensive end, though he did show flashes on the offensive end. Both run the floor very well and both are also strong rebounders. Tyshawn Taylor is a versatile guard, capable of running the point or playing as a scorer on the wing. He is also capable of defending either guard spot. Sophomore Thomas Robinson should make a bigger impact this season, especially on the boards. Self is still waiting to hear on the eligibility of freshman Josh Selby, a point guard who can be a difference maker, especially on offense.
The Not-So-Good: The loss of team leaders Sherron Collins and Cole Aldrich will hurt more than most will expect. Also, the team is missing a top-notch perimeter shooter like they had in Xavier Henry.
The Question Mark: Can the Morris twins step up as the team leaders? The quick answer is yes, especially Marcus, who is coming off playing with the US Select team this summer. They will need to remember that they will set the tone for the team each night in the same way that Collins and Aldrich did.
What Will March Bring?: It's Kansas, so expect them to be in contention for the Big 12 Championship, and a very good seed in the NCAA Tournament, though it becomes more certain once a decision is made on Selby's eligibility. It's possible we could see the Morris twins declare for the draft after this season, though there is still many questions that need to be answered about their game.
Kansas State
The Good: After a wonderful run to the Elite 8 last season, the Wildcats look to have an even stronger team this season. Leading scorer Jacob Pullen returns and looks out to prove that he is NBA material. He has shown that he can be a leader on the court, and is one of the streakiest scorers in the NCAA. Defensively, his effort can be inconsistent, but he does have very quick hands and feet. My guess is that he will end up being the leading scorer in this tournament, but I am more interested in how he handles the tight games, especially with his decision-making. Jamar Samuels has been showing what a top-notch athlete he is while competing for the US in International competition. While he works best in transition, he has shown an improved jump shot and much better defensive skills than he showed last season. Curtis Kelly finally looked comfortable with the K-State team near the end of last season. While only 6'7, he plays much bigger and does a good job muscling shots up against larger defenders. If he wants to play in the NBA, he will need to work on becoming more comfortable outside the lane, on both offense and defense. Wally Judge should make more of an impact this season. Judge has great size and strength, but needs to be more aggressive when on the court. One player I am interested in seeing how he adjusts to the college level is Shane Southwell out of Rice in New York City. A small forward with a strong upper body, Southwell has the potential to be a big-time scorer in the Big 12, but he will need to make sure he brings his top effort every night.
The Not-So-Good: There are not many weak spots on this team, though I am not so high on big man Freddy Asprilla as many seem to be. Slow and plodding, I don't see how he fits in with a team that works best in transition. Also, I find myself questioning the coaching of Frank Martin, as his teams have a tendency to play sloppy and inconsistent.
The Question Mark: How will Pullen handle the backcourt without Denis Clemente? The duo had worked as sort of a two-headed point guard last season, which made the team more effective and gave the team different looks. I'm not convinced of Pullen as both guard and a leader. Not to say he won't excel at both, I'm just not sure it's in him.
What Will March Bring?: Another 20+ win season for the team is all but assured, though I am not with the Big 12 coaches picking K-State as the conference champion. Sweet 16 likely, but I don't see them going much further than that.
Missouri
The Good: Coach Mike Anderson has 4 of last years top 5 scorers returning along with a very good recruiting class to make Mizzou one of the teams to watch this season. Led by Kim English, Anderson's squad will go at their usual frenetic pace. English, a 6'6 shooting guard, proved to be an excellent catalyst for Anderson's offense. Look for him to be a more well-rounded player this season, with an improved jumper and stronger on-ball defense. He will be joined in the backcourt by freshman Phil Pressey. Pressey, the sun of former NBA player Paul, plays the game at a pace that Anderson wants. He is capable of scoring or setting up his teammates and is a disruptive defender. Justin Safford and Laurence Bowers return in the frontcourt, and provide versatile games to complement the guards. Junior college transfer Ricardo Ratliffe will provide scoring and rebounding immediately, though he will need to become a better defender to stay on the court.
The Not-So-Good: This is a strong team, but would be even stronger if freshman power forward Tony Mitchell was eligible. Mitchell is very athletic, has a high motor and can score and rebound at a high level. There is no guarantee that we will see him at all this season, definitely not for the first semester. As a team, Missouri needs to become a more consistent perimeter team, as well as showing the ability to adjust to a half-court style if necessary. The bench is strong, but unproven, and this group, including Phil's brother Matt Pressey, Kadeem Green, and Steve Moore, will need to prove on the court that they can be regular contributors.
The Question Mark: Can Kim English take the next step and become a player who can carry a team through a tough game? While he is talented and athletic, English needs to show the leadership qualities that the top players in the game have to be considered among them. With some tough non-conference games early in the season, we should get an indication immediately if English is ready to take that leap.
What Will March Bring?: NCAA Tournament bid is assured and most likely a Top 4 finish in the Big 12. If Mitchell arrives in time for the Big 12 season, then they could be considered a Sweet 16 team minimum.
That wraps up Part I of the Big 12, and make sure to check back tomorrow for the rest of the Big 12 and Part I of my look at Conference USA. As always, leave your comments, feel free to contact me, and follow NBA Draft Blog on Twitter – @NBADraftBlog