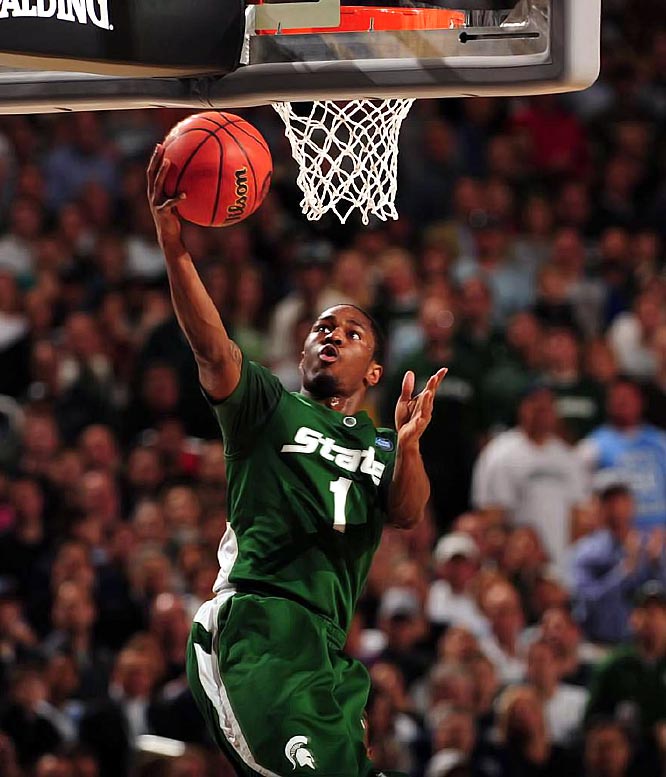 The NBA Draft Blog Conference Season Previews continue with Part I of our look at the Big 10. This is easily the best the Big 10 has been from top to bottom in a few years, with three legitimate Final Four possibilities in Ohio State, Michigan State and Purdue, and another 6 or 7 teams that have a good shot at making the NCAA Tournament this season. Even Iowa and Indiana, which have hit hard times recently, should be tough match-ups for a lot of teams, and both are another year or two from heading towards the top of the conference again.
Part I will look at Illinois, Indiana, Iowa, Michigan and Michigan State, while Part II tomorrow will cover Minnesota, Northwestern, Ohio State, Penn State, Purdue, and Wisconsin.
Part II is now available here.
Illinois
The Good: Coach Bruce Weber hit some good luck last April when Demetri McCamey withdrew his name from the NBA Draft. McCamey, a point guard reminiscent of former Illini guard Deron Williams, is an All-Big 10 performer and a future NBA player. Solidly built, McCamey has the ability to take a hit on his way to the rim, or step back and hit a perimeter jumper. An excellent passer, he does a great job penetrating and finding an open teammate. Along with McCamey, Weber has all of his starters back from last season. Joining McCamey in the backcourt is Big 10 Freshman of the Year DJ Richardson. Richardson is the team's best perimeter shooter, but he also has a great first step and works well in isolation. The first guard off the bench is fellow sophomore Brandon Paul. Paul is a high-energy player who could be the Illini's best defender. Anchoring the frontcourt is center Mike Tisdale and power forward Mike Davis. Tisdale is a classic low-post center who has impressed with his improved footwork and shooting touch. Davis is a strong rebounder who uses his strength to create space on both ends of the floor. If that wasn't enough, freshmen Jereme Richardson, Meyers Leonard, and Crandall Head will join Bill Cole and help give Coach Weber one of the deepest benches in the conference.
The Not-So-Good: The perimeter defense isn't that great and losing Jeff Jordan isn't going to help that. Opposing guards had too easy a time getting into the lane and forcing the help defenders into tough spots. Depth was an issue last season, though Weber has done his best to remedy that this year. Look for last year's turnover issues to also be fixed a bit with the returning experience.
The Question Mark: Last season, the Illini had trouble holding on to leads down the stretch. The major question is whether the experience will help the Illini avoid these breakdowns this season, or is this a group of players who just aren't "clutch"? If I was to bet, I would say that these issues are in the past, and the Illini should win many of the games they would have lost last year,
What Will March Bring?: The NCAA Tournament, maybe even a few rounds deep, wouldn't be a shocker from this team. McCamey should be a late first round-early second round pick, and Mike Davis and Mike Tisdale will both have a chance to catch on with NBA teams.
Indiana
The Good: Tom Crean continues his mission to rebuild the storied Hoosiers from the bomb Kelvin Sampson dropped on them, and this year he is one step closer to doing just that. He has been able to get players playing time right from the start, and it should start paying off. The team is led by the backcourt trio of Maurice Creek, Verdell Jones III, and Jeremiah Rivers will set the pace for the Hoosiers and should be capable of keeping the team in most games. Creek, a big guard who can score in a variety of ways, is back after an injury sidelined him for the season after 12 games last year. Once he went out, Jones showed his scoring ability, though he is more the slasher to Creek's shooter. Setting him up is Rivers, a pure point guard who is always looking pass-first. They will be joined by power forward Christian Watford, a sophomore who led the team in rebounding last season. Watford is very athletic, with long arms and good finishing ability.
The Not-So-Good: Crean is still dealing with depth issues that have plagued him since he inherited Sampson's mess. While he has put together a nice group of guards, he is still severely lacking in the front court behind Watford and Tom Pritchard. Seven-foot junior college transfer Guy-Marc Michel will try to reinforce the post, though I haven't seen enough to know if he is ready. Defensively, the team needs to get tighter on the perimeter, especially closing on shooters.
The Question Mark: How will Creek look coming back this season? Obviously, he should come back as good as he was last year, but there is always going to be that questions until he is out there on the court in a game.
What Will March Bring?: Well, its not going to be a NCAA season yet, but Crean will have the team in a good position to make a major move in 2012 and 2013, assuming he keeps bringing in quality players.
Iowa
The Good: Fran McCaffery has headed out to the Midwest and will try and get the Iowa basketball program out of its downward spiral. Unfortunately, there are very few returning players who will make a difference. One who will is Matt Gatens, the only returning player who averaged double digit points (12.3). Gatens can shoot, rebound, has good court vision, and makes smart passes. As the focus of opposing defenses, he will need to find a way to get good looks, but that just happens to be his biggest weakness. If he can create good looks for himself, he has the ability to keep Iowa in games. Sophomore Eric May is a guard in the same mold as Gatens, though he is more athletic and a much better defender. A trio of freshmen will wings will have a chance to contribute early. Melshan Basabe, Zach McCabe, and Roy Marble Jr. Basabe is a very good offensive player with the ability to take the ball strong to the rim or score off of offensive rebounds. He needs to become a more consistent mid-range shooter and he also needs to add some muscle to handle the physical play in the Big 10. McCabe is an undersized power forward who finds ways to rebound and score against stronger opponents. Marble is the son of Hawkeye legend Roy Marble and he has skills that will remind many of his dad. He is a smooth scorer, and has improved the range on his jumper. Once he gets stronger and becomes a better perimeter defender, he could be a special player.
The Not-So-Good: There is no size on this roster at all. Only two players, Devon Archie and Andrew Brommer, are taller than 6'7, and both are only 6'9. Rebounding will be a major issue, as well as post defense. Also, as a team, Iowa will need to become more consistent perimeter shooters, though it may be tough with the lack of size to draw defenders to the post.
The Question Mark: McCaffrey has always been able to get the most out of his teams, so the question will be will McCaffrey adjust his style to his players, or will he try to get the players here to play his up-tempo style? McCaffrey is a very smart coach, and I am sure he will try to slow down the tempo considerably with the current roster and try to keep the scoring down.
What Will March Bring?: Another rebuilding season in Iowa while McCaffrey starts recruiting players best suited for his style of play. I would say another 10 win season is in order.
Michigan
The Good: John Beilein continues his rebuilding project in Michigan with a young, but talented group of players, though the loss of Manny Harris and DeShawn Sims, as well as Laval Lucas-Perry, may be tough to adjust to early in the season. The only 2 upper classmen on the roster are guards Zach Novak and Stu Douglass. Novak doesn't do anything great, but he does a lot of the little things well, especially helping direct traffic in Belilein's offense. He can hit the open jumper, which at least helps keep defenses honest, though he isn't much of a scoring threat. He's an average defender, though he is capable of grabbing a few rebounds. Douglass is a similar player to Novak, though he is a bit better shooter, especially his quicker release. Darius Morris should see much more time this season in the backcourt. He is an athletic scorer who should thrive with the cutting offense of Coach Beilein. He needs to work on getting stronger, so he can go stronger to the basket, as well as improving his jumper which is not good at all. Defensively, he uses his athleticism well, especially as a help defender. Two newcomers will supplement the backcourt – Tim Hardaway Jr. and Jordan Dumars (eligible in January). Hardaway has good size, gets to the basket easily and finishes strong. He needs to become more consistent with his perimeter jumper and his ballhandling can be sloppy. Freshman Evan Smotrycz will impress many with his toughness as well as his ability to score inside and out. Defensively, he will need to get stronger to be able to cover other power forwards.
The Not-So-Good: Defensively, the lack of size could be an issue for the Wolverines, especially against teams with a legitimate post threat. Look for Beilein to use multiple defenses to combat this and play to their strength, which is good size on the perimeter. Also, Beilein's motion offense is dependent on strong passing, especially in the high post, so it may take some time for the young players to make the correct reads.
The Question Mark: Novak and Douglass have the experience, but Morris, Hardaway and Dumars are more talented. The question then is will Beilein sacrifice execution for talent, at least early in the season as the young players continue to learn the offense? Novak and Douglass have proven to be capable players and leaders, but the youngsters may be better served being thrown in the fire.
What Will March Bring?: The amount of talent is improving, but the all of the pieces aren't in place yet. I would say another 15 win season would be generous, especially without a talented big like Sims in the lineup.
Michigan State
The Good: Even with the recent announcement that Chris Allen would not be returning to the program after a recent suspension and the summer fling between Tom Izzo and the NBA, the Spartans will be in great shape heading into Maui. Led by Kalin Lucas and Durrell Summers, Michigan State will continue to play Izzo's style of basketball – tough on-ball defense and making the defense work while on offense. Lucas was on his way to being a potential first-round draft pick last season before a late-season ankle injury shelved that possibility. Lucas did a great job running the offense last season, though the team went through big stretches where it had trouble finding the basket. Lucas will need to work on becoming more of a threat from the perimeter to prevent the defense from sagging. This in turn should open up some room for Summers to do what he does best – going strong to the rim. Summers also showed improvement from the perimeter last season, but still isn't completely confident outside of 10 feet. The other player to keep an eye on is Korie Lucious, who did a good job filling in for the injured Lucas last season, and provides Lucas the opportunity to operate from the wing if necessary. Draymond Green provides some toughness in the lane and he has improved on both ends of the floor, especially controlling his body in traffic. Four talented freshmen will provide depth behind the experienced group, and Keith Appling and Adreian Payne both could log major minutes once the Big 10 season starts. You could include the other 2 freshman, Russell Byrd and Alex Gauna, though both will need to get stronger before they have an impact.
The Not-So-Good: Derrick Nix and Garrick Sherman both provide good size, though both will need to become much better at getting position down low, especially for rebounds. Nix has a huge body, but his footwork still needs improvement, while Sherman is skilled, but a bit awkward in the post. Injuries are also an issue for the Spartans, as they play such a physical game, that it is not unexpected that players, especially starters, will miss some time.
The Question Mark: Chris Allen was the best long-range threat for the Spartans last season. Who will step up and become that threat to open up the court for Lucas and Summers? Freshmen Appling and Byrd are both good shooters, though it is yet to be seen how they adjust to the college level. Summers himself is a capable shooter, though is shot selection could be a bit spotty. It may be up to the point guards, Lucas and Lucious to set the team up from the perimeter.
What Will March Bring?: A Final Four run isn't out of the question anytime you have this much talent and an elite coach such as Izzo. If the team stays healthy, and one of the big men takes a major step up this season, this team could win the whole thing. Lucas and Summers will both be drafted next year, though it could be anywhere from mid-first to mid-second round for either one of them.
Make sure to check back tomorrow for Part II of the Big 10, as well as Part I of the Big 12 Season Preview. As always, your comments are welcome, and make sure to follow me on Twitter – @NBADraftBlog - for all of your college basketball scouting needs.