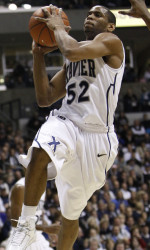 Last post we looked at seven teams in the Atlantic 10. Make sure to check out Part I here.
Today we look at the rest of the conference – Rhode Island, Richmond, Saint Louis, St. Joe's, St. Bonaventure, Temple and Xavier. Temple and Xavier have been Atlantic 10 powerhouses for some time, but Richmond and Saint Louis have a lot of talent and great coaching.
Make sure to leave your comments below and follow me on Twitter – @NBADraftBlog
Rhode Island
The Good: Coach Jim Baron is possibly facing a make-or-break year at Rhode Island, and how the season goes will depend on some players taking major step this season. Leading the way is senior Delroy James, a versatile forward, who showed an improved perimeter game last season to go along with strong presence in the lane. James is joined by fellow senior, point guard Marquis Jones. Jones is not much of a scorer, but he is extremely reliable and steady, and keeps the URI offense moving. Akeem Richmond had a great freshman season last year for the Rams, leading the team in 3 point shooting and providing a great spark off the bench.
The Not-So-Good: There is not a lot of talent in the post for the Rams and could be the reason they lose a few games this year. Senior Will Martell is a serviceable center, but you aren't going to get much in the way of production from him. Baron has brought in an interesting project in 7'3 Blake Vedder, but he is not anywhere close to being ready for Atlantic 10 play. The loss of backup point guard Stevie Mejia will be felt, and it will be interesting to see who steps up to take the spot behind Jones.
The Question Mark: Besides the questions of who will emerge as the backup point guard and where post production will come from, the main question facing the Rams is what kind of season do they need to have to save Baron's job? Will 20 wins and another non-NCAA season do it?
What Will March Bring?: I don't see this being anything other than a 12-14 win season, and unfortunately, I think this may be the end of Jim Baron's tenure with the Rams.
Richmond
The Good: Atlantic 10 Player of the Year Kevin Anderson is back to help try and lead Richmond back to the NCAA Tournament. Anderson, who is more of a scorer than a true point guard, showed the ability last season to take over games down the stretch, while showing improvements with his perimeter shooting and his on-ball defense. He is joined by returning starter Justin Harper, and Dan Geriot and Darrius Garrett, who split time at center last season. Harper has excellent size, can play with his back to the basket or can operate on the perimeter, and is a good shot-blocker. Geriot moves well and handles the ball well for his size. He has good footwork in the post and nice touch around the rim. Garrett is a raw offensive player, but is a shot-blocking machine, including an amazing 14 blocked shots in a game last season. Look for Coach Chris Mooney to find ways to have them on the court together this season.
The Not-So-Good: The 2 best shooters on last year's team, David Gonzalvez and Ryan Butler, have graduated, and unless another shooter emerges, the offense may not be able to create the spacing it wants, especially the space Anderson needs to operate. Rebounding was one of the few deficiencies on last year's team, and I don't see much of an improvement this season. The big men will need to be more aggressive going after missed shots this season.
The Question Mark: Who will produce off the bench? There is not a lot of career production on the bench, so it will be necessary for 1 or 2 guys to step up their game. Kevin Smith and Francis Martel will most likely be 2 of the first players off the bench, but watch out for wide-bodied freshman Derrick Williams who can provide some much needed toughness down low.
What Will March Bring?: Without the perimeter shooting from last season, I don't see the team having as much success as last year. A 20 win season isn't out of the question, but I have a feeling the team will be a NCAA bubble team. Kevin Anderson could be a second round pick in next year's draft, but he will most likely need to show more true point guard skills to be considered by a lot of teams.
Saint Joseph's
The Good: Coach Phil Martelli is looking to get his Hawks back towards the top of the Atlantic 10 standings after an un-Martelli like 11 win season last year. With the two leading scorers from that team gone, it is going to be a true rebuilding year for the St. Joe's program. Idris Hilliard is the leading returning scorer and one of the team's top rebounders. An undersized power forward, Hilliard does an excellent job using his length to make plays around the rim. Defensively, he is an excellent help defender and has some shot blocking ability. Hilliard will be joined in the front court by center Todd O'Brien, who showed some good ability on the boards in his first While O'Brien is not a primary offensive option, he is active on the boards and creates opportunities for himself. The future is bright for the Hawks with the latest group of freshmen coming in, including big man CJ Aiken and wings Langston Galloway, Daryus Quarles, Pat Swilling Jr. and Ronald Roberts. Aiken and Galloway are polished enough to contribute immediately, though they need to add some muscle.
The Not-So-Good: The point guard position could be a source of angst for Martelli this season as sophomore Justin Crosgile will be given a chance to pick up where he left off as the starter. He is a decent scorer, but his decision-making needs work as well as his ability to run the offense. There is a lack of depth in the frontcourt behind Hilliard and O'Brien which may force Martelli to use freshman before they are ready.
The Question Mark: Does Carl Jones or Crosgile have the ability to step up and be the leader of this team? Neither has shown the ability to make consistently smart decisions and to keep the offense running smoothly. Hopefully, the summer has been kind and one of them will step up.
What Will March Bring?: The talent is here, its just not ready yet. Come back in 2 years and I see this group to be the best in the Atlantic 10, assuming they continue to develop. This year, I would be impressed if they win 12 games again.
Saint Louis
The Good: Rick Majerus returns all of his starters from last season's 23 win team, and they are poised for great things this upcoming season. Led by point guard Kwamain Mitchell, the Billikens have no seniors, but a lot of experience. Mitchell is more of a scorer than a distributor, though he has shown the ability to run the offense well. Helping Mitchell in the backcourt is Kyle Cassity, a decent shooter, but more of a facilitator and a very good defender. The flexibility of both guards allows Mitchell the freedom to create plays for himself. The frontcourt is led by Willie Reed, a junior who made great strides on both ends of the floor last year. On offense, Reed was incredibly efficient and showed the ability to finish strong. If he could hit free throws, he may have been one of the league's leading scorers. On the defensive end, he proved to be a strong rebounder and shot blocker. The front court is rounded out by Cody Ellis and Brian Conklin, two big bodies who do a great job rebounding, setting screens, and knocking down open shots. Majerus has also put together a strong bench featuring Christian Salecich and Cory Remekun, two sophomores who provide depth on the wings, and a strong freshman class led by big man Rob Loe and point guard Jordair Jett.
The Not-So-Good: There's not much not to like about this team, though there are some issues they need to straighten out if they want to make the NCAA Tournament this season. Foul shooting plagued the team last season, and considering all the same players are back again this season, there is a chance of the same problem. The perimeter shooting also needs to be more consistent, especially from the 3pt line.
The Question Mark: With all his returning starters, some great returning role players and a very good freshman class, how does Majerus keep everyone happy with playing time? Also, if the Billikens get off to a slow start, will Majerus go to the talented freshman players?
What Will March Bring?: I think the expectations are high this season for Majerus and the Billikens, and while I think it is going to be a very good season, I am not sure if this is the year they make the NCAA Tournament. They will definitely be on the bubble though, and the possibility will be there to get in.
St. Bonaventure
The Good: Andrew Nicholson is back to build off his fantastic sophomore season, when he averaged over 16 points and 7 rebounds per game. Nicholson showed great ability to finish around the basket, with excellent footwork and a soft touch, while also being able to handle double teams and physical opponents. On the defensive end, Nicholson is a much better help defender than he is guarding the ball. Also returning is the backcourt of Ogo Adegboye and Michael Davenport. Adegboye is a solid and steady point guard, though he doesn't do any one thing well. Davenport is a decent shooter, though he needs to get better at creating his own shot. He is a good rebounder and defender, and can help with ballhandling against pressure.
The Not-So-Good: Besides Nicholson, there isn't a lot here, and there doesn't seem to be much new talent coming in. Luckily, there is plenty of room for improvement, and the team should get better over the course of the season. Coach Mark Schmidt is doing what he can to rebuild this program and should, over time, be able to attract talent to the school.
The Question Mark: How good can Andrew Nicholson be, and will the losing hinder his continued development? Nicholson is obviously a very special talent, a future NBA player, but he is also important to the future of the St. Bonaventure program. Obviously, Nicholson is not going to quit on his team with continued losing, though frustration could be inevitable.
What Will March Bring?: The end of Andrew Nicholson's St. Bonaventure career. He will declare for the draft at the end of the season and should be a mid-first to early-second rounder.
Temple
The Good: Coach Fran Dunphy should have high hopes with 3 returning starters from last year's 29 win team. Leading the way for the Owls are point guard Juan Fernandez and power forward Lavoy Allen. Fernandez has great size, is a very good shooter, especially from 3 point range, and has excellent court vision. Allen is a strong presence in the lane, is incredibly active, and is one of the best rebounders for his size in the NCAA. Center Micheal Eric rounds out the returning starters. Eric provides some needed size, though his production needs to improve, especially on the boards. Ramone Moore is a very good all-around player, though he needs to become much more consistent from the perimeter.
The Not-So-Good: Dunphy has assembled some decent talent on the bench, though he should expect some more production this season, especially from forward Rahlir Jefferson and guard Khalif Wyatt. With the lack of any true size on the team, outside of Eric, freshman Anthony Lee may be called into important situations before he is ready.
The Question Mark: Who is going to step up and replace the scoring of Ryan Brooks? Fernandez is a capable scorer, though he will need to also facilitate the offense. Allen does a great job creating opportunities, but is not a pure scorer. Moore is the most likely candidate, though he will need to show consistency to stay on the floor.
What Will March Bring?: The tough Temple defense will keep them in every game, but a tough schedule and the loss of Ryan Brooks could be enough to put them on the bubble this season, unless someone on the bench steps up. I'm guessing 18 wins and one of the last teams in or out of the tournament.
Xavier
The Good: Jordan Crawford and Jason Love have moved on, but Coach Chris Mack is looking at another Atlantic 10 championship and NCAA Tournament berth. Point guard Tu Holloway will lead the way, and he should establish himself as one of the best point guards in the country. Holloway does a great job controlling the floor, is a capable scorer and can be a lockdown defender. He will be joined in the backcourt by returning starter Dante Jackson. Jackson is one of the top shooters in the conference and should get more looks this season with Crawford in the NBA. The frontcourt will be anchored by Jamal McLean who will fill Jason Love's presence in the lane. McLean is very active and goes strong after rebounds. Center Kenny Frease provides some strong moments almost every time he is on the court, though Coach Mack often looks to go with a smaller lineup. Freshmen Justin Martin and Jay Canty will provide some scoring off the bench, which should ease the loss of Crawford.
The Not-So-Good: The interior defense may not be as good as recent years with the loss of Love. While McLean will eventually grow into the role, at this point he needs to get stronger to be as effective as Love. While Holloway is capable of being a leader, the team will need someone to have the same swagger that Crawford had last season. While Holloway may be that guy, I would look the freshman Martin to be the next Crawford at Xavier.
The Question Mark: Does Coach Mack have the bench to make a deep run in the Tournament this season? We've already discussed the freshmen, but also returning are guards Mark Lyons and Brad Redford, both who have provided valuable minutes The concern is depth in the frontcourt where Andrew Taylor is the only experienced reserve.
What Will March Bring?: Another NCAA bid is inevitable though I am not so convinced that they will win the Atlantic 10 this season. Either way, they will be near the top of the standings and should be safely off the bubble. Justin Martin could be A10 Rookie of the Year and may be a starter by the end of the season.