As we get closer to the start of the NCAA season, we will take a tour around the country looking at what, and who, to watch for this season, conference by conference. Yesterday, we took a look at the 6 ACC teams (for Part I, click here.) Today we look at the rest of the ACC – Miami, North Carolina, North Carolina State, Virginia, Virginia Tech and Wake Forest.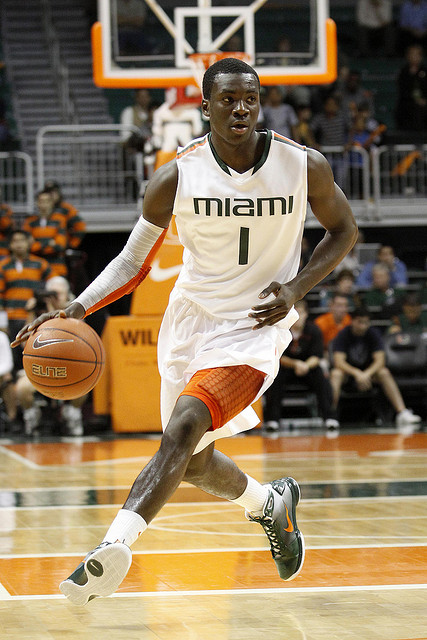 Miami
The Good: The backcourt of Durand Scott and Malcom Grant provides a solid foundation for Coach Frank Haith's team. Scott is an excellent passer and a versatile scorer. He has a strong upper body allowing him to take contact going to the rim. He needs to become a more consistent perimeter shooter. Grant is not as talented as Scott, but he is the more natural playmaker of the two. Both are strong defenders, and will pressure the ball out on the perimeter to create opportunities in transition. The frontcourt features two very big bodies – Julian Gamble and Reggie Johnson. Gamble showed great improvement from beginning to end of last season, especially in using his body on both ends of the floor. Johnson is massive (over 300 pounds) but moves well and has a great scoring touch around the rim.
The Not-So-Good: The big men will need to become more aggressive defending the blocks, and need to go stronger after rebounds. Also, the bench is unproven, especially if scorers are needed. Shooting is also not a strong area for the Hurricanes entering the season, especially from 15-20 feet. The presence of Dwayne Collins will be missed around the basket.
The Question Mark: The team's identity will be the largest question heading into the season – 2 playmaking guards and 2 massive bodies in the middle. Will the offense be more guard or big man-oriented? The answer to this question leads easily into the next one – how many minutes is Johnson capable of playing per game? If Coach Haith can get 20-25 minutes a game out of Johnson, and similar out of Gamble, opposing teams may find it very tough to get anything in the lane against the Hurricanes.
What Will March Bring?: I like the Miami starters, though I need to see how the bench performs come ACC season. I do think this is a NCAA tournament team, and after 1 more season, both Scott and Johnson are potential NBA players. Look for an 18 or so win season and one of the last teams in the tournament.
North Carolina
The Good: After last year's un-Carolina like season, the Tar Heels are back with another stellar recruiting class looking to lead Roy Williams back to the top. Power Forward John Henson will look to build off of the improvement he showed after Ed Davis' season-ending injury last season. While he still needs to become much stronger to be effective in the post, he showed excellent ability to use his length and athletic ability to separate himself from defenders. These qualities also make him a potential force on the defensive end, where he can be a top-level shot blocker. The big story, however, is the arrival of Harrison Barnes, Reggie Bullock, and Kendall Marshall to Chapel Hill. Barnes has great size on the wing, is a great ballhandler and shooter, and is extremely smooth getting to the basket. A decent on-ball defender, he will need to improve defending off-the-ball, especially against perimeter shooters. Bullock and Marshall may be the starting backcourt by the time March comes around. Marshall is everything that Larry Drew is not at the point – decisive, creative and a leader. Bullock is the dead-eye shooter that the Heels were missing last season. Justin Knox transferred in from Alabama to help bolster the front court manned by Henson and Tyler Zeller. Knox is the physical player the Tar Heels were missing last season and will help take pressure of Henson and Zeller on the boards.
The Not-So-Good: The ACC has some very skilled big men this season and the trio of Henson, Knox and Zeller will need to be prepared every night to battle in the lane. Another major issue facing Coach Williams is the reliance on a lot of young players. All three freshmen will receive major minutes and should all be starting by the time March rolls around. The rest of the ACC contenders are experienced groups, so it is still to be determined how the young players will fare against the ACC.
The Question Mark: We already discussed how the freshmen will fare with major minutes is a major question mark. The other major question facing Coach Williams this season is will John Henson continue to improve as he did towards the end of last year? Henson is very similar to Ed Davis, who also faced major expectations entering his sophomore year. Davis did not seem to play up to those expectations, and many people in Carolina are hoping that Henson rises above them.
What Will March Bring?: Carolina makes their way back to the NCAA Tournament, and it won't be a quick appearance. Barnes and Henson both perform up to expectations and enter the NBA as lottery picks, and Justin Knox proves to be a difference maker come ACC season.
North Carolina State
The Good: Tracy Smith's decision to come back to NC State for one more season ensured that they would be competitive this season. The addition of CJ Leslie turned them into a team that people should be weary of playing. Smith is extremely strong, and uses his strength well to overpower opponents in the post. He has very good footwork and a nice shooting touch out to 10 feet. Defensively, he does a good job holding his position and is a very strong rebounder. Leslie will join Smith on the front line and will bring incredible athletic ability on both ends of the floor to the Wolfpack. While he has been primarily a post-tyoe player, he is developing well as a potential wing player. Javier Gonzalez will start the season at the point, but will be challenged early and often by freshman Ryan Harrow. Harrow is lightning quick, though he definitely needs to add some muscle to his slight frame.
The Not-So-Good: Gonzalez has done an average job as a point guard, but his decision-making is very poor. Coach Sidney Lowe will need Harrow to show leadership skills quickly to establish himself as the team's point guard. Lowe's bench is not that deep, and hopefully he will be able to snag some quality minutes out of Scott Wood and Richard Howell.
The Question Mark: The Wolfpack are very strong on the interior, so the largest question is who will step up on the perimeter to keep defenses from sagging on Smith and Leslie. Gonzalez and Wood are both decent perimeter shooters, though they don't bring a lot else to the table. Freshman Lorenzo Brown could be the answer. Though he is not a very consistent shooter yet, he has the ability to get to the rim in a variety of ways and should be able to draw the defense to him enough to free up Smith and Leslie.
What Will March Bring?: Assuming the freshmen can establish themselves during the non-conference season, State will be securely on the bubble come March 2011. Smith should be a 2nd round pick next season, while Leslie is a future pro, just not next season.
Virginia
The Good: Mike Scott is back as the team leader and the main post option for the Cavaliers. He is a wide body with a solid back-to-the-basket game and the ability to out-muscle players on both end of the floor. Point guard Sammy Zeglinski did a good job last season running Coach Bennett's offense and the experience should show very well at this point. It will be needed because Virginia is bringing in a huge recruiting class and a lot of freshmen should receive court time. One freshman who should see a lot of time right away is KT Harrell, a shooting guard who can score in many ways. What makes Harrell a great fit for Virginia is his perimeter defense. He has the ability to be a game-changer on the defensive end and could help the Cavs if they choose to up their tempo.
The Not-So-Good: Besides Scott, the Cavaliers have no other proven post players. Freshman James Johnson could come in and contribute right away, though he needs to work on his defensive skills before he logs major minutes. If he does get on the floor, he could provide the scoring punch the team needs after the loss of Sylven Landesberg.
The Question Mark: Can a team lose its leading scorer and become a better team? In the case of Virginia, the answer is yes. While Landesberg is very talented, he was a distraction to the team and his style didn't exactly mesh with the Bennett system. With Bennett bringing in 2 classes of his players, the ACC should start to see the hard-nosed style that Bennett brought to Washington State.
What Will March Bring?: Look for an improved Cavs team this season, though not enough to make the NCAA Tournament. That will be another year down the road. However, do look for Virginia to knock off 1 or 2 NCAA bound teams this season as the freshman integrate into the system.
Virginia Tech
The Good: Coach Seth Greenberg returns almost all of the important players from a team that should have made the NCAA Tournament last season. Led by the ACC's leading scorer Malcom Delaney and backcourt mate Dorenzo Hudson, Virginia Tech is not a team that has trouble scoring. Delaney does a decent job running the offense, though is decision-making is a little suspect, and he is prone to selfish play. Hudson is also a capable scorer, though he is much more of a slasher than a shooter. Jeff Allen is a 3rd capable scorer and also an excellent rebounder. Playing much bigger than his size, Allen has a nose for the ball and does an excellent job cleaning up Delaney's misses. One of the better defenders and rebounder on the team is Terrell Bell. Bell is a capable scorer in his own right, though you won't see him taking too many shots.
The Not-So-Good: While the Hokies have plenty of scoring, what the team is missing is shooting. As a team, they take a lot of bad shots, and are far from efficient with the basketball. This becomes even more of a problem with the loss of 6th Man JT Thompson to an ACL tear. Coach Greenberg has to continue to emphasize quality over quantity when it comes to shots, especially with Delaney. The Hokies lack pure size and rely on players playing much bigger than they are. At some point this just won't do, especially against teams with multiple 6'10, 6'11 players.
The Question Mark: With JT Thompson out for the season, who steps up to replace him as 6th man? Most likely it will be Victor Davila, a strong post player, who could also find himself playing in the starting five. In the backcourt, look for Erick Green to get some increased minutes this season at either guard spot.
What Will March Bring?: Hokie fans will accept no answer here other than the NCAA Tournament. I am glad to say that not only should the Hokies make the Tournament this season, but they have that perfect mix of veteran players, who can score and hustle, that I wouldn't be surprised if they go more than a round once they are there. Delaney could be a 2nd round pick in the draft, though he will need to show more as a point guard to insure that teams notice.
Wake Forest
The Good: With 4 starters gone and a new head coach in Jeff Bzdelik, the Demon Deacons will have a new identity this season. The team leader will be point guard CJ Harris. Harris was very effective last season playing both guard positions. While he needs to improve his jumper, he does a great job getting to the rim and is strong enough to handle contact. He is a decent defender, though he needs to close better on shooters. Ari Stewart should become a much greater part of the offense this season, especially with his ability to hit the three. He uses his size well and even has the ability to score inside. Defensively, he needs to improve his footwork and keep his man in front of him. The Wake freshmen class is going to be a very good one, led by JT Terrell and Travis McKie. Terrell will provide instant offense, though he will need to make sure he operates within the team's offense. He has an excellent jumper and great range, though his shot selection is suspect. McKie is a much more efficient scorer, taking the ball to the basket with the ability to finish. He will need to add more muscle to be an offensive threat in college.
The Not-So-Good: With the suspension of center Tony Woods, the Deamon Deacons are left without any experienced big men. Look for Bzdelik to let the Demons push the ball a little more than he may be comfortable with. Also, the perimeter shooting will need to become much more consistent, which may be tough without a big man anchoring the post.
The Question Mark: Who steps up in the frontcourt in the absence of Woods? Freshmen Carson Desrosiers and Melvin Tabb are both very talented, though neither has the toughness yet to be effective at the ACC level. Best thing Bzdelik could do is to play them from Day 1 and hope to see them develop by the end of the season
What Will March Bring?: Unfortunately for Wake fans, this is not going to be a pleasant Spring. Below .500 ACC record, though could put a scare into a few teams.
Tomorrow, make sure to come back for a look at the Atlantic 10, including All-American candidate Chris Wright of Dayton. Remember, comments are welcome below. Email me here, and or follow me on Twitter – here.