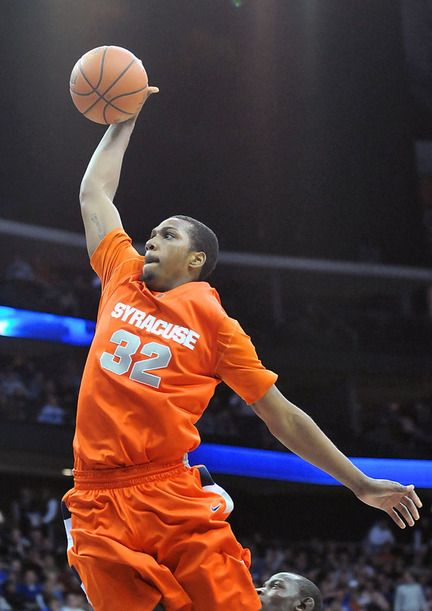 As we get closer to the November start of the NCAA Basketball schedule, I continue my early looks at the November Tournaments which college basketball fans love so much. Next up is a newer tourney, the Legends Classic.
The Legends Classic is another one of the tourneys which is set up to guarantee that the 4 marquee names automatically make it to the Semi-finals in Atlantic City. This year, the final four teams are Syracuse, UTEP, Georgia Tech and Michigan. There is a lot of good young talent in this field, and even the Regional games have a must-see performer in Ray McCallum of Detroit, who will play Syracuse.
If you haven't already, remember to check out the other Early Season Tournaments I have reviewed so far – Just go to the front page – NBADraftBlog.com to read about the Maui Invitational, NIT Season Tip-Off, 76 Classic, Old Spice Classic, Charleston Classic, Puerto Rico Tip-Off, 2K Sports Classic and the CBE Classic.
Now let's take a look at the Legends Classic…
Legends Classic Pre-Preview
Georgia Tech
The Yellow Jackets will need to rebuild a front line which will be without the services of Gani Lawal, Derrick Favors, and Zach Peacock. The strength of Paul Hewitt's squad will now be the guards, especially point guard Iman Shumpert. Shumpert has great size for a point guard, enabling him to see the court very well. Perimeter shooting is not a strength, though he does do a good job creating space for good looks. He has a tendency to try and force passes, especially into the post, though with more of the offensive load on him he will need to be careful about forcing shots instead of passes. Defensively, he does a good job playing the ball, and is especially good at using his size to disrupt opposing point guards. However, he does have some trouble guarding smaller, quicker guards. He will most likely be joined in the backcourt by Glen Rice, Jr. Rice came off the bench last season to provide scoring and defense. He is a good perimeter shooter, though he struggles creating his own shot. He fits in to the offense well and has a good feel for the game, just like his father. He will need to become more aggressive on offense this season, and look to go to the basket more. Brian Oliver will be on the other wing, and will look to build on a good freshman year. Another good perimeter shooter, Oliver has a strong body and does a good job finding ways to get to the rim. He sees the court well and does a good job finding open teammates. Freshman Jason Morris will be an instant contributor, especially on the offensive end, where he uses his great athleticism to get to the basket and finish. His playing time will most likely be tied to how well he picks up Coach Hewitt's offense, and how well he plays defense.
Syracuse
Another year, another very good Jim Boeheim team. While the team will certainly miss the leadership of Andy Rautins, the athleticism of Wes Johnson, and the toughness of Arinze Onuaku, Coach Boeheim has a nice mix of returning players and newcomers to make another run at a Big East title. Expect Kris Joseph to make the leap to one of the top players in the country. Joseph is very strong and quick, has a good first step, is a good offensive rebounder. His jump shot needs to be more consistent, especially from 17 feet out. On defense, he does a good job being active in the 2-3 zone, though he needs to keep his energy level consistent. Scoop Jardine will be running the point and will look to build on last year's solid season. He is very effective in transition, can go to the basket or pull up and shoot the jumper and can be a spectacular passer. He needs to be careful about letting the game slip away from him. When the game picks up pace, he tends to try and force things at top speed. Brandon Triche will also be in the backcourt as the team's best perimeter shooter. He is still needs to improve on getting to the basket, and hopefully comes back stronger this season. Mookie Jones should see more time this season in the same role that Wesley Johnson played, especially exploiting the baseline on offense. Rick Jackson will be back playing the tough-guy role missing in the absence of Onuaku. Jackson has showed some improvement over the season, especially with his shooting around the basket. He will be helped in the middle by stud freshman Fab Melo, a huge presence in the middle. At 270 pounds, he uses his body well getting position, has shown improved footwork, and has a nice set of post moves at his disposal. He needs work on the defensive end, where his reaction to plays is a bit slow and cause him to pick up bad fouls. Fellow freshmen Dion Waiters and CJ Fair will also compete early for playing time on the wings.
Michigan
John Beilein continues his rebuilding project in Michigan with a young, but talented group of players, though the loss of Manny Harris and DeShawn Sims, as well as Laval Lucas-Perry, may be tough to adjust to early in the season. The only 2 upper classmen on the roster are guards Zach Novak and Stu Douglass. Novak doesn't do anything great, but he does a lot of the little things well, especially helping direct traffic in Belilein's offense. He can hit the open jumper, which at least helps keep defenses honest, though he isn't much of a scoring threat. He's an average defender, though he is capable of grabbing a few rebounds. Douglass is a similar player to Novak, though he is a bit better shooter, especially with his quicker release. Darius Morris should see much more time this season in the backcourt. He is an athletic scorer who should thrive with the cutting offense of Coach Beilein. He needs to work on getting stronger, so he can go stronger to the basket, as well as improving his jumper which is not good at all. Defensively, he uses his athleticism well, especially as a help defender. Two newcomers will supplement the backcourt – Tim Hardaway Jr. and Jordan Dumars (eligible in January). Hardaway has good size, gets to the basket easily and finishes strong. He needs to become more consistent with his perimeter jumper and his ballhandling can be sloppy. Freshman Evan Smotrycz will impress many with his toughness as well as his ability to score inside and out. Defensively, he will need to get stronger to be able to cover other power forwards.
UTEP
Tim Floyd is now in charge and a lot of the talent is gone, but UTEP still has the potential to be a dangerous team. Led by explosive guard Randy Culpepper, the Miners will look to run often. Culpepper is extremely quick, can find his way to the rim and finishes well for his size. He also has good range on his jumper, though his size prevents him from getting many clean looks. He isn't much of a distributor, and he will need to improve that to even have a shot at the next level. Jeremy Williams is another explosive athlete who has the ability to get out in transition and finish strong at the hoop. He can create his own shot, can step pick and hit the 3 and chooses his shots well. He needs to tighten up his defense a bit, often leaving his man with too much room to operate. Julyan Stone is a shooting guard with point guard skills. He sees the court extremely well, makes smart passes and plays under control. He doesn't look often to score, which should change in the Floyd offense. Defensively, he matches up well guarding the wings, and is an excellent off-ball defender.
Though these four times are automatically in the semifinals, one player in the Regionals to watch for is Ray McCallum, one of the top incoming freshmen in the country, who spurned larger programs to play for his father at Detroit. A natural point guard, McCallum also has the ability to score in bunches and is extremely lethal in transition. What separates him from other freshmen point guards is his ability to lead and run an offense. He defends the ball well and is very good at jumping passing lanes.
Make sure to leave your comments here or feel free to email me at [email protected] with any questions or comments. Also, for more on the Legends Classic, follow them on Twitter – @LegendsTourney. You can follow me on Twitter @NBADraftBlog.