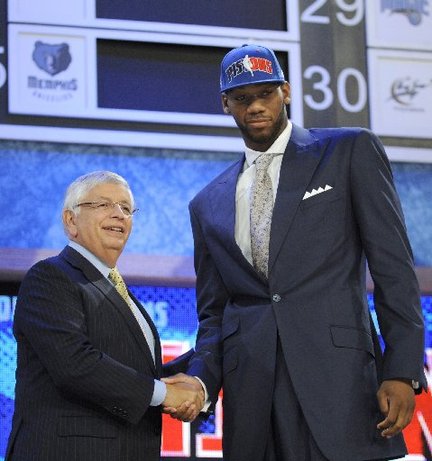 (Photo – Bill Kostroun – The Associated Press)
With the NBA Draft for 2010 in the books, it is time to look back and see what teams did a good job filling their needs and which teams fell short. Because of the length, this post contains Atlanta through Miami. Part 2 will be posted tomorrow.
Check it out after the jump
Atlanta Hawks Grade: B
1st Round – Jordan Crawford, SG, Xavier (#27 from New Jersey)
2nd Round – Papa Sy, SF, France (#53)
Analysis – Crawford fills a great need for the Hawks, giving them energy and a scoring punch off the bench, especially if Jamal Crawford moves into the starting lineup with the possible defection of Joe Johnson. He needs to improve his shot selection, but that will come with experience. His range allows him to stretch the floor and he has the ability to get to the rim and finish. I wish I had something to say about Sy, but I've got nothing. Really.
Boston Celtics Grade: B+
1st Round – Avery Bradley, SG, Texas (#19)
2nd Round – Luke Harangody, PF, Notre Dame (#52)
Analysis – With the possibility of Ray Allen leaving, I thought James Anderson would have been the logical pick, but the more I reflect, the more I like what Danny Ainge did here. Bradley has the ability to play both guard positions, is a much more versatile scorer than he showed at Texas, and may be the best perimeter defender in the draft. The thought of having Rondo and Bradley on the floor at the same time will drive other coaches nuts. Bradley does need to improve his free throw shooting if he is to be an effective scorer at the NBA level.
I think the Harangody pick at #52 was a quality choice as well. He just has the feel of a great role player who can provide both scoring and rebounding and can be a physical presence when one is needed.
Charlotte Bobcats Grade: Inc.
1st Round – None
2nd Round – None
Analysis – Coming off their first playoff appearance, the #16 pick they would have had could have given them some depth to insure they make a return trip next season.
Chicago Bulls Grade: Inc.
1st Round – Kevin Seraphin, PF, France (#17 – to be traded to Wizards)
2nd Round – None
Analysis – With a deal in place to send Seraphin to the Wizards along with Kirk Hinrich, the Bulls are making sure they have maximum cap space available for Lebron/Bosh/Amare/DWade and any other free agent who they can throw money to. I'm fine with this because I am not impressed with Seraphin one bit. He may be strong, but he is very awkward and I think he will have trouble with the flow of the NBA game.
Cleveland Cavaliers Grade: Inc.
1st Round – None
2nd Round – None
Analysis – Possibly (Definitely?) losing Lebron isn't bad enough. The Cavs attempt to buy their way into the draft were rejected all around. Will be interesting to see what players, if any, they will attempt to lure to replace Lebron. No Lebron = 2011 Lottery Pick.
Dallas Mavericks Grade: C
1st Round – Dominique Jones, SG, South Florida (#25, from Memphis)
2nd Round – None
Analysis – As my readers know, I am not a fan of Jones, and I certainly wouldn't trade into the first round for him. A productive scorer at the college level, he doesn't work well without the ball in his hands and he certainly is going to have it in Dallas. He has a solid body and can get to the lane and finish, but his perimeter shooting is mediocre and NBA defenders will not be forced to play up on him. He could turn into a good role player, but I don't see him being any better than that.
Denver Nuggets Grade: Inc.
1st Round – None
2nd Round – None
Analysis – Their pick this year went to the Timberwolves in exchange for last year's pick which netted Ty Lawson. In hindsight, was a great move by the Nuggets. If Lawson doesn't eventually replace Chauncey Billups, he will be great trade bait.
Detroit Pistons Grade: A
1st Round – Greg Monroe, PF, Georgetown (#7)
2nd Round – Terrico White, SG, Ole Miss (#36)
Analysis – The Pistons took care of two major needs in this draft and even landed a first round talent in the second round. Monroe is going to be a great addition to the Detroit offense, with his ability to move from high to low post and incredible court vision which will improve everyone else's numbers. While there are concerns about his athleticism, the guy is a player and will come to compete every night.
At #36, the Pistons came away with one of the steals of the draft in White. The eventual replacement for Rip Hamilton, White is a good perimeter shooter and has the ability to play both guard positions. He needs to become more efficient when he has the ball, and could look to penetrate more, but he will be an instant contributor to a Pistons offense which sorely needs some energy.
Golden State Warriors Grade: C
1st Round – Ekpe Udoh, PF, Baylor (#6)
2nd Round – None
Analysis – With Monroe still on the board, I was confused by this pick. After playing through possible scenarios, I have come out more confused. Yes, Udoh is a very good defensive player, but he is not a game-changer, and it certainly does not make up for how underdeveloped his offensive skills are. Considering the similarities between Udoh and Anthony Randolph, its possible that one of these players could be on the move. I may re-visit this in a few years, but as of now I am not convinced this was a good use of the 6th pick.
Houston Rockets Grade: B+
1st Round – Patrick Patterson, PF, Kentucky
2nd Round – None
Analysis – This may turn out to be one of the best fits in the draft. Patterson is a hard-worker, will do whatever is needed to win, but is also extremely skilled. The most NBA-ready of the lottery picks, Patterson should be able to compete for a job immediately with the Rockets who can use Patterson either as a second post player, or play him on the perimeter. His perimeter shooting needs to become more consistent, but should improve over time. Patterson's ability to rebound should also take some pressure of Yao Ming and the other Rockets' bigs.
Indiana Pacers Grade: A
1st Round – Paul George, SG/SF, Fresno State (#10)
2nd Round – Lance Stephenson, SG, Cincinnati (#40); Magnum Rolle, PF, La Tech (#51, from OKC)
Analysis – In 2 picks, the Pacers may become one of the most exciting teams in the league. George is a top-level athlete, and can score in many different ways. He is a smooth perimeter shooter with good range, is quick enough to get by his defender one-on-one and has the size to post-up smaller guards. He needs to work on becoming a better perimeter defender, but he has the size and speed to adjust quickly. Look for George to quickly become the Pacers second option on offense behind Danny Granger.
I really like the pick of Lance Stephenson, especially in the 2nd round, where there is little risk. Stephenson is one of the most dynamic players in the draft. While not a great athlete, he finds ways to score, can create his own shot and is a very good passer. He will still need to a lot to overcome the perception that he is selfish and lazy, and he has to learn to put in a consistent effort, especially on defense. He can provide the Pacers some scoring off the bench.
Rolle needs to develop some more muscle, but he has some good skills on the offensive end and he runs the court well. Should be a very good NBDL player.
Los Angeles Clippers Grade: A-
1st Round – Al-Farouq Aminu, SF, Wake Forest (#8); Eric Bledsoe, PG, Kentucky (#18 from OKC)
2nd Round – Willie Warren, SG, Oklahoma (#54)
Analysis – Somehow the Clippers did well on all three of these picks. Aminu can seem low-energy at times, and is not very aggressive, but he is an excellent rebounder, can run the floor and can finish at the rim. The frontline of Kaman, Griffin and Aminu has the potential to be among the best.
Even more impressive was the ability to pick up the heir apparent to Baron Davis at #18 in Eric Bledsoe. Though he played in the shadow of John Wall, Bledsoe is a very talented point guard in his own right. He needs to become a bit smarter with his decision-making, but he is a good perimeter shooter, has the ability to get into lane and draw the defense, and he has the ability to run the break or fill one of the lanes. Again, a potential backcourt of Bledsoe and Eric Gordon sounds very enticing.
The final pick could turn this from an excellent draft to the best of 2010, if Willie Warren works out well. Warren, an explosive scorer who was a pre-season lottery pick, had a tough time adjusting to life without the Griffin brothers. Well now he is reunited with Blake and it may be just the thing to get his game back on track. If it does, Warren can provide the Clips with solid scoring off the bench.
Los Angeles Lakers Grade: B+
1st Round – None
2nd Round – Devin Ebanks, SF, West Virginia (#43); Derek Caracter, PF, UTEP (#58)
Analysis –The current Champs don't have a pick until mid-second round and still come away with two players who could make their roster next season. Ebanks is a good athlete, excellent ball defender and runs the court very well. He needs to improve his perimeter shooting and should become a better finisher at the rim, but he has the ability to work well in open space.
Caracter could be the steal of the draft. He has amazing raw talent, but his long-history of on and off-court troubles led to a major drop in his stock. He has a strong body, excellent touch around the rim and can finish with power. If he keeps his head in the game, he can be a nice alternative to Gasol and Bynum down low.
Memphis Grizzlies Grade: B
1st Round – Xavier Henry, SG, Kansas (#12); Greivis Vasquez, PG, Maryland (#28)
2nd Round – None
Analysis – Coming into the draft with three first round picks, ending up with two, it seems like Memphis should have come up with a lot more. Henry is pure scorer, can hit consistently from the perimeter and runs the court very well. He can be a capable replacement for wither Rudy Gay, if he leaves, or the Grizz can shop OJ Mayo around.
Not thrilled with the development of Mike Conley, it was assumed that Grizzlies would look for a point guard in this draft, and they may have found a good one in Vasquez. While he is known for trying to force too much action, he has excellent court vision and does a great job getting to the rim. He also has the size to create some mismatches on offensive ends. If he learns to play more controlled, this could be an excellent pick at then end of the first round.
Miami Heat Grade: B
1st Round – None
2nd Round – Dexter Pittman, C, Texas (#32); Jarvis Varnado, PF, Mississippi St. (#41); Da'Sean Butler, SF, West Virginia (#42)
Analysis – Like the Bulls, the Heat's main objective was to make sure they didn't take on any salary. With their three second round picks, the Heat made some interesting choices. Pittman, a 300 pounder, can develop into a effective backup if he can keep his weight down. He works hard, uses his body well and has a soft touch. He needs to improve his footwork on the defensive end and should be a much better rebounder for his size.
Varnado is an excellent defensive presence and an elite shot-blocker. He is still a bit awkward on the offensive end, but has improved each year.
Butler, sidelined with a torn ACL until next year, could be a steal if he comes back fully from the injury. One of the toughest players in the draft, he is a decent shooter and very good rebounder, but he may not have a defined role in the NBA.
Make sure to come back for Part 2 tomorrow, including everyone's favorite target – the Minnesota Timberwolves.