I had the opportunity to speak yesterday with Donald Sloan from Texas A&M about the upcoming draft, how he improved during his time at A&M and much more. For those not familiar with Donald, make sure you remember his name, he has a bright future ahead of him and I have no doubt we will be seeing him in the NBA real soon.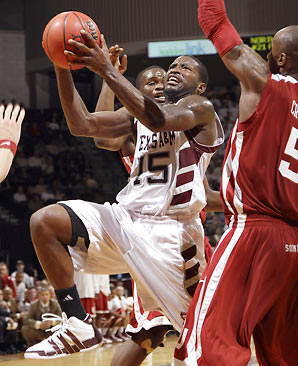 Read More to see what Donald had to say:
On his workouts so far…
The workouts have been great. I think the teams have been very impressed. I have worked out for Toronto, Phoenix, Dallas, Houston, Washington, Miami, Minnesota in the multi-team workout, Sacramento twice and Portland twice.
On how he has improved during his time at Texas A&M…
Over the four years I think I improved on everything. My numbers got better – shooting, scoring, turnover ratio. I think most important I learned to be a leader, to be more vocal. My first 2 years we had Acie Law and Joseph Jones, so once they left, I stepped up to help lead the team on the court.
Note: Last season Donald was First Team All-Big 12, averaging 17.8 pts., 2.3 apg, 3.6 rpg and shot 36% from 3 point range.
On what aspect of his game has surprised teams at the workouts…
I think going in to the workouts that the teams knew I was a good player. Some had seen me before, but I think the way I played at Portsmouth (Invitational) opened a lot of teams' eyes. I have been able to show them a lot of things – I can play the point, handle the ball, can handle a team, and that I can shoot the ball really well.
On what teams think he needs to improve on to play in the NBA…
The feedback has all been good, but if there is one thing I am working on its getting comfortable with the NBA 3 point shot, improving my range and getting comfortable with the line.
On considering going to Europe or playing in the NBDL if he isn't drafted…
Right now I am just focused on the 24th (Draft night). I'm taking everything one day at a time, so I haven't put much thought into it. If that happens, then I will worry about it then. I guess I would have to decide if I want to go with more money and less exposure in Europe, or stay here (NBDL) for less money and more exposure. But I will worry about that after the 24th.
On what he wants to say to the readers and his fans…
It's just a couple of days until the 24th and I am being real positive about it. The way I see it, I have done everything I can possibly do. It's all out of my hands now. Just going to stay positive and take it all one day at a time.
I want to thank Donald for taking some time out of his schedule to talk with me and a big thank you to his agent Derek Lafayette for setting this interview up. We look forward to hearing Donald's name called on Thursday night and seeing him play in the NBA real soon. Make sure to check back tonight for the NBA Draft Blog Scouting Report on Donald Sloan where I will break down his game for everyone.