Everyone knows Solomon Alabi as the seven-footer from Florida State, but a lot of people don't know much more than that about him. Let's take a look at the different parts of his game and see what he needs to improve to play at the NBA level:
Solomon Alabi, Florida State, Sophomore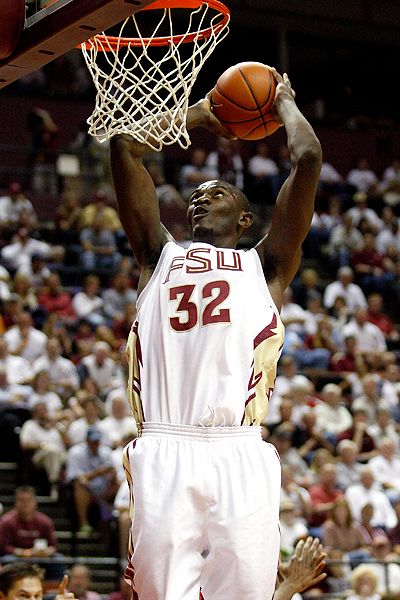 Center- 7'1, 250
11.7 ppg, 6.2 rpg, 2.3 bpg, 53% FG, 74% FT
DraftSite.com Mock Draft Position – #28 (1st Round, 28th Pick)
Offense
Post Skills- At 7'1, Alabi has great size and a tremendous wing span. He does a good job presenting a big target for passes and has good hands. While his footwork can be awkward at times, he is improving, and he has nice touch around the rim. He does need to work on going stronger to the basket as he tends to make his moves away from the rim. He also does a good job not forcing shots.
Rebounding/Passing- While not a great rebounder for his size, Alabi does a good job being active on the offensive glass. He uses his long arms to keep balls alive and to tip the ball out to teammates. He is effective passing the ball out of the post, though he tends to get rid of the ball too quickly.
Free Throw Shooting – Alabi is a very good free throw shooter, though he needs to get to the line more often to take advantage of it.
Defense
Post Defense- Alabi does a good job keeping his arms up, altering any shot that comes near him. While his timing on blocks isn't very good, he is a nuisance just standing there. He needs to be more aggressive trying to push offensive players off the blocks as well as improving his footwork to handle NBA level post moves. While he's at it, he needs to add bulk and strength in order to use his body better. He is an excellent help defender and anticipates the rotation very well.
Rebounding- Alabi needs to be more aggressive going after rebounds as he tends to wait for the ball to come to him. He does do a good job boxing out, though he needs to add some more bulk to be effective against NBA centers. He has become a much improved outlet passer off of rebounds.
Summary & Intangibles
Athleticism – Average
BB IQ – Above Average
Just based on his size, Alabi is going to get plenty of chances to prove he can be a starting center in the NBA. There is something about Alabi that is different though. In most cases, he seems to get better every time I've watched him play. While he is still learning many parts of the game, I can't think of any part of his game that hasn't improved dramatically in the last year. It will be important that he becomes stronger in order to compete over the 82 game season. If he does, I see no reason why he can't end up a very effective center in the league.