After a disappointing season, Oklahoma had three underclassmen declare for the NBA Draft – Willie Warren, a projected first rounder when the season started; Tiny Gallon, a 300 pound man-child; and Tommy Mason-Griffin, a freshman point guard. Even more surprising is how far their stock dropped amid rumors of each player being more selfish than the next. So after weeks of camps and workouts, where does each find themselves now, and what can NBA teams and fans expect?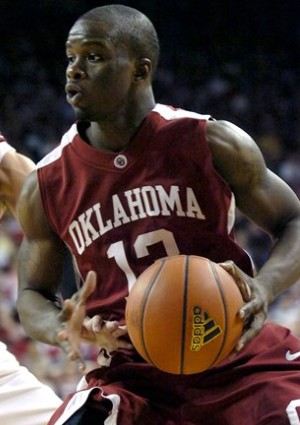 Willie Warren
The Good - Warren can score in bunches and in many different ways. He works well in open space and has improved his perimeter shot. He has the ability to play the point and off the ball, and is excellent at drawing the defense and finding the open man. He goes to the basket aggressively and doesn't mind some contact. He is excellent in transition, either handling the ball or filling the lanes. Defensively, he has good speed and can guard either guard position. His lateral movement can be improved, but it is still adequate, and he does a good job not getting beat often one-on-one.
The Not-So-Good – Obviously, he didn't adjust well to being a team leader, openly showing his displeasure and lack of interest on the court when things weren't going well – which was a lot last season. Life without the Griffins was a lot different. With nobody drawing attention in the post, Warren found himself covered a lot more tightly, which in turn led to shot selection which was questionable, as well as trying to force plays too often. While turnovers were an issue, I wouldn't worry much, since the chance of him being in this situation (as the primary option) again is slim. On defense, he needs to give a more consistent effort. When he tries, he is a great on and off-ball defender and can even contribute some on the boards. But, as the other issues, once his attitude went south, his lack of effort on defense was noticeable.
The Verdict – The talent is there – he was considered a late-lottery pick at the beginning of the season. If he is able to show teams that the problems of this past season with his attitude was an aberration, then some team is going to get a steal in the late-first or early-second round. For now, I will give him the benefit of the doubt and look for him to be picked by a team with the internal leadership to focus his talents.
Tiny Gallon
The Good – At near 300 pounds, Gallon is a huge space-eater, with the ability to seal off his defender in the post. While his footwork isn't great, it is very impressive for his size. He shows nice touch around the rim and has shown various moves on the blocks. While I have not seen it, reports are that he is a very good perimeter shooter, though I can't envision a scenario where he would be in position to shoot from outside. He should be able to power defenders down consistently, but seems to hold back often. On the defensive ends, he uses his size well to force offensive players out of the lane and he also is good at not falling for ball and head fakes, keeping himself out of foul trouble.
The Not-So-Good – In a running theme in this post, attitude and effort just were not there this past season, though in an odd twist, they both seemed to improve a bit once Warren was out of the line-up. Someone Gallon's size should dominate on the boards, being able to clear out space around the rim, but he is slow to box out and doesn't go after the ball but hopes it comes to him. He needs to improve his footwork on defense, especially on pick and rolls and when he rotates over on help defense. Also, if he is forced to cover power forwards at the NBA level, he is susceptible to being beat off the dribble in open space. Probably the largest thing he needs to do is work on his conditioning. While he moves well for his size, the speed of the NBA game is going to be something brand new.
The Verdict – The physical tools are fantastic, and if his head is in the right place, he should be a double-double guy every night. This should lead to him being an early second round pick. I have a hard time believing that a team would risk a first round pick on him unless they are convinced that he will put in the effort. Even so, I think if he is serious about the game, he can be a very good player.
Tommy Mason-Griffin
The Good – Mason-Griffin is capable of scoring lots of points very quickly, especially from long-range. He is also a very good scorer in transition, having the ability to pull up and hit jumpers out to the three-point line. He is good ball-handler and handles pressure fairly well. He gets good penetration in the lane and is capable of making some spectacular passes. Defensively, he can be a pest with decent speed and quick hands and is good at pressuring the ball full-court when needed.
The Not-So-Good – Mason-Griffin's judgment is very suspect – from his shot selection to his passing (or lack of passing) to gambling on defense. Like Gallon, he seemed to play a bit better once Warren was out of the line-up, though his poor decision-making was much more glaring. His size is also a problem, on both ends of the floor. Not especially quick, he may have a hard time getting his shot off at the NBA level. On the defensive end, he prefers to chase the ball rather than move with his man.
The Verdict – Mason-Griffin would have been a borderline prospect at best if he proved himself at Oklahoma, but leaving after one year made little sense unless he has aspirations of a career in Europe. I would be shocked if he made a NBA roster in the next few years.