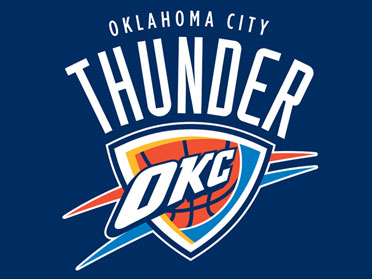 The Oklahoma City Thunder, the new darlings of the NBA. GM Sam Presti has put together a solid young nucleus, including superstar Kevin Durant, and now finds himself in the position of being able to look for missing pieces to fit the puzzle. So with 2 first and 2 second round picks, what does the Thunder do?
Returning Players- Nick Collison (PF); Nenad Krstic (C – Player Option); Kevin Durant (SG); James Harden (SF); Russell Westbrook (PG); Jeff Green (PF); Thabo Sefolosha (SF); Eric Maynor (PG); BJ Mullens (C); Serge Ibaka (PF/C); DJ White (PF); Kyle Weaver (SG)
Team Payroll (12 Players) – $40,252,254
Estimated Salary Cap – $56,000,000
Team Needs- Keeping cap room free to eventually re-sign Durant & Westbrook; add depth on wings
Position Needs – SG, SF, C
Picks – 1st Round (#21, #26); 2nd Round (#32, #51)
Analysis- With their first playoff berth as the Thunder and a surprisingly competitive series against the Lakers behind them, the Thunder's primary goal this off-season is to keep their young core group playing well while keeping cap space open to eventually keep as much of the group together as possible. So, with 4 picks and little room for many new players, look for Oklahoma to package picks together in order to move up in the draft, or choose an international player who will stay overseas for a year or two, or possibly both.
Assuming they can put together a package and move up into the teens, who exactly could they be targeting? Right now, the team's biggest weakness is at Center. The two center possibilities in the teens are Daniel Orton and Hassan Whiteside. I am still not convinced of Whiteside's potential other than as a shot-blocker, though a defensive presence could be the missing part to the Thunder puzzle. Orton is also a question mark, seeming to have potential, but barely seeing the court in his 1 year at Kentucky. He may pay off a couple of years down the road, but I don't see him making an immediate impact.
If they stay put at #21 and #26, look for them to add the best available athlete at #21, possibly a player like Devin Ebanks who can provide them energy and athleticism off the bench. If a scorer such as James Anderson is available, look for him to be a prime consideration. At #26, look for the Thunder to consider a foreign player who can stay overseas to mature for another year or two. Two possibilities at this spot are Kevin Seraphin, a French power forward, or Tibor Pleiss, a German center. Pleiss would be a great pick-up in this spot, as he is still extremely raw and would not be able to contribute right away. Seraphin is closer to being ready to play in the NBA, but is still a bit raw to contribute next year.
In the second round, look for them to find big bodies that can provide depth to the frontcourt. Possibilities include Gani Lawal, Dexter Pittman, Jerome Jordan and Jarvis Varnado.
That's it for Oklahoma City. Next up on the tour – Portland.