After an impressive four-year career at Texas, Damion James is ready to make an impact on the NBA. Does the fact that he plays a big man's game in a small forward's body detract from the fact that he is one of the hardest working players in this draft class? Let's see what his game looks like:
Damion James, Texas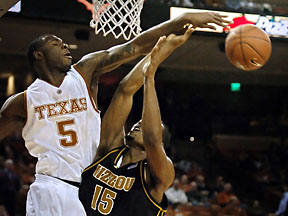 Small Forward- 6'7, 225
18 ppg, 10.3 rpg, 50% FG, 67% FT, 38.3% 3FG
DraftSite.com Mock Draft Position – #28 (1st Round, 28th Pick)
Offense
Post Skills- While not necessarily a post player, James is a very physical and effective scorer around the basket, playing much bigger than he actually is. He is solidly built and does a good job creating space for his shot among bigger players. He does a good job shooting with both hands and uses an excellent head and ball fake to make space and draw fouls.
Ballhandling/Hands/Penetration- James is an average ball-handler, very steady, nothing spectacular. He is very conservative with his dribble and does a good job not forcing the ball into traffic. He has good hands, though he has a bad tendency to set his target down low for getting the ball – something he won't be able to get away with in the NBA. He has the ability to penetrate from both the left and right sides, though he prefers the right. He uses his body well and finds his way into open spots on the floor. He is much better at using screens than operating in open space and may have trouble in open space against small forwards, but could do it against power forwards.
Perimeter Shooting- James has improved his perimeter shooting each of his 4 seasons at Texas. While he tends to rush his shot often, his form is consistent. He has increased his range out to the 3 point line, but he is most comfortable in the 15-18 foot range. He needs to improve on coming cleaner off of screens ready to shoot.
Rebounding/Passing- A tremendous rebounder for his size, he gets so many rebounds by outworking everyone else. He uses his body well clearing defenders out of their spots and shows tremendous quickness going after the missed shot. His passing needs work and his court vision can be improved – he often telegraphs his passes.
Free Throw Shooting – James' free throw shooting is average, though he often tends to rush his shot early in games, and does a good job taking his time and hitting the late free throws.
Defense
Perimeter Defense- James can be a tough on-ball defender, though he needs to improve his lateral movement to effectively defend against NBA small forwards. He also needs to improve his defense off the ball, especially getting his positioning correct.
Post Defense- James has shown to be an impressive post defender, using his body well for his size and doing a good job forcing players off the blocks. He has shown good footwork in playing post defense. If he is defending the post, he needs to work on rotating over on help.
Rebounding- See the above about rebounding. James does a great job clearing out space and going after the ball. He is a capable rebounder both down low and from the perimeter. While he does a good job using his body, he will need to be more physical to be a NBA quality rebounder.
Transition
James does a good job filling lanes in transition and goes strong to the basket from the wings. He is also capable of pulling up in transition and hitting a perimeter jumper.
Summary & Intangibles
Athleticism – Above Average
BB IQ – Above Average
James is an intriguing prospect, both athletic and physical, always seeming to be around the ball. He has the ability to play inside and out, is a great rebounder for his size and plays with great energy from beginning to end. The fact that he plays a power forward's game in a small forward's body shouldn't be a deterrent to his effectiveness as a NBA player. He will need to improve his perimeter shooting to get more time on the floor. I don't see anyway he drops out of the first round, and knowing how he plays the game, he should impress many teams during workouts.