In this version of The Case For…, I will take a look at Hamady N'Diaye, a tremendous Senegalese shot blocker out of Rutgers. Is his defensive presence enough to get him to the NBA? Let's break it down: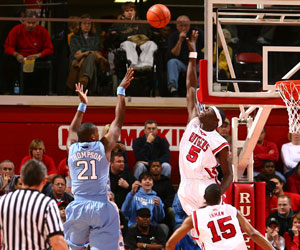 The Good – N'Diaye (6'11, 235, Senior) has great length, with long arms and giant hands, and is athletic for his size. On offense, he does a great job making himself a target in the post, allowing his teammates to get him the ball where the defender can't get to it. His move set has improved over the last few seasons where he now has the ability to get shots off consistently. He doesn't take many shots, but he usually takes good shots and is very efficient on offense. He has become a much better offensive rebounder, learning to anticipate where missed shots will come off the rim and keeping the ball up high. His defense is what keeps him on the court though. While not exceptionally strong, he is good at forcing players to try and shoot over him. He has learned to time his blocks exceptionally well and does a good job at directing his blocks to teammates.
The Not-So-Good – N'Diaye is still very raw offensively, taking time to make his moves and often getting rid of the ball before he has time to do anything with it. His footwork has improved, but it is still just average, and his lateral movement can be clumsy at times. The aggression he shows on the defensive ends is nowhere to be found on offense and he rarely goes strong to the basket. On defense, he still needs to add some bulk to be able to battle at the NBA level. Also, he will need to be careful choosing when to go for blocks as he will see many moves he never saw in college. He needs to improve on helping and recovering to his man off of pick and rolls.
The Verdict – There are obviously many teams who could use a defensive presence such as N'Diaye guarding the paint, but he still is a work-in-progress. His improvement from year-to-year wasn't as good as many would have hoped, and it makes you wonder if he will ever show any offensive presence. Still, shot-blockers at his level are in demand and I would be interested to see what a NBA staff could do to improve his game. Look for him to get many looks from NBA teams, though he would be, at best, one of the last picks in the draft. More likely, teams will want to see how he plays in the summer leagues before they invite him to camp. I would be very surprised if he didn't get at least one shot to play in the NBA, though I would doubt it is next season.