The next player up in the TrueScout™ series is Quincy Pondexter, who has steadily moved up draft boards all season. Remember, leave me your comments or shoot me an email in the Contact section.
Quincy Pondexter, Washington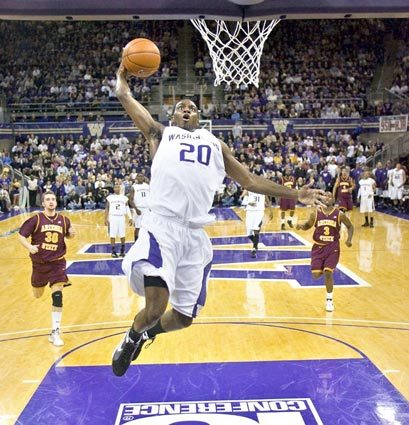 Small Forward- 6'6, 215 ™
19.3 ppg, 7.4 rpg, 53% FG, 82.7 FT, 35% 3FG
DraftSite.com Mock Draft Position – #27 (1st Round, 27th Pick)
Offense
Post Skills- While not exactly an under-sized power forward, Pondexter plays much bigger than he actually is. While he doesn't have great size, he knows how to use his body to create space in the lane, allowing him to get his shot off against bigger men. He has the ability score with either hand and uses a great array of ball and head fakes to get his shot up. He is skilled enough to post up small forwards and smaller power forwards.
Footwork- Pondexter has above-average footwork, in the post and on the perimeter. He takes long strides to the basket, cutting down on his time getting to the rim. In the post, he has the ability to work off of either shoulder. His foot speed is just average and he may have some problems getting by above average defenders off the dribble. He also needs to work on how he comes off of screens, as he tends to take too round of a path.
Ballhandling/Hands- Pondexter has good hands and always seems to get a good grip on the ball. His ballhandling is good, though he sometimes tries to do too much dribbling – his moves need to be more decisive. While he has the ability to go to his left, he often forces himself to the right side.
Perimeter Shooting- While consistent out to 15 feet, Pondexter needs to work on his range. Once he becomes consistent at 18-20 feet and forces defenders to come out on him, he will be able to use his physical nature more to his advantage. He also needs to work on squaring up better coming off of screens, as he tends to drift away from the screen when he shoots.
Rebounding/Passing- Pondexter is much better rebounder than he should be at his size. Credit needs to be given to his unrelentless play and not to any real physical advantage. He does not give up any ball once it goes up and he has a knack for being in the right place for the ball. He doesn't mind getting physical when he needs to down low, but he is just as able to corral long rebounds on the perimeter.
Free Throw Shooting – His free throw shooting has gotten better every season, which is good because he has also gotten a lot more consistent at drawing fouls.
Defense
Post Defense- At the college level, Pondexter was able to use his toughness to play post defense, but I don't see him being as effective at the NBA level unless he bulks up. Against smaller power forwards, he should have an easier time, as he uses his body well forcing players off the blocks. He is very good at anticipating offensive moves and does a good job cutting off the post man's moves.
Perimeter Defense- If Pondexter will be playing out on perimeter, he will need to improve his lateral movement, as he does a lot of chasing and trying to beat his man to the stop. This isn't always bad, as he is very good at knowing where to meet his man on the move. He also needs to work on closing on shooters, as he tends to make a half-move towards the shot and turns right away for the rebound. At the NBA level, those uncontested shots will be hit.
Rebounding/Blocking- Pondexter is a good rebounder, doing everything fundamentally correct. My biggest concern is that a straight box-out isn't going to cut it against bigger NBA players and he will need to improve on sealing off the space. One thing, if there is a ball up for grabs, he will be in the middle of it. Shot-blocking will not be a big thing for him at the next level, but he does a decent job getting his hand on shots in the lane.
Summary & Intangibles
Athleticism – Above Average
BB IQ – Above Average
Pondexter is the kind of high-energy player who will get looks right away on both re-building teams and veteran teams looking for some bench stability. His work ethic will not allow him to settle, and he should show steady improvement through his first couple of years in the league, and if he improves his perimeter skills enough, can be a starter in the NBA.