We are a few months from the start of the college basketball season, and the road to the 2014 NBA Draft has become. To kick things off, I am going to spend the next couple of weeks looking at this year's senior class and some brief notes on areas where they need to show improvement to maximize their value at the next level.
These are not meant to replace scouting reports, which will come out during the season. These are not all-inclusive and just meant as a brief primer for those who want to track draft prospects throughout the season. These are also not in any particular order other than who I choose to write about each post.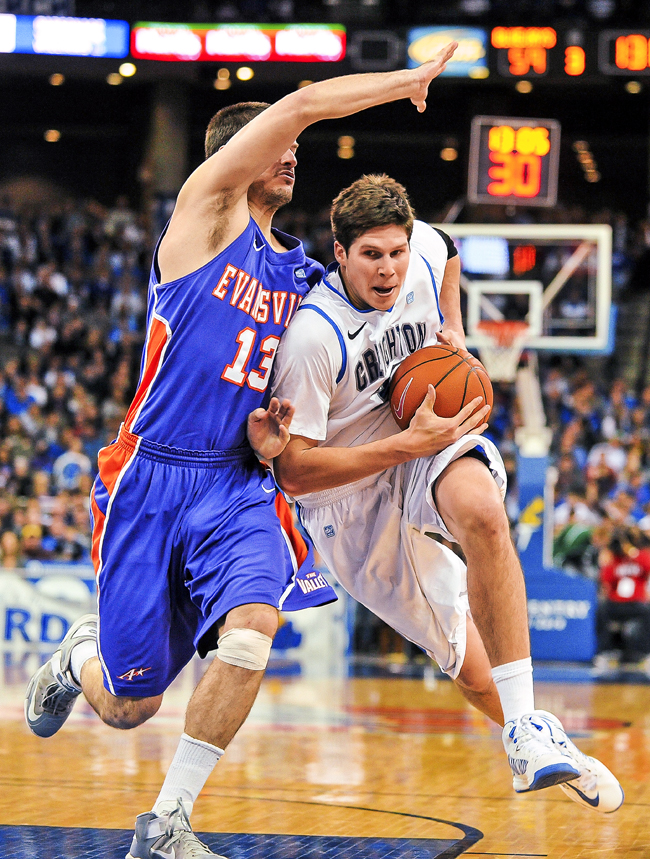 Doug McDermott, Creighton, Forward, 6'8, 225
(2012-13) 23.2 ppg, 7.7 rpg, 1.6 apg, 54.8 FG%, 87.5 FT%, 49.0 3FG%
McDermott, one of the best scorers in the nation, is also one of the most versatile offensive threats. Having spent the summer representing the USA at the World University Games, and then being one of two college players invited to work out with the USA Basketball Select Team, McDermott should once again be at the top of the college game. He is a good perimeter shooter, can post up other small forwards, or can face up and drive to the basket. He uses his body well in the post to create space in the post, and while not quick, he is aggressive going to the basket, and can finish with either hand. He understands the value of court spacing and looks to identify mismatches and gaps in the defense. He is a good rebounder, blocking out well, and going strong after the ball.
What he needs to show this season: Defensively, McDermott needs to work on his foot speed and lateral movement. He also needs to react better to the offensive players' movements. He has difficulty getting caught out of position in pick-and-roll situations. On the offensive side, McDermott needs to work on his explosiveness going to the basket. He uses his ball fakes and his dribble well, but defenders in the NBA will react much quicker, so he needs to be quicker with his movements. He isn't much of a creator of shots off the dribble, but not many are better at identifying holes in the defense.
Jordan Bachynski, Arizona State, Center, 7'2, 250
(2012-13) 9.8 ppg, 5.9 rpg, 3.4 bpg, 58.3 FG%, 59.7 FT%
Bachynski made great strides last season with an increase in minutes, and is set up to have his last college season be his best. He spent the summer with the Canadian National Development team and representing his country at the World University Games. Bachynski is athletic and runs the floor well for 7'2. He has made his name already as a prolific shot-blocker, and you can see it evidenced by how quick he is off the ground and with the ability to block shots with either hand. Bachynski's offensive game also showed great improvement last season. He is capable of some basic post moves and can finish with either hand around the basket. He has also continued to develop his ability to knock down mid-range jumpers, be it inconsistently.
What he needs to show this season: Bachynski is still developing on both ends of the floor, and he needs to learn to use his body better, meaning using it to establish position in the post area. Bachynski's post moves can be somewhat slow and mechanical, but he is slowly becoming more efficient. He has shown the ability to knock down mid-range jumpers, but needs to be more consistent, along with bringing his continued shooting development to the free throw line. Defensively, he needs to work on defending the pick-and-roll better, especially hedging out on the ballhandler. He has a tendency to drop back after the screen quickly, giving the ballhandler room to get a good shot off.
C.J. Fair, Syracuse, Forward, 6'8, 215
14.5 ppg, 6.9 rpg, 1.1 spg, 47.0 FG%, 75.5 FT%, 46.9 3FG%
On defense, Fair does a good job in the back of the zone, covering a lot of ground, reacting well to cutters, and playing good help-side defense. He uses his length and leaping ability well to rebound on both ends of the court, and to challenge shots. On offense, Fair does a good job hitting openings in the defense and going to the basket hard. His longs strides allow him to get to the rim quickly and he can finish in a variety of ways. Fair has also become more confident and consistent with his jumper, including almost 47% from 3-point range last season. He runs the floor well and can finish strong in transition.
What he needs to show this season: Fair has gotten a lot of his offense by hitting open spaces created by the guards. The next step will be for Fair to create his offensive opportunities. To do this, Fair will need to become a much better ballhandler, and continue to get stronger physically. Fair has good length and good footwork and he can use it to create scoring opportunities in the post if needed. On the defensive end, Fair will need show that the defensive traits he uses in the zone will translate to playing man defense.
Joe Jackson, Memphis, Guard, 6'1, 175
13.6 ppg, 3.3 rpg, 4.8 apg, 1.7 spg, 51.9 FG%, 73.0 FT%, 44.7 3FG%, 1.7:1 A/TO
After 2 up-and-down years in Memphis, Jackson started to show more consistency on the court last season. Jackson is very quick and can get past defenders off the dribble somewhat easily. He sees the court well, has a very good handle and uses both hands very well. Jackson has also showed more confidence in knocking down the open jumper. He is very good in the open floor and looks to get to the rim at almost every opportunity. His defense is fundamentally sound – he stays low, moves his feet well, and positions himself well on and off the ball.
What he needs to show this season: Control and decision-making are Jackson's biggest issues. Often, he gets into the defense so quickly, that he doesn't anticipate where the help is coming from and where his options will be. He has tended to force some bad shots in traffic, though he doesn't shy away from contact. While his open jumper has improved, he still has a tendency to release the ball low, giving him a lot of line drive shots.
Adreian Payne, Michigan State, Forward, 6'10, 240
10.5 ppg, 7.6 rpg, 1.3 bpg, 54.6 FG%, 84.8 FT%, 38.1 3FG%
Payne comes in to his senior year as one of the most talented, and enigmatic, big men in the country. Payne has very good length and he has continued to add muscle to his frame over the past few years. He is very efficient around the basket, able to finish with both hands and capable of some spectacular dunks. Payne has continued to develop his jumper, with his size allowing him to get his shot off against many defenders. He is a good free throw shooter, especially for a big man, but he needs to work to get to the lone more often. Payne uses his length well to defend around the basket and can block and alter shots when he is in position.
What he needs to show this season: Payne's key is to continue being efficient on the offensive end with increased touches, while being more aggressive when he gets the ball. He has to stop settling for jumpers, even though he is capable of hitting out to the 3-point line, and look to dominate the basket area. On the defensive end, Payne needs to continue working on his footwork and foot speed to cover out on the perimeter, while also maintaining his position when defending in the post and becoming a more aware defender. Finally, it is time for Payne to put his athleticism and skill together with a consistent effort.
Follow me on Twitter – @NBADraftBlog
Leave your comments below, or email me at [email protected]