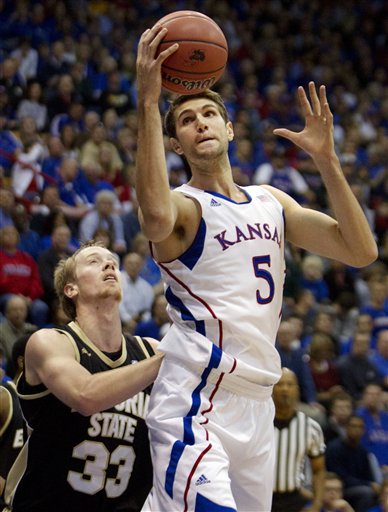 Photo: Orlin Wagner/AP
Name: Jeff Withey Age: 22 School: Kansas
Height: 7'0 Weight: 235 Projected Position: C
2012-13 Stats (As of 2/1/13):
13.1 ppg, 8.3 rpg, 4.3 bpg, 1.7 tpg (30.1 minutes per game)
55.7 FG%, 66.0 FT%, 58.8 TS%, 9.2 OREB%, 20.6 DREB%
15.6 TREB%, 15.4 BLK%
SKILLS & ATHLETIC BREAKDOWN
Offense
Post Play/Footwork
There is no doubt Withey has improved in the post over the past few years, but his offensive game is still somewhat limited and strong defenders should have an easy time preventing him from generating much low post offense. He has a few go-to moves, including a nice right-handed jump hook which he can do on either side of the lane. Withey also has a solid one or two-dribble move into the lane, leading to a short shot with either hand around the basket. One of Withey's biggest issues is that he doesn't use his body well and relies on his length to make space for his shot. Often this leads to his moves to the lane from either low block taking him more towards the foul line than towards the basket. On occasion he will look to face up out of the low post, but he will settle for a short jumper more than looking to take it strong to the basket. Withey's footwork has improved dramatically on the offensive end, and his ability to take long, quick strides does give him some separation from the defender. He needs to keep working on moves toward the baseline, especially if the defense is overplaying his strong shoulder. He could even look to set up a bit higher than the low block and let a quick dropstep take him right to the basket. Withey gets out well on the perimeter to set screens, though a lot of his teammates have trouble using them correctly. He is a strong option on the pick-and-roll with his good hands and his ability to finish at or above the rim.
Ballhandling
Withey is an average ballhandler, able to use either hand when making a move in the post. He has some issues trying control his handle, especially with his left hand. Fortunately, Withey seems to know his limitations and doesn't try to more than he is capable; often sticking to two or three quick dribbles into his shooting motion. On occasion, he will look to make a move to the basket out of a face-up from the post, and again will often look to take 2 or 3 dribbles and use his long strides to separate from defenders. He needs to watch for attempted double-teams in the post, and not put the ball down in the direction of the help defender.
Perimeter Shooting
Withey doesn't look for offensive opportunities often away from the lane area, but that doesn't mean he isn't capable. Withey has a good shooting stroke, with a high release point and good arc and follow-through. He is capable of hitting consistently from 10-15 feet, and with time put in, can likely move out to 18-20. He needs to become confident in this shot, and I can see him becoming a good option in mid-range pick-and-pop situations.
Rebounding
Withey is not very active on the offensive boards, especially for his size and athletic ability. When the ball is coming to him, he does a good job extending to the ball, getting a quick 2nd shot if available, or securing it if not. It is rare that you will see him battle hard for position for offensive boards, and he is more than willing to give them up and get back on defense. This tactic also allows him to not pick up unnecessary fouls when he may not have a real shot at the ball. If he has some space to get to the ball, you better make sure you put a body on him though. He is a quick leaper and he has become much better at tipping the ball in off the miss.
Passing Skills
Withey is an average passer. He is rarely forced to make quick decisions out of post, because most teams don't find the need to double him on the offensive end. He makes good reads when he gets the ball in set plays, not just going through the motions, but looking for openings and trying to set his teammates up. He should improve his ability to make better reads when he is forced to pass out of the post, especially spotting a shooter or cutter opposite him.
Free Throw Shooting
Withey's free throw percentage may be down this year, but he has shown that he can be a very good free throw shooter, especially for a big man. He is a smooth, consistent stroke with good release and follow-through. At times, it looks like he may be aiming a bit more than just stepping up and shooting, but the ability is there. While he doesn't get to the line a huge amount (Average about 5 attempts per game), he does get there a decent amount for the amount of shots he attempts (around 1 free throw attempt for every 2 field goal attempts.)
Defense
Post Defense
Withey has improved as a post defender, but he still has some work to do to become very good. He doesn't use his lower body very well, allowing him to get backed down easily by stronger offensive players. He prefers to lean on the post player with his upper body, which leaves him in better position to try to block a shot, but also makes him more susceptible to fouling players who take the ball strong at him. His footwork and foot speed aren't great, but he uses his length well to force players to go wide around him. He has become better at overplaying the baseline side and forcing post moves towards the lane and the help defenders. Withey hedges well in pick-and-roll situations and his length makes it difficult for ballhandlers to make quick passes off the screen. However, Withey has a bad habit of hedging out too far, and experienced ballhandlers are going to find the open man easily, especially at the NBA level.
Perimeter Defense
Withey can be a good perimeter defender, as long as he only needs to defend for a short period of time. He positions himself well between his man and the basket, and he allows himself space to react to quick moves off the dribble. His lateral movement has improved, but it is still a step or two slow, and he needs to remember to steer his man into the help defense because he won't be able to stay with him for very long.
Help Defense/Shot Blocking
This is Withey's biggest strength. He has very good defensive awareness and does an excellent job staying with his man while tracking the movement of the ball. On help rotations, he is quick to slide over into position and does an excellent job timing his block attempts. He is tough to get off the ground with ball fakes with his length and quick-leaping ability allowing him time to wait for the shot before he goes after it. He does an excellent job extending straight up to block shots and his ability to do so while not fouling has been oft-discussed. Even more important, he has a great knack for turning his blocks into offensive opportunities. He looks to direct his blocks to a teammate when possible. He has shown that he can block well with either hand, and his reach allows him to block or alter shots out of his immediate area.
Rebounding
Withey can be a strong defensive rebounder with his length and leaping ability. He does a good job anticipating bounces off of missed shots and gets up quickly to secure the ball. He needs to be more consistent looking to box out before going after the ball, and he needs to be more mindful about bringing the ball down low after he grabs it. Withey is improving as an outlet passer, especially tracking and hitting streaking teammates upcourt with long passes.
Transition
Withey is athletic and can get up and down the court fairly quick, however, with the speed of Kansas' guards in transition combined with Withey often playing the role of rim protector, there aren't many chances for Withey to get on the break. If the original break is stopped, Withey is a solid option as a trailer cutting towards the basket if there is space to get him the ball.
Withey's athletic ability and long strides does allow him to get back against the break if necessary
Intangibles/Summary
Withey's improvement over the last few years certainly show what hard work and opportunity can provide. He is coachable and a team-first player and he doesn't need to be the focus to make major contributions. On the offensive end, he has been molded into the big man that Kansas needs him to be, though that certainly wouldn't be a good fit for all offenses, especially ones that like to feature a strong low-post presence. Defense is what is going to make Withey an attractive player to many teams at the next level, and there is still room for him improve. He will need to get stronger and not rely on looking to block shots as much; instead he will need to become a better one-on-one defender.
Draft Value: 1st Round – Late 1st – #20-28
Withey is a seasoned player with a strong basketball IQ who should be able to step in immediately and play valuable minutes. Improved low post play on both ends could lead to a starting role in the future. He would fit well with a team looking for immediate low-post defensive help off the bench.
Leave your comments below, or email me – [email protected]
Follow me on Twitter – @NBADraftBlog