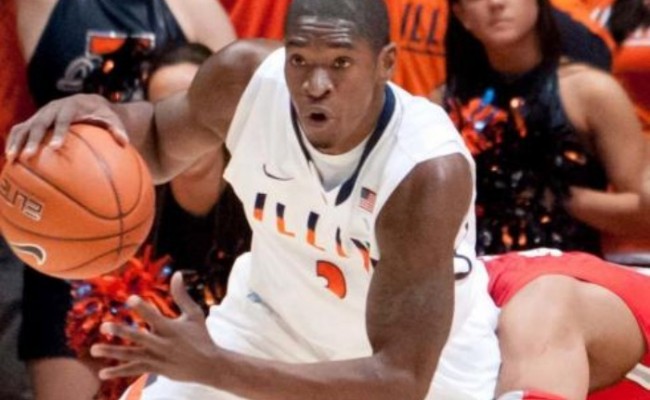 Name: Brandon Paul Age: 21 School: Illinois
Height: 6'4 Weight: 210 Projected Position: SG
2012-13 Stats (As of 1/29/13):
17.9 ppg, 4.8 rpg, 2.9 apg, 1.3 spg, 3.1 tpg (32.4 minutes per game)
41.8 FG%, 72.4 FT%, 34.0 3FG%, 55.4 TS%, 50.5 eFG%
SKILLS & ATHLETIC BREAKDOWN
Offense
Perimeter Shooting
Paul generally has good form on his jumper. He uses his legs well for lift, has a high, quick release, good follow-through, and long-range. He has the ability to hit his jumper off the pass or dribble, and if he has time to get set, he is among the best spot-shooters in the country. He uses his dribble well to create space for his jumper, and his quick release allows him to get his shot off against larger defenders. Paul moves well without the ball, though he needs to work harder to get open more consistently. Also, he needs to do a better job coming off of screens tighter and ready to shoot, giving him the separation he needs from the defender. Shot selection has always been an issue for Paul, though the offensive sets don't do a lot to help him get great looks. Along with poor selection, he has a tendency to rush his shot, often before coming close to getting set, ending in some very misses.
Penetration
Paul is actually quite good when he looks to get into the lane and to the basket. He uses long strides and his body to shield the ball from defenders and will look to finish strong, usually not shying from contact. He has the ability to finish above the rim, and can finish with either hand. He needs to look to go to his left more often instead of trying to force the action to his stronger right hand. Also, he needs to do a better job keeping his head up and seeing where the help defense is coming from. He will try to force plays through traffic, leading to turnovers or bad shot attempts. He has a strong mid-range jumper if he chooses to only take a few steps past his defender, though he should work on a short jumper/floater if he sees the help rotate to stop him quickly. While he uses screens well to create space for his jumper, he should look to attack the basket more off of them, and if he draws the defense, find the open man. Paul is good in isolation situations, though he needs to not force a bad shot if he doesn't have a clean look.
Ballhandling
Paul is an above-average ballhandler, able to use both hands well and using a variety of dribbles to keep the defense off balance. Normally, he is in control, keeping the ball low and close to his body, though he does need to watch a tendency to force his dribble through traffic. He has a strong cross-over move which he uses to create space for his jumper, though I would like to see him use it more to attack the lane. He handles pressure fairly well and can be used as a secondary ballhandler at all times, and as the primary ballhandler in certain matchups.
Passing Skills
Paul has above-average court vision and can be a good passer. The important thing for Paul is he has to keep his head up when handling the ball, especially when using screens out on the perimeter. While the screens may be designed to get him space for his jumper, often he misses a wide-open screener rolling to the basket or on the perimeter if he draws both defenders with him. He has done a better job this season looking for the open teammate when he draws help defenders in the lane when he penetrates. For the most part, he makes good, hard passes which his teammates can use to make a play quickly.
Free Throw Shooting
Paul is an average free throw shooter, but he should be much better. He has a consistent routine, good shooting motion and follow-through. He tends to rush his shot at times, leading to him not getting his normal extension and follow-through. Paul is doing a very good job getting to the free throw line for a player who shoots more than half his shots from behind the 3 point line, averaging over 6 attempts per game.
Defense
Perimeter Defense (On/Off Ball)
Paul is a good on-ball defender, positioning himself well between his man and the basket, staying low and moving well laterally over short distances. He uses his body well to play physical defense when needed. He is capable of guarding multiple positions, including both guard positions, and has on occasion done well guarding larger forwards. He doesn't pressure the ball often, leaving a cushion to recover if his man tries to dribble by him, but close enough that he can close quickly on a shooter. Paul needs to do a better job getting over the top of screens against shooters, often choosing to either go under the screen or switch, which can lead to poor matchups. Off the ball, Paul generally positions himself well, though he can be caught cheating a bit too much towards the lane. He doesn't look to jump or disrupt passing lanes often, but he can pressure off the ball when needed. He needs to do a better job anticipating his man's movements, especially on cuts to the basket. He does a good job navigating through screens off the ball, not letting his man get a lot of room to get set for a shot. He picks his spots well when he looks to step into the lane and help or to double-team in certain instances. He has good defensive awareness, and does a good job tracking his man and the action away from him.
Rebounding
Paul rebounds well for his size, doing a strong job anticipating missed shots and beating people to the spot, especially on longer rebounds. He uses his body well to establish position and he goes quickly after the ball. He looks to box out, though not consistently, and has been beaten to a ball by an offensive player crashing from the perimeter a few times. His ability to grab rebounds also allows him to start the Illini in transition with Paul as the ballhandler.
Transition
Paul is very good in transition, both pushing the ball up court himself and running one of the wings. As the ballhandler on the break, Paul gets the ball up court quickly, usually in control, and he does a good job making the decision whether to keep the ball or give it up. He is able to take the ball all the way to the rim, or pull up for the jumper off the dribble. If running on the wing in transition, Paul can be lethal spotting up behind the 3-point line, but if the defense comes out, he is able to take the ball to the basket and finish.
Intangibles/Summary
Paul has all the makings of an above-average NBA-level shooting guard, though he needs to do a much better job with his shot selection. He doesn't lack confidence, and he doesn't let a few misses stop him from doing what he does best – shooting the basketball. I would like to see him go to the basket more, and look to exploit any size/strength mismatches he comes up against. He has a strong body, is a good jumper, and is quick with his hands and feet. He is a player who wants the ball in his hands in all situations, though he isn't always the most efficient player. He can be at least an average NBA defender from the start, and he has the potential to guard either backcourt spot. However, teams are going to look to him mainly for one thing, his ability to score in bunches, and I have no problem seeing him being able to do that in a few years in the NBA.
Draft Value: Early 2nd – #30-38
Paul's skillset isn't likely to get much better than it is now, but with some fine-tuning on things like shot selection, using screens, and finding open teammates, he can eventually be a strong part of a good backcourt rotation. A strong finish to the season could push him into the 1st round, but since his potential for growth isn't great, I see him likely in the early part of the 2nd round.
Leave your comments below, or email me – ed@nbad[email protected]
Follow me on Twitter – @NBADraftBlog