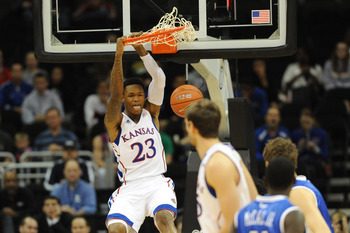 Thoughts From Last Night
– Quinn Cook had as big a bounce-back scoring game as one could have, going 12-16 from the floor for 27 points, while only committing 1 turnover against Clemson's pressure defense. The rest of the team struggled on the offensive end, but they forced the Clemson offense into too many bad shots. Clemson's Devin Booker was impressive, not backing down against Mason Plumlee and at times, taking Plumlee completely out of the offense.
– Alex Oriakhi had a strong 2nd half against Alabama, and he will need to step up more with Laurence Bowers out for a few games. Phil Pressey continues to find his teammates for quality scoring opportunities, but he needs to remember to slow the game down at times, and make sure to read any changes in the defense.
– Talib Zanna looks like he may finally be able to carry over a good early season to conference play. He did a great job running the floor and outhustling Georgetown around the basket. Otto Porter had trouble again getting good looks, and teams are doing a much better job handling the Hoyas' offensive movement. Porter himself will need to be more aggressive in making opportunities.
– Aaron Craft showed that you just can't leave him alone on the offensive end, and the Buckeyes will need him to look for more scoring opportunities to free up his teammates. Deshaun Thomas did a great job not forcing bad shots and finding open spots on the perimeter and around the basket.
Tonight's Matchups
Iowa State at Kansas
Fred Hoiberg's Cyclones have jumped out to a 10-3 record this season behind an up-tempo, balanced offense, featuring 6 players averaging at least 9 points per game. Will Clyburn has thrived in the open court, using his length and athleticism to attack the basket and finish through contact. He also uses those same traits to crash the offensive boards. Freshman Georges Niang is still finding his way in the Cyclones' system, but his work ethic and ability to play multiple positions make him tough to defend. Chris Babb and Tyrus McGee provide the ability to stretch the floor with their perimeter shooting. Babb hasn't been consistent this season, but when he gets going, he can be one of the best in the Big 12. Korey Lucious is the same point guard he was at Michigan State, and that isn't necessarily a good thing. Melvin Ejim plays much bigger than 6'6, clearing out space around the basket and attacking the boards.
Kansas has been one of the most dominant teams through the first half of the season, and it all centers around Jeff Withey's ability to protect the basket. Withey is likely the best help defender in the league, and his ability to block shots in a way which helps his team get out on offense is a tremendous asset. Add to that Withey's improving offense around the basket which makes things easier for his teammates to find space. Senior Elijah Johnson has had much of the scoring burden lifted from him with the emergence of freshman Ben McLemore, but Johnson has done a good job keeping the Jayhawks' offense moving, while also doing a solid job pressuring the ball on the defensive perimeter. McLemore has inserted himself strongly into Freshman of the Year conversations with spectacular, athletic plays at the rim, along with the ability to hit the spot-up 3 in halfcourt or in transition. Travis Releford gives Kansas a lockdown defender who can guard 2 or 3 positions, and can also contribute on offense in a variety of ways. Senior Kevin Young does a good job helping on the boards and making hustle plays.
Minnesota at Illinois
At 14-1, there is probably no bigger surprise this season than Tubby Smith's Minnesota team. Rodney Williams has been efficient attacking the rim and finding space in the mid-range for his jumper. He uses his length well on the defensive end and continues to improve as a rebounder. Andre Hollins has done a good job keeping the offense moving, but more important, his ability to score quickly, and in bunches, can turn a game around quickly. Austin Hollins and Joe Coleman provide strong perimeter scoring options. Trevor Mbakwe looks to be near 100% after last year's knee injury, and his power and athleticism in the lane may be unmatched in the Big 10.
Right behind Minnesota's surprise start may be Illinois and their 14-2 start under new coach John Groce. Brandon Paul's hot start has slowed a bit, and he has started to regress to some his old "forcing the issue" ways, but he is still capable of scoring in a variety of ways, and he does a good job getting to the free throw line. Tracy Abrams and D.J. Richardson provide two capable scorers, as well as strong on and off-ball defenders. Tyler Giffey and Nnanna Egwu use their length well to defend on the interior, but both need to do a better job finding shots around the basket, instead of settling for jumpers.
UNLV at New Mexico
UNLV has ridden a soft early schedule to a 13-2 record heading into Mountain West play. Anthony Bennett has shown a good combination of skill, strength and athleticism, but his decision making is awful and he has been able to be thrown off his game by being physical with him. Mike Moser is still recovering from an elbow injury, and Khem Birch is still adjusting to playing in real games. Both are athletic and run the floor well. Birch isn't very skilled, but he runs the floor and hustles, while providing a good interior defensive presence. Anthony Marshall is at his best in the open court, whether looking to score or getting the ball to wings. He has had some trouble making decisions against teams who pressure the ball well in the halfcourt, and New Mexico will likely force him into many bad spots. Justin Hawkins is easily the best UNLV defender, but he has found his time limited by time for Katin Reinhardt and Bryce Dejean-Jones, two of the worst shot selectors I have seen this season.
Steve Alford's New Mexico team has done a very good job making up for their lack of offensive options by playing tough halfcourt defense. Kendall Williams has been inconsistent as a scorer, but he has done a decent job finding the hot hand when his scoring is off. Tony Snell is an athletic wing who can slash or hit the open jumper, and he is at his best when he is given room to work on offense. Big man Alex Kirk continues to improve on both ends of the floor, and he has shown that he can move well for a player his size. Hugh Greenwood is supposed to provide a lift from the perimeter, but he has yet to find a game to game rhythm.
Others to Watch Tonight
Lorenzo Brown, North Carolina State vs. Georgia Tech – Brown has done a good job scoring and creating off his penetration. He uses his length well to get good looks once he is in the lane, though he shies away from contact too much. Georgia Tech has good ball defenders who help funnel penetrators towards shot-blocker Daniel Miller. Brown will need to avoid over-penetrating and getting stuck, and if possible, look to draw contact and get the Yellow Jackets big into early foul trouble.
Rotnei Clark, Butler at St. Joseph's– Butler enters their first game as an Atlantic 10 member against one of the conference's better teams. St. Joe's doesn't pressure the ball well on the perimeter, but swarm when it gets below the foul line. Clark should find plenty of good looks early from 3-point range which should help draw the defense out for the rest of the team. If he can connect early, the Bulldogs should be able to attack the Hawks at the basket.
Michael Snaer, Florida State at Maryland– Florida State has been an early disappointment, and pre-season All-American Snaer has been anything but. He has had trouble getting good looks, though a lot of this has been on the Seminoles' lack of solid point guard play. Snaer is still capable of heating up quick, but he is going to have to likely shake Dez Wells to do it. Look for Snaer to run Wells, or any defender, through multiple screens to get the looks he needs to get going, as well as looking to attack when the jumper isn't there.
Follow me on Twitter – @NBADraftBlog – leave your comments below or email me at [email protected]