It's a quiet night in college hoops with the Football National Championship game tonight (Go Irish!!!), so this will be quick Daily.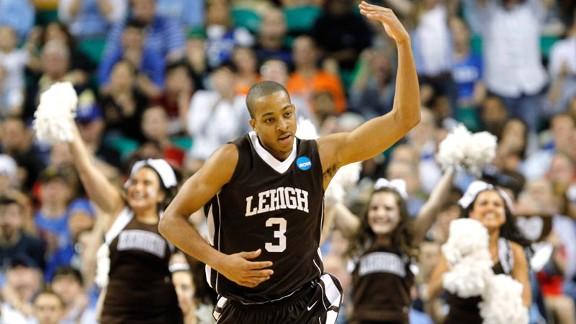 Thoughts From The Weekend
– I want to start off and wish C.J. McCollum a speedy and safe recovery from his broken foot, and injury which occurred during Lehigh's Saturday game against Virginia Commonwealth. I don't expect the injury to have any effect on McCollum's draft status; he has the kind of game you want to force young players to watch and learn from. I look forward to seeing come back better than before.
– Mason Plumlee's hot start has started to draw him more and more attention from the opposition and instead of forcing the issue, Duke is finding more space and opportunities for Seth Curry and Ryan Kelly to hit the open jumper or make quick moves to the rim. Quinn Cook was held scoreless, going 0-11 from the field, but dishing out 14 assists with only 1 turnover. That's impressive distribution, but the opportunities to shoot like that and still come out a winner will be few and far between. Wake Forest's CJ Harris and Travis McKie are doing everything they can to keep Wake Forest afloat as young players come up to speed. Harris had little trouble getting past whatever Duke guard was on him, and McKie never stops working on both ends of the floor.
– Missouri came away with a close victory, but Bucknell's Mike Muscala was the star of the game. The addition of Alex Oriakhi was supposed to shore up the Missouri frontline, but Muscala had his way with Oriakhi. Muscala was able to score with his back to the basket or facing up the slower Oriakhi. A late miscue opened the way for a Tigers win, but it doesn't take away from the full performance.
– Doug McDermott didn't have his best shooting game against Indiana State, but Gregory Echinique took control of the lane on both ends of the floor. Echinique has done a very good job finding space created by the attention McDermott and the other Creighton shooters draw from the defense.
– Rodney McGruder started off slow against Oklahoma State, but finished with a flourish, lighting up the Cowboys for 28 points, including 11 in the last 10 minutes, and back-to-back 3's to take control of the game. Marcus Smart found ways to get his points, but he showed his immaturity as a point guard, often abandoning sets to go one-on-one. To be fair, his teammates need to a better job working to get open.
– Devon Saddler had a tremendous day at Old Dominion, playing 40 minutes, getting 27 points, including hitting all 10 of his free throws. His backcourt mate Jarvis Threatt was a remarkable 19 of 20 from the free throw line.
– In what's becoming a commonplace entry here, Trey Burke keeps rolling along and bringing his Michigan teammates with him. They are a talented, well-coached team, but they follow their leader, and Burke is heading them in the right direction.
– Brandon Triche came up big in a hard-fought game against South Florida on the road, including some strong drives to the rim when the game was in the balance. Michael Carter-Williams' struggles continue against above average defenses, and his early numbers against the easy Syracuse non-conference schedule seem more and more like an anomaly.
– Khalif Wyatt did a great job for about ¾ of the game getting into the Kansas defense for layups and drawing fouls, but Jeff Withey took control of the paint down the stretch and made it impossible for Temple to get any good looks around the basket. Ben McLemore showed his athleticism down the stretch on a nice lob finish and a breakaway dunk, but he is still finding his way against physical defenders. Kevin Young will be overshadowed, but his hustle and tough play kept Kansas in the game when it was starting to turn against them.
Players to Watch
Victor Oladipo, Indiana at Penn State– Pat Chambers' Nittany Lions are still adjusting to life without Tim Frazier, but they are very good at playing a methodical style which can throw teams off. Oladipo, one of the best on-ball defenders in the country, is capable of disrupting this and getting the Hoosiers into the up and down style in which they thrive.
Jack Cooley, Notre Dame at Cincinnati – Cincinnati's guards do a good job pressuring shooters and cutting down on penetration. The Irish guards will have their hands full, but they have Cooley, who is incredibly efficient around the basket, matched up against a weak group of Bearcats' bigs. Cooley could control the paint in this matchup.
Follow me on Twitter – @NBADraftBlog – leave your comments below or email me at [email protected]