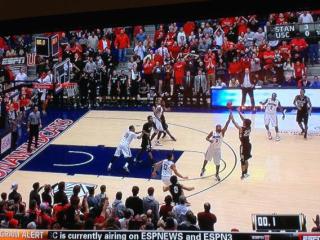 Thoughts From Last Night
– As of this writing, the debate is still going on: Did the refs screw Colorado on Sabatino Chen's last-second 3-point winner? It was ruled no good, and Colorado went on to complete their collapse against Arizona. Mark Lyons wasn't very good throughout the first 30 or so minutes, but he turned it on when the team needed him, especially on the defensive end. Seniors Solomon Hill and Kevin Parrom also did what they could to help Arizona back into the game as their young players seemed to fade. For Colorado, Josh Scott showed some more flashes of a potential big-time post player, and his continual use of one move showed just how far the Arizona freshmen bigs have to go. Andre Roberson continues to disappoint with bad shots and inconsistent effort.
– Trey Burke came out strong against Northwestern and the rest of the team followed shortly afterwards as Michigan took care of conference business swiftly on the road. Openings in the Northwestern defense gave plenty of room for Burke to get to the basket, or to step back and hit the 3. Burke also did an excellent job pressuring the Northwestern ballhandlers as soon as they crossed halfcourt, picking up some easy steals and transition scores. Tim Hardaway, Jr. found plenty of openings as well as he was barely contested on many of his 6 makes. Nik Stauskas showed his biggest weakness so far in his perimeter shooting – when closely guarded, he isn't very good at creating his own looks yet.
– Travis Wear had another solid outing for UCLA, finding openings and getting good looks at the basket. Kyle Anderson had a very good game as well, showing the ability to use his size in space to get to the basket, even with a lack of speed. He has a great nose for the ball, helping him beat bigger men to rebounds, and his patient demeanor paid off last night. Larry Drew II continues to take care of the ball on the offensive end, while getting destroyed on the defensive side. Shabazz Muhammad's biggest strength right now is his strength, allowing him to post up other guards and hit the offensive glass. Not sure how that will translate when he has 1 move and he won't have the same strength advantage at the next level. I saw comments that Muhammad made after the game that contrary to "newspapers", he is a good defender. No, he really isn't. Fundamentally, he is sound. He gets low and gets good position, but he has no clue how to make adjustments and plays every man exactly the same. He doesn't read his man's movements well and is beat easily with a simple crossover. These things should get better with experience, but not always, and these aren't exactly NBA-type players beating him.
Players to Watch Tonight
Kentavious Caldwell-Pope, Georgia vs. George Washington– Caldwell-Pope has put up mostly consistent point totals so far this season, but he hasn't really been efficient while doing it (41.8 FG%, 33.7 3FG%). George Washington has done a good job early this season in shutting down perimeter shooters, so Caldwell-Pope will need to either work harder for better perimeter looks, or finally start to attack the basket regularly.
Adonis Thomas, Memphis at Tennessee – Speaking of tough defenses, Tennessee has played some of toughest, especially on the perimeter, early this season. Thomas has had an awful season this far, and his playing time has been cut because of it. Thomas' ability to play inside and out makes him a tough cover for the Volunteers, but unless he is going to push himself, he isn't going to find the openings he needs.
O.D. Anosike, Siena vs. Iona – Siena is off to a brutal 2-11 start, and 0-2 already in MAAC play, but it is hardly the fault of Anosike. The senior power forward is averaging over 37 minutes per game, over 13 points and almost 13 rebounds per game, while shooting 55% though being double-teamed often, and playing tough interior defense. Iona hasn't been able to stop many teams on the defensive end, but the addition of David Laury a few weeks back has given them a legitimate big body to stop Anosike.
Ryan Broekhoff, Valparaiso vs. Cleveland State – Broekhoff is one of the more under-appreciated talents in the country, especially his ability to score anywhere on the floor. Cleveland State had already lost their best perimeter defenders to graduation, and then lost Anton Grady after just 6 games to knee surgery. The Vikings will throw a lot of different looks at Broekhoff to stop him, but he should be in for a big night with some very good looks.
Follow me on Twitter – @NBADraftBlog – leave your comments below or email me at [email protected]