The NBA Draft Blog Scouting Report heads back to Lexington to look at another Kentucky freshman (see Anthony Davis report here) who thinks that they are ready for the next level after their NCAA Championship run. Michael Kidd-Gilchrist was a heralded arrival out of New Jersey and he brought a unique game to the Wildcats. Strong, tough, a good defender and a great finisher at the rim, Kidd-Gilchrist was the epitome of the "whatever the team needs" player. There are some flaws to his game, big and small, but he has a bright career ahead of him. However, is he really a Top 2 pick as many choose to believe? Let's break down Michael Kidd-Gilchrist: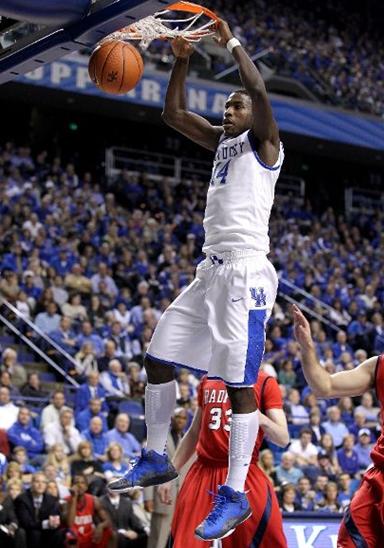 Michael Kidd-Gilchrist, Kentucky – Freshman
Forward – 6'7, 232
11.9 ppg, 7.4 rpg, 1.9 apg, 49.1% FG, 74.5% FT, 25.5% 3FG

Offense
Perimeter Offense- If there is a major weakness in Kidd-Gilchrist's game; you are immediately drawn to his perimeter shooting. It isn't a matter of just getting shots to fall; his form leaves him little chance of ever being a good shooter without a major change. He does a good job getting square to the basket and he has a high release. However, the motion from catch to release is not smooth at all. As he takes his jumper, his legs end up too far apart, causing his upper body to try and compensate, especially when he is 15 + feet out. His release also has a hitch, forcing a slight delay in his follow-through, which does not give him great arc or rotation and gives him little chance of hitting unless he is right on target. If he can correct his form, Kidd-Gilchrist can be a legitimate threat from the perimeter. He uses his dribble well to create space and knows how to use screens well to get good looks.
Ballhandling/Hands/Penetration- Kidd-Gilchrist is an above-average ballhandler for his size, doing a good job with both hands and keeping the ball close to his body and low to the ground. He has a good hesitation move off the dribble and showed a decent crossover and spin move a few times during the season. Most impressive is that he appears to be comfortable going to the basket using either hand, though he seems to try and go to his strong right most of the time. He does a decent job against pressure defense, though he needs to recognize double teams/traps quicker. He has very good hands, handles difficult passes easily, and gets a firm handle on the ball. The key to Kidd-Gilchrist's offensive game is his ability to get into the lane. He is agile for his size, but uses his strength to force his way to the basket, and he doesn't shy away from contact. One he gets past the first defender, it is very difficult to stop him from getting to the rim, where he has the potential to be one of the strongest finishers in the game. I was impressed with his ability to use his left to finish when the defense dictated it, and he not only finishes strong, but he knows how to use the backboard well to get good shots at an angle. He prefers to try and take his man one-on-one in space, and he does need to work on coming off of screens tighter and turning the corner quicker. He also needs to improve his ability to stop in the lane and put up a short jumper against good help defenders. Right now, he is prone to unnecessary offensive fouls because he always looks to finish at the rim. NBA players will do a better job getting to the spot, so he needs to counter that.
Rebounding/Passing- Kidd-Gilchrist is a fantastic offensive rebounder, combining strength with an ability to know where missed shots will go and get to the spot. Fundamentally, he does most of the things you like to see from the top rebounders – he uses his body well to create space, goes strong after the ball with his arms extended, and he keeps it high until the area is clear. He also has a great ability to go up strong and get a shot off before the defense can react, and he is athletic enough to make a play on an offensive board coming in from the perimeter. As a passer, Kidd-Gilchrist is average. His court vision isn't great, and unless he makes a quick pass after he gets the ball, his focus shifts solely to trying to get to the basket. He needs to improve his ability to look over the top from the wings and see cutters or weak-side open shooters.
Free Throw Shooting – Surprisingly, Kidd-Gilchrist is an average free throw shooter, given his difficulties outside of the basket area. One major difference is that he is not using his legs as much, which as I noted above is the beginning of where his jumper goes wrong. If he can raise his percentage to the 83-85% range, combined with his ability to draw contact, he can have some big scoring nights.

Defense
Perimeter Defense- Kidd-Gilchrist is a strong perimeter defender, with the ability to guard multiple positions. He positions himself very well, stays low in front of the ball, and has very good lateral movement for his size. His foot speed is good for the college level, but will need to be a bit quicker to guard NBA forwards. When he is on the ball, he stays active, sees the court around him and recognizes his man's strengths and weaknesses. Off the ball, his positioning is good and he does a good job denying the passing lanes. His main weakness is his recognition of screens, and making the correct choice to go over them on shooters. Too often, he tries to use his strength to go right through a screen, but he will have difficulty doing that much in the NBA. His reaction to closing on shooters also needs to improve a bit.
Rebounding/Blocking- As noted in the offensive rebounding section, Kidd-Gilchrist is a fantastic rebounder and should continue to be one at the next level. Fundamentally he is sound, and his instincts are top-notch. The one thing he will need to work on is making sure to put a body on someone and block out before he goes to get the ball. He does it occasionally, but he should do it regularly. Kidd-Gilchrist is also a decent shot-blocker for his size. He picks his moments well and does a good job avoiding body contact, getting straight up and down.

Transition
Kidd-Gilchrist can be dangerous in the open floor, having some ability to push the ball up-court, though he may have more difficulty against the quicker guards in the NBA, and great instincts running the wigs and making great cuts to finish strong. Another reason he needs to work on his jumper is to avoid transition defenders from sagging on him on the break. The opportunities he had at Kentucky will not be the same in the NBA.

Post Play
While not expected to be a major part of his game at the next level, Kidd-Gilchrist is an efficient post player on offense, using his body well to shield the defender and having the strength to back down players who guard him. He has decent touch around the rim, but looks often to finish strong. Defensively, he has shown that he understands how to guard the post, and if needed, he could hold his own against many 4's in the NBA.
Summary & Intangibles
Athleticism – Very High
BB IQ – High
Gauging Kidd-Gilchrist's draft range has been one of the more difficult jobs I have had this season. Popular perception has him in the Top 3, but in most cases I disagree with it. Teams picking in the Top 4 or 5, if that is where there record dictates, usually need more than a 3rd option offensively on their team, and in my view, that is what Kidd-Gilchrist will be in the NBA, a great 2nd or 3rd guy, but not a team's top guy or the guy you build your future team around. I think Kidd-Gilchrist will have a very good to great NBA career. He does a lot of things very well, but without at least a decent perimeter shot, it makes the defensive game plan easier than it should be. Again, popular opinion seems to be "he will learn to fix his shot", but that is far from a guarantee, and a big risk to take. However, if a team that record-wise should be near the end of the lottery jumps into the 2 or 3 spot, Kidd-Gilchrist may be exactly what the team needs to make the small jump from lottery to playoffs, and I would understand the pick. Whoever does get him will get a hard-working team player who will bring great defense and rebounding, along with some scoring. While he will probably go in the 2-4 range of the 1st round, smart teams will determine his value to reflect more the 6-10 range.
Remember to leave any comments below, follow me on Twitter – @NBADraftBlog, or feel free to email me at [email protected]