As we get closer to the NCAA Tournament, NBA Draft Blog will be taking a closer look at underclassmen whose play or potential warrants the possibility that they could declare for the draft. Sophomores and juniors will get full scouting reports now, but freshmen I will handle a bit differently right now. Without a full college season under their belt, I believe the best approach will be to break the report down into 2 broad sections – what skills and abilities they have shown so far, and what I would like to see them do in the next few weeks. Once the season is over, they will receive a full scouting report.
Today I am looking at Florida's star freshman, shooting guard Bradley Beal. Beal came in with a reputation as a great shooter, and he has shown it at times this season. Is his game ready for the NBA right now?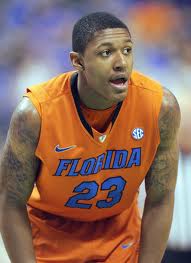 Bradley Beal (6'3, 207, G, 14.5 ppg, 6.3 rpg, 2.0 apg, 43.9 FG%, 33.0 3FG%, 76.9 FT%) came to Florida as one of the best shooters in high school last season. While he has shown that stellar shooting stroke at times, he has also shown there is a lot more to his game. There is also a lot he needs to work on before he is NBA-ready, but we will get to that in a bit.
As I said, Beal has a great perimeter jumper. His fundamentals are fantastic and he has NBA three-point range. He has a great understanding of the court, and he knows how to move well without the ball to get open. He can hit the spot-up jumper as well as hitting off the dribble. Beal has a strong body and a decent first step to the basket. He is an effective scorer in both the half-court and transition offenses. Shot selection has been an issue at times this season, but he never loses confidence and he usually avoids prolonged shooting slumps. However, at 6'3, he should become more comfortable as a slasher to compliment his jumper. He also needs to tighten up his ball-handling skills to make him more effective.
Defensively, Beal needs to work on his footwork. He positions himself well, but his lateral movement needs to improve. He is an excellent rebounder for his size and he isn't afraid to battle on the boards against much bigger players. Beal also needs to learn to do a better job getting through screens and understanding whether to go over or under them.
Beal is another player who would most likely be best served by returning to school for another season, but a shot like his will be in demand by many NBA teams. If he was to leave, he could probably go as high as the late lottery, or drop to the 17-20 range. If he can show refined defensive skills in the last few weeks of the season, he may find himself in that higher part of his draft range.
Remember, leave any comments below, follow me on Twitter – @NBADraftBlog, or feel free to email me at the link up top.