As the season starts to wind down and we head towards the 2011 NBA Draft, it is time to give some looks at players who are borderline draftees, but may have the skills which could translate to a NBA career. The Case For….takes a look at these players and tries to give a brief outline of what skills they have, what they are missing, and what steps would eventually lead them to the Promised Land of the NBA. This edition looks at the three senior starters for the Pittsburgh Panthers – guard Brad Wanamaker, center Gary McGhee, and forward Gilbert Brown. While each has skills that make them very good players, this may be a case where the sum of Jamie Dixon's team is much greater than the individual parts. Let's take a look at these three senior leaders: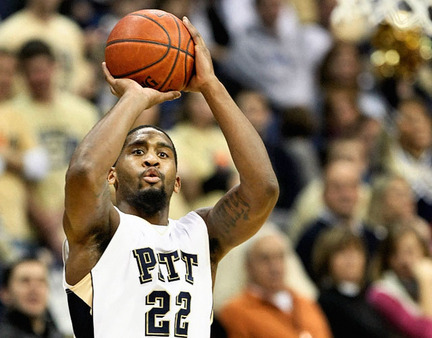 Brad Wanamaker, Senior 6'4, 210
12.3 ppg, 5.1 apg, 5.1 rpg, 1.6 spg, 47.6 FG%, 38.9 3FG%
The Good – Wanamaker could be one of the most versatile guards in the Big East, if not the country. He is effective both with the ball in his hands and off the ball. He has the ability to facilitate the offense and he handles pressure very well. He has a high basketball IQ, sees the court well, and doesn't try to force the action. He has a strong body and can absorb contact and finish at the rim, and has enough speed and is a good enough ballhandler that he can create off the dribble. He is a strong rebounder on both ends of the court and does a very good job battling against much larger players. Defensively, he plays smart and positions himself well, and is capable of defending wither guard position, as well as the occasional small forward. In transition, he has the ability to push the ball up court or run one of the wings. He is a great team leader, and his team will follow his effort.
The Bad – While Wanamaker does a lot of things well, he is not great at any one thing. His perimeter shooting is average, he can be a bit tentative at times when he gets a good look, and his release is slower than average. He really needs to improve his left hand, as he often forces his plays to the right, or when he his on the left side of the basket, he tries to make plays with his right hand, leading to awkward or contested shots. His lateral movement on defense is average, though he does make up for it with his ability to read player's movements. His free-throw shooting needs to become more consistent – both getting to the line more often and hitting once he is there.
The Verdict – Wanamaker has a lot of the qualities that NBA coaches would want to have in their role players, but as I said above, there is no one thing he does at a high enough level to distinguish him from other similar guards. A draft night call is far-fetched from what I can see, but a strong Summer League showing and some time in the D League could make him attractive down the road, especially if he can add consistent perimeter shooting to his skill set.
Gary McGhee, Senior 6'10, 250
7.3 ppg, 8.2 rpg, 55.7 FG%, 50% FT%
The Good – McGhee has made a name for himself as a workhorse in the middle for Pitt over the last two seasons. McGhee is an exceptional rebounder, especially on the offensive end, while he has slowly added more skill play to his game. He has great size and a strong body, with a very good motor. He knows his limitations and rarely plays outside of them. He does the little things on the offensive end to help his teammates shine, including setting some of the strongest screens in the Big East. When he does get the opportunity to score, he is very efficient, looking for the opportunity to finish strong. He runs the floor very well for his size. Defensively, he uses his body well to keep players off the blocks, and he has become a bit quicker as a help defender. His footwork on the defensive end has also improved, allowing him to become a better perimeter defender. While not a great shot blocker, he picks his spots his well and avoids needless fouls.
The Bad – McGhee's offensive game is very one-dimensional, relying on putting back offensive rebounds or broken plays to get his points. He is not a great passer out of either the high or low post, leaving him with many offensive possessions where he isn't involved in the play. Rarely will you see him shoot the ball outside of 5-8 feet. He doesn't get to the free throw line often, and when he does, he is not very good. He lacks aggressiveness on both ends of the floor, though he doesn't make any mistakes either.
The Verdict – Skill-wise, McGhee is the furthest away from the NBA than the other Pitt seniors, but being 6'10, 250 may actually put him closer. Like Wanamaker, I don't think you will be hearing his name on draft night, but he is a great project for the D League, and would always be a good fit for a team that needs a defensive-minded rebounder who doesn't need to score to be involved. Either way, the NBA is still a few years away, if ever, for him.
Gilbert Brown, Senior 6'6, 210
11.4 ppg, 2.8 apg, 4.5 rpg, 45.9 FG%, 41.3 3FG%
The Good – Brown is a very athletic swingman, with the ability to put the ball on the floor and get to the rim, or hit the mid or long-range jumper. He has an explosive first step, and is strong enough to take some hits and still finish strong at the rim. Both the mechanics and range on his jumper have improved over the last few years, and he has added the ability to create space to get his shot off. Defensively, he can guard multiple positions and has quick hands and long arms to disrupt passing lanes. He is at his best in transition running the lanes and going to the rim, though he has shown that he can stop and hit his jumper on the break.
The Bad – Brown is a player who needs to have the ball in his hands to be effective. He doesn't move very well without the ball, and if he goes multiple possessions without getting a touch, he is prone to forcing up shots to try and get his points. Until this season, he had done a great job balancing his perimeter game with his penetration, but he has started to rely on taking too many jumpers this season, though he has improved his shot. Defensively, his effort can be inconsistent, and he will often times chase his man instead of moving with him. He is an average free throw shooter, but he needs to try and get to the line more often. He has good size, but is not a very effective rebounder on either end of the floor.
The Verdict – Brown's game is very tough and go, but his athleticism will make him attractive to a lot of teams. His a case where strong workouts could see him slip into the late second round where a team with no real needs can take a wait and see approach to his development. If not, he has the kind of game which will be very attractive to European teams and if he works at his weaknesses, he could be a good free agent pick up down the road.
As we go through February and March, make sure to check back for a few The Case For…'s every week. Leave your comments below, email me any comments or suggestions up top, and remember to follow me on Twitter – @NBADraftBlog.