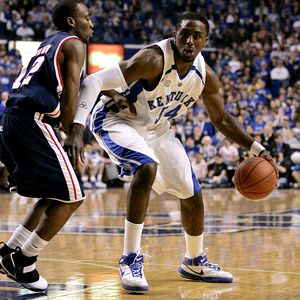 Yesterday, I had the opportunity to speak to Patrick Patterson from Kentucky while he was out in Los Angeles continuing his series of workouts for NBA teams. We discussed his time at Kentucky, what it was like playing for Coach Calipari, and what the pre-draft process has been like. Patrick was very personable and very open about all of this and more, as you can see from his answers below:
On how he matured as a player at Kentucky…..
"As a player, I matured by learning to step up, carry the weight of the team on my shoulders, learning to help my teammates, having fun on the basketball court and maturing as an individual. Off the court, I learned about being in the spotlight, helping out and being part of the community, talking to the fans and signing autographs."
On why he came back after his sophomore year…
"I met with Coach Cal and I liked what he had to say and I liked the idea of playing in the dribble drive offense where I could be out on the perimeter. Also, meeting and talking to DeMarcus Cousins and seeing Eric Bledsoe and knowing how good a player John Wall was and how good my teammates were, I thought it was going to be the chance to be part of something special, to be one of the top teams in the country."
On playing with such a heralded group of freshmen…
"It made it easier not having to do everything for the team to win. I had a great and very talented group of players who can score and rebound, which allowed me to become a better player. The freshmen were well-deserving of all the attention they got."
On playing for John Calipari…
"Coach Cal was great. He related well to the players and he made the game fun. He is a great person off-the-court as well, helping people and doing things for the community and the state of Kentucky."
On why he chose to leave after his junior year at Kentucky…
"I had done everything I had set out to do in college, and I thought I had improved to the point where I was ready to play in the NBA."
On the pre-draft process…
"It's a roller-coaster – the traveling, going from city to city, competing for positions against other great players who all want the same job you do. Seeing all of these new cities and meeting the fans of different teams is great."
"I am in awe with every team I visit. Seeing the legendary places in the League and having the chance to compete for my dream is beyond words. It's great meeting the people from the different teams, as well as the media and the fans in each city."
On a typical team workout…
"You show up in the morning, get dressed, get taped and get out on the court. Do some stretching and the physical testing. Then we get to the workout – shooting drills, ballhandling drills, post drills. Then you compete against the other players 1 on 1, 2 on 2, and sometimes 3 on 3. Afterwards you meet with the local media before you get to the meeting with the coaching staff and team personnel, where you get feedback on your workout and wat you did well and what you need to improve on. Then its off to the airport to go to the next city."
On what teams have been surprised about his game…
"Teams have been surprised at how well I shoot the ball. At Kentucky my first two years, I played primarily in the post with my back to the basket. I was able to show them that I can hit the perimeter shot – stepping back out of the lane and hitting from outside. I showed that I can play the 4, but if I need to I can go out and play like a 3."
On what aspect of his game he needs to improve on…
"There is more than one thing I need to improve on – ball-handling, all-around defense, playing defense on the perimeter, I want to improve finishing around the basket. There are a lot of big guys in the NBA and I want to improve on ways to score around them. I want to show that I can do much more than play with my back to the basket."
On his goals as a NBA player…
"To win a NBA championship, be considered one of the best players in the League. I also want to be known as a great teammate, a team player. It's also important to be well-respected by your team and within the local community. Being able to help out in the city I am in will mean a lot."
I want to thank Patrick and his agent Odell McCants from Capitol Sports Management for sparing some time during this very hectic period. If you aren't a fan of his, I guarantee you will be once you watch him play. I wish Patrick all the best in the upcoming draft and look forward to watching him as he achieves his dream.